Session Information
Session Time: 1:15pm-2:45pm
Location: Les Muses, Level 3
Objective: In this study, we examine the regulatory role of flotillin-1 in dopamine transporter (DAT) trafficking and the impact of extracellular α-synuclein (αS) on this process.
Background: Flotillin-1, a lipid raft-associated scaffolding protein, provides endocytic platform that is involved in the uptake of DAT. Interestingly, flotillin-1 is predominantly expressed in brainstem catecholamine neurons that are preferentially affected in Parkinson's disease (PD).
Method: HEK 293 cells stably expressing GFP-DAT and iPS cells-derived dopaminergic neuron were incubated with conditioned medium containing human αS monomer or pre-formed fibril. Distinct endosomal structures including EEA1, Rab7A, and Rab11A were investigated by immunohistochemistry. Time-lapse imaging was performed to explore the spatiotemporal distribution of αS and DAT. Co-immunoprecipitation and TIRF microscopy were used to demonstrate the molecular interaction between αS, flotillin-1 and DAT.
Results: We found that extracellularly added monomeric and fibrillar αS markedly potentiates flotillin1-DAT interaction and pre-endocytic clustering of DAT on the cell surface, thereby facilitating DAT endocytosis and downregulating its transporter activity (Fig. A). Moreover, we demonstrated that αS itself exploited DAT endocytic process to enter dopaminergic neurons and both flotillin-1 and DAT were found to be the components of Lewy body (Fig. B).
Conclusion: These findings unveil a novel role of extracellular αS on cellular trafficking of DAT and may provide a rationale for the cell-type specific, functional and pathological alterations in PD.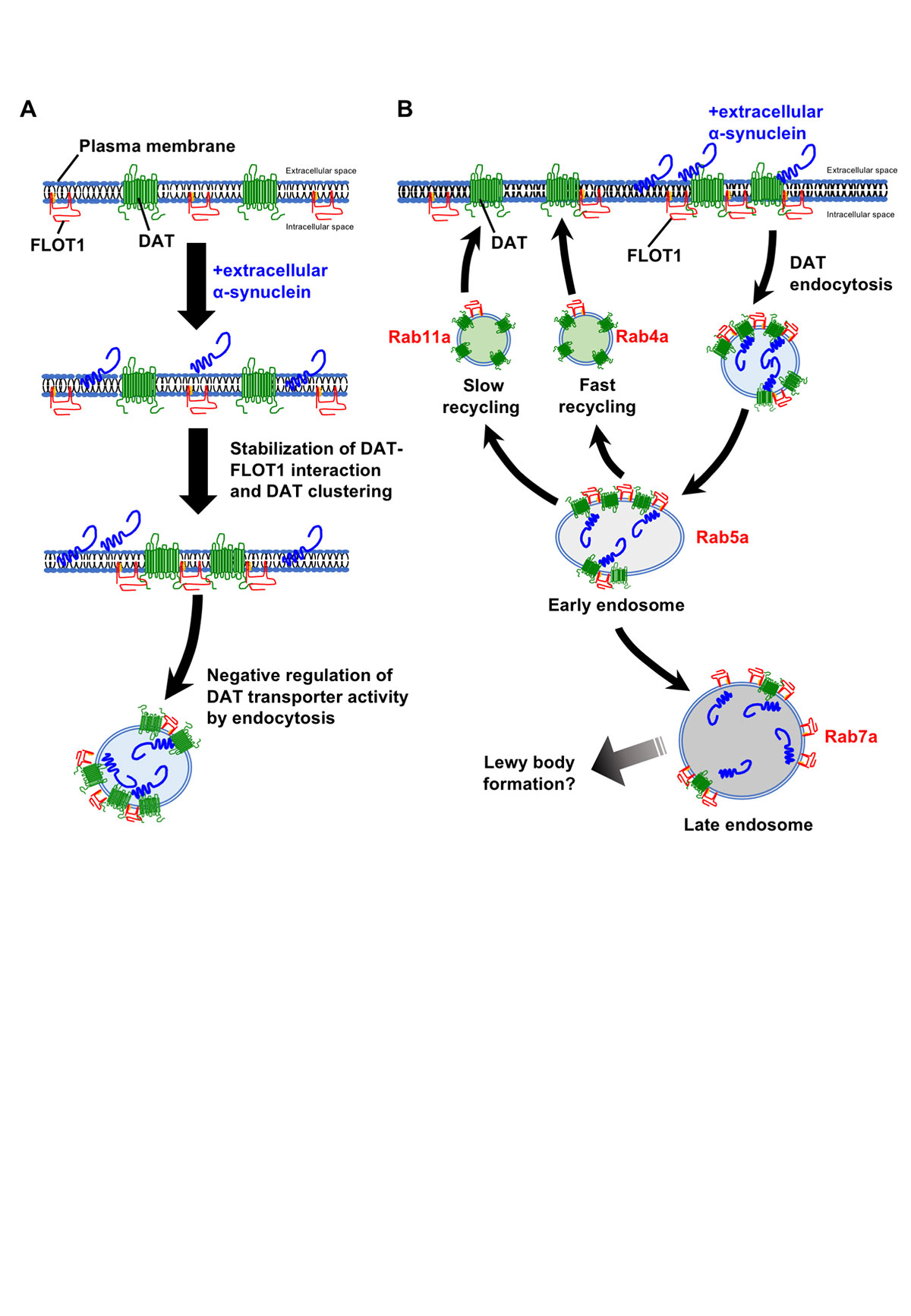 References: Kobayashi J., Hasegawa T.*, et al., FASEB J, in press. (*corresponding author)
To cite this abstract in AMA style:
T. Hasegawa, J. Kobayashi, N. Sugeno, S. Yoshida, T. Akiyama, Y. Miki, M. Fukuda, M. Ezura, A. Kikuchi, T. Baba, A. Takeda, K. Wakabayashi, H. Okano, M. Aoki. Extracellular α-synuclein enters dopaminergic neurons by modulating flotillin-1-assisted DAT endocytosis [abstract].
Mov Disord.
2019; 34 (suppl 2). https://www.mdsabstracts.org/abstract/extracellular-%ce%b1-synuclein-enters-dopaminergic-neurons-by-modulating-flotillin-1-assisted-dat-endocytosis/. Accessed December 7, 2023.
« Back to 2019 International Congress
MDS Abstracts - https://www.mdsabstracts.org/abstract/extracellular-%ce%b1-synuclein-enters-dopaminergic-neurons-by-modulating-flotillin-1-assisted-dat-endocytosis/