Objective: To present a case of hemi-body chorea suspected to be secondary to Celiac disease
Background: A wide range of neurologic symptoms have been seen in association with Celiac disease. Chorea is a rare presentation but has been described in case reports and series [1-5]. The chorea in these cases was generalized and in some cases co-occurred with other neurologic symptoms including ataxia and myoclonus [2-5]. Most patients able to adhere to a gluten-free diet saw improvement in symptoms within one year of initiation [2-5]. Here we present a case of a 72-year-old woman with onset of unilateral choreiform movements and positive antibody and histological testing for celiac disease.
Method: Case report
Results: A 72 year old woman presented with right-sided abnormal movements. Initial symptoms were lifting of the right shoulder, followed by arm flinging, unstable gait and face pulling. One year prior to presentation she was underwent uncomplicated appendectomy followed by an unintention 15-pound weight loss. She reported she had been diagnosed with Celiac disease as a child, but was told she had outgrown the disease. Family history was negative for neurologic or severe psychiatric disease. Exam demonstrated right arm and leg chorea with right-sided dystonic facial movements. There were no abnormal movements noted on the left side of the body.
Work up included magnetic resonance imaging (MRI) of the brain, which was unremarkable. Laboratory testing [table 1] was positive for elevated tissue transglutaminase immunoglobulin (Ig) A antibody and endomysial IgA antibody. Genetic testing has not yet been performed. A small bowel biopsy was positive for villous blunting, metaplasia and lymphocytic inflammation suggestive of celiac disease.
She was treated initially with clonazepam and later transitioned to tetrabenazine with good results. Following serum testing she initiated a gluten-free diet. At three months mild distal chorea persists but is no longer impairing.
Conclusion: Generalized chorea as a manifestation of Celiac disease is rare but does have precedent [2-5]. Here we present a first case of hemi-chorea as a likely consequence of anti-gluten antibodies. The link between chorea symptoms and gluten intolerance is difficult to confirm, and genetic testing to exclude Huntington's disease with long term follow up on a gluten-free diet will be necessary to confirm the diagnosis in this patient.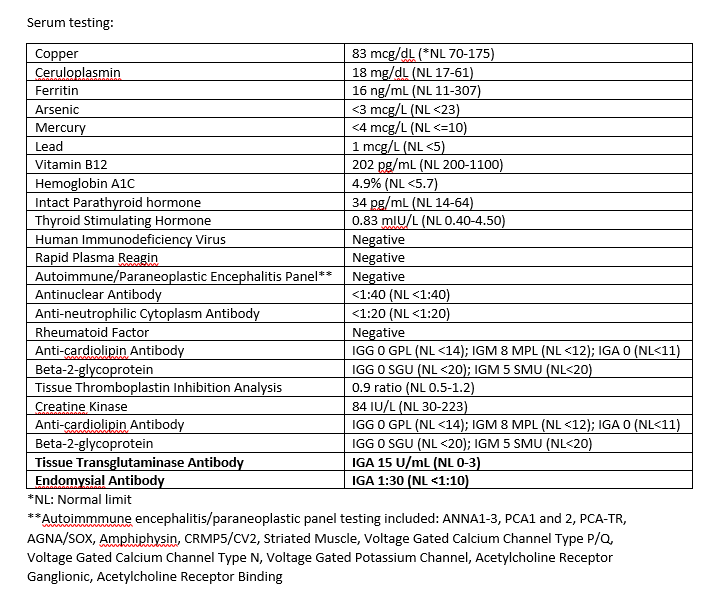 References: 1. Bushara KO. Neurologic presentation of celiac disease. Gastroenterology. 2005; 128(4):S92-S97. 2. Andrade C, Rocha H, Albuquerque A, Jose Sa M. Gluten chorea. Clinical Neurology and Neurosurgery. 2015; 138:8-9. 3. Pereira AC, Edwards MJ, Buttery PC, et al. Choreic syndrome and coeliac disease: A hitherto unrecognized association. Movement Disorders. 2003; 19(4):478-482. 4. Walker R. Further evidence for celiac disease-associated chorea. Tremor and Other Hyperkinetic Movements. 2011;1. 5. Lefter S, Corcoran L, McAuliffe E, et al. Coeliac disease presenting with chorea. Practical Neurology 2020;20:144-147.
To cite this abstract in AMA style:
M. Cincotta, M. Spindler. Hemi-chorea Due to Celiac Disease [abstract].
Mov Disord.
2021; 36 (suppl 1). https://www.mdsabstracts.org/abstract/hemi-chorea-due-to-celiac-disease/. Accessed December 7, 2023.
« Back to MDS Virtual Congress 2021
MDS Abstracts - https://www.mdsabstracts.org/abstract/hemi-chorea-due-to-celiac-disease/