Session Information
Session Time: 1:45pm-3:15pm
Location: Les Muses, Level 3
Objective: Reporting an exceptional case of progrssive hemichorea revealing a putaminal cavernous angioma
Background: Hemichorea is a rare movement disorder (MD) (0.7% of all MD) [1], consisting of unilateral, incontrollable and irregular, rapid jerking movements, it is mainly acquired (stroke, ketoacidosis, tuberculosis…). Cavernous angiomas (CA) of the central nervous system (CNS) are capillary bed malformations without the presence of interposed healthy parenchyma [2]. They can be congenital or acquired [3], their putaminal localization is very rare and their revelation by hemichorea remains an exceptional situation [4, 5], which occurs principally in adults [2].
Method: Case report
Results: A 56 years old male, smoker, without any pathological history, neuroleptic intake nor family history of Chorea, consulted for progressively worsening involuntary movements of his left upper limb dating back to one year. The examination found choreoathetoid movements that first appeared in his index than gradually extended to the root of his upper limb while becoming more and more frequents, No other abnormalities were noted in the neurological examination and the complete biological assessment. Brain MRI showed a lobulated nodular lesion of the right putamen and external capsule measuring 32 x 22 x 25 mm, with a popcorn aspect [Figure 1] made of high intensity mixed with millimetric hypointense foci and surrounded by a hypointense rim on T2 weighted images [Figure 2]. A blooming effect was present in T2* sequences, this finding is typical of CA.The patient responded well to symptomatic treatment with haloperidol awaiting a surgical intervention.
Conclusion: Hemichorea can be exceptionally caused by a putaminal CA, brain MRI allows a precise diagnosis showing the actual size, topography and number of CA [6], symptomatic treatment can control chorea for a long period [4] but surgical treatment should always be discussed [7] as hemorrhagic risk is particularly high in this localization.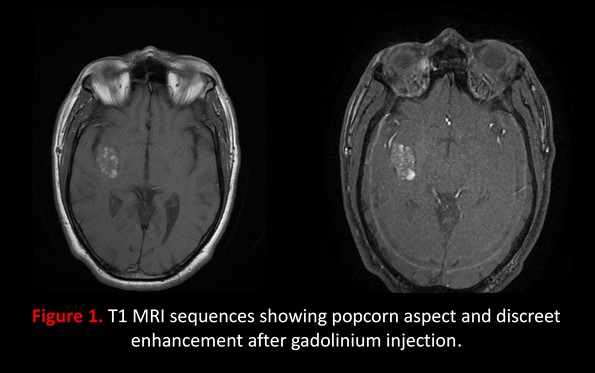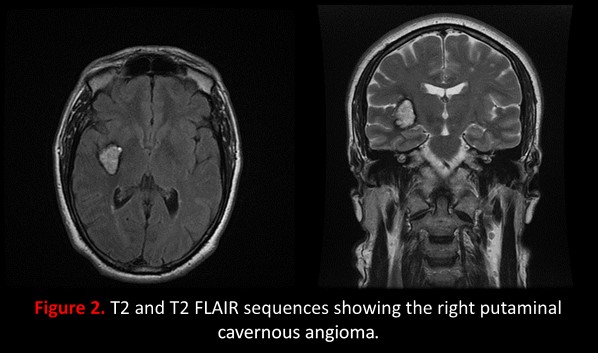 References: [1] Dewey RB et al. Hemiballism-hemichorea. Clinical and pharmacologic findings in 21 patients. Arch Neurol 1989; 46:862– 867. [2] Labauge P et al. Cavernomes du système nerveux central. EMC (Elsevier Masson SAS, Paris), Neurologie, 17-490-E-10, 2008. [2] Kim et al. An analysis of the natural history of cavernous malformations. Surgical Neurology 48 (1997) 9–18. [4] M.Ząbek et al. Right a hemichorea treated successfully by surgical removal of a left putaminal cavernous angioma, Clinical Neurology and Neurosurgery, Volume 115, Issue 6, 2013, Pages 844-846. [5] B. Donmez et al. Putaminal cavernous angioma presenting with hemichorea, Mov. Disord. 19 (11) (2004) 1379–1380. [6] J. Gabrillargues et al. Imagerie des cavernomes du système nerveux central. Neurochirurgie 53 (2007) 141–151. [7] H. Ghannane et al. Analyse d'une série de cavernomes du système nerveux central : 39 cas non opérés, 39 cas opérés et un cas décédé. Neurochirurgie 53 (2007) 217–222.
To cite this abstract in AMA style:
Y. Mecheri, F. Serradj, BS. Fekraoui, A. Hamri. Hemichorea revealing a putaminal cavernous angioma [abstract].
Mov Disord.
2019; 34 (suppl 2). https://www.mdsabstracts.org/abstract/hemichorea-revealing-a-putaminal-cavernous-angioma/. Accessed December 7, 2023.
« Back to 2019 International Congress
MDS Abstracts - https://www.mdsabstracts.org/abstract/hemichorea-revealing-a-putaminal-cavernous-angioma/