Objective: Primary objectives were to assess the feasibility and safety of LCIG home titration with use of telemedicine-assisted (TM) technology, and patient/caregivers satisfaction. Secondly, to establish practical recommendations for a home-based titration (HBT) including characteristics for PD-patients suitable for home titration.
Background: The studies of duodenal infusion of levodopa (LCIG) on groups of parkinsonian patients (PD-patients) have reported beneficial effects on motor complications. The testing and titration of the right levodopa equivalent dose has usually been completed during a hospital admission over a week. However, dose adjustment may depend on home environment, emotional stress, and normal physical activity in everyday life, which is why home titration could be more effective.
Method: The study design is a feasibility study assessing feasibility, safety and satisfaction of treatments with home-titration of LCIG-infusions with use of self-reported questionnaires. All eligible participants were screened consecutively from MD-Clinic at Rigshospitalet, Denmark, from October 2017 to February 2022.
Results: 12 PD-patients were included (6 male and 4 females). 10 completed, PD duration on 12.9 years, and lived in private homes and nursing homes respectively, and varied in severity of cognitive impairments. PD-nurses spent in average 1 hour and 34 minutes at the participants` homes, made 3.2 video calls during the period and titration length was 3.6 day. Results showed that the PD-patients (mean 36.2, score 0-40) were more satisfied with the HBT-program than caregivers (mean 31.8, score 0-40). Facilitators and barriers in completing an HBT-program were identified.
Conclusion: This "real life" feasibility study indicates that the TM-assisted HBT-program was feasible due to numbers of contacts, time spent in private homes, length of titration period and quality of TM-assisted contacts. It was rated satisfactory and safe by PwP and caregivers, and may be a substitute to in-hospital treatment. An extended focus and support should be given to the caregivers in both the decision-making and during the HBT-program. In future, a RCT-study comparing the HBT-program with in-hospital titration, will be completed, looking at stress response, number of titrations, sleep, and OFF/ ON time measured with wearables.
The study will also be presented at Parkinson World Congress, July 2023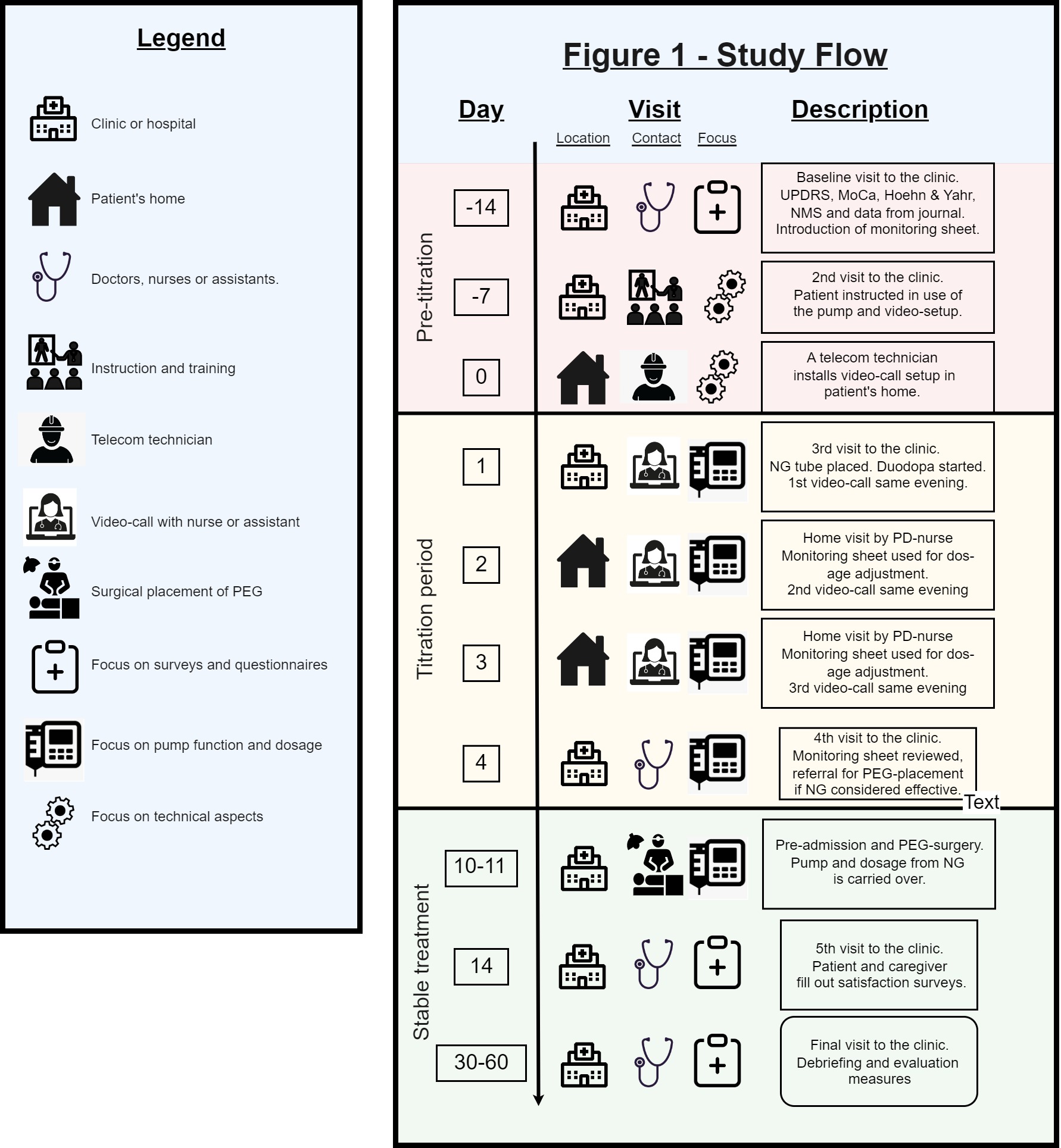 To cite this abstract in AMA style:
B. Biering-Sørensen, N. Nielsen, A. Isenberg, L. Olsen, M. Javidi, J. Vilhelmsen, M. Møller, M. Olsen, J. Clausen, T. Thomsen. Home-based titration with Duodenal infusion of Levodopa in People with Parkinson's disease: an observational feasibility study [abstract].
Mov Disord.
2023; 38 (suppl 1). https://www.mdsabstracts.org/abstract/home-based-titration-with-duodenal-infusion-of-levodopa-in-people-with-parkinsons-disease-an-observational-feasibility-study/. Accessed September 25, 2023.
« Back to 2023 International Congress
MDS Abstracts - https://www.mdsabstracts.org/abstract/home-based-titration-with-duodenal-infusion-of-levodopa-in-people-with-parkinsons-disease-an-observational-feasibility-study/