Session Information
Session Time: 1:45pm-3:15pm
Location: Hall 3FG
Objective:
Background: Since the Huntingtin gene was identified in 1993, it has been recognized that a small proportion of patients with a clinical syndrome resembling Huntington disease (HD) do not have the HD­ causing trinucleotide repeat expansion in the IT15 gene, indicating the existence of other genetic disorders, which are referred to as 'Huntington's disease­ like' (HDL) syndromes. HDL-2 seems to account for about 0.7- 2% of HD phenocopies without the IT15 mutation, with higher frequency seen in the black African population.
Methods: Case Presentation: A 49-year old male presented with three month history of rapidly progressive slowness and stiffness, started in his right leg, and progressed to his left leg and then whole body. He also reported tremor which began in his right arm at the same time as the stiffness began, and subsequently involved the left arm as well. He also experienced severe constipation, but no urinary symptoms, no anosmia or REM sleep disturbances. He did not report any family history of similar conditions. Neurological examination revealed mild cognitive impairment (MOCA: 23/30), psychomotor slowing, hypomimia , marked global rigidity, bradykinesia, tremor and shuffling gait with reduced arm swing. His investigations revealed normal copper and ceruloplasmin level. MRI brain showed generalized cerebral atrophy and F-DOPA scan showed reduced uptake in the striatum. Genetic studies showed CAG/CTG expansion in the junctophilin 3 (JPH3) gene. He was started on Levodapa and marked clinical improvement was noted in his clinical condition.
Results: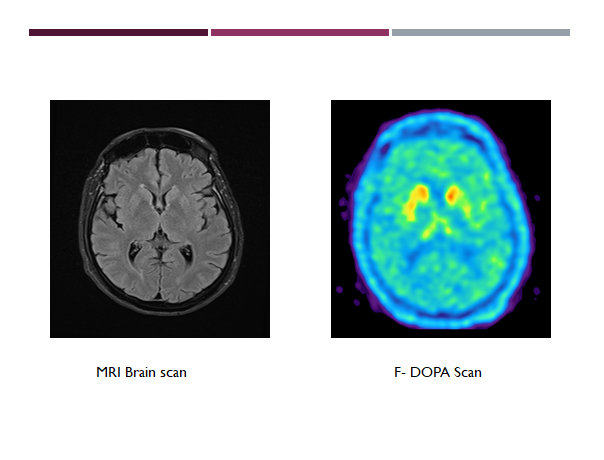 Conclusions: We described a patient with Huntington disease like 2 , who presented with Parkinsonism features responsive to Levodoapa. We are not aware of other documented cases of HDL-2 that responded to medications.
References: Anderson, David G. Walker, Ruth H. Connor, Mylesd; Carr, Jonathan; Margolis, Russell L Krause, Amandah. A Systematic Review of the Huntington Disease-Like 2 Phenotype. Journal of Huntington's disease. 37-46, 2017.
To cite this abstract in AMA style:
M. Khider, K. Naidu, J. Carr. Huntington disease like 2 in South Africa [abstract].
Mov Disord.
2018; 33 (suppl 2). https://www.mdsabstracts.org/abstract/huntington-disease-like-2-in-south-africa/. Accessed December 5, 2023.
« Back to 2018 International Congress
MDS Abstracts - https://www.mdsabstracts.org/abstract/huntington-disease-like-2-in-south-africa/