Session Information
Session Time: 1:45pm-3:15pm
Location: Exhibit Hall C
Objective: To review existing literature on the impact and communication of OFF periods for patients with Parkinson disease (PwP) and carepartners.
Background: Studies show associations between OFF periods and health-related quality of life (HR-QoL), but there is little published on the specifics of how these negatively impact PwP and carepartners. Poor understanding of the personal impact of OFF periods, compounded by their complex symptomology, makes communication about OFF periods between PwP and physicians challenging.
Methods: A scoping review was performed. MEDLINE, EMBASE, Cochrane Database of Systematic Reviews, Cochrane Central Register of Controlled Trials (CENTRAL), CINAHL, and PsycINFO were searched from 2006 to current. Quantitative and qualitative studies examining impact of OFF periods on PwP or care partners, or communication about OFF periods between health care providers and PwP or carepartners were eligible. Data extraction was standardized between and performed by three investigators.
Results: 2021 abstracts were identified, 51 full texts screened, and 14 papers met eligibility criteria. Of the 14 included studies, 7 showed an association between OFF periods and poorer HR-QoL (as measured by PDQ-39 SI, PDQ-39 VAS, or EQ-5D IS scores), but without further exploration of the nature of the impact of OFF periods on PwP or carepartners. 2 qualitative studies were identified, which highlighted the significant burden of OFF periods and unpredictability of functioning and reliance on others for timely medication administration as specific negative impacts. Communication was indirectly addressed by 1 study, where detection rates of OFF states between a neurologist's evaluation and a self-administered "wearing off" questionnaire (WOQ) were compared. Clinical interview detected OFF phenomena less frequently (57% of 617 PwP) compared to WOQ (67%). There were no studies addressing strategies, barriers, or facilitators of communication about OFF periods between PwP or carepartners and physicians (Table 1). [table 1]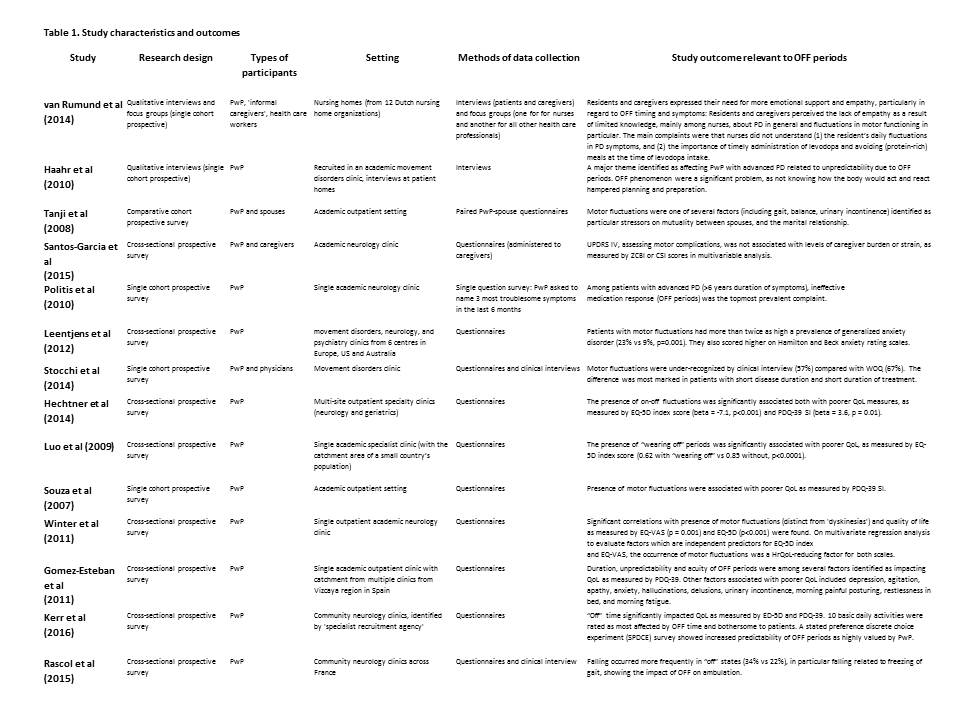 Conclusions: This scoping review shows paucity of knowledge regarding the lived experiences of OFF periods for PwP and carepartners, and communication about these between PwP or care partners and treating physicians. Further research is required to explore the impact and communication of OFF periods among PwP, carepartners, and physicians, to ultimately improve their treatment.
To cite this abstract in AMA style:
T. Rastgardani, M. Armstrong, A. Gagliardi, C. Marras. Impact and communication of OFF periods in Parkinson disease [abstract].
Mov Disord.
2017; 32 (suppl 2). https://www.mdsabstracts.org/abstract/impact-and-communication-of-off-periods-in-parkinson-disease/. Accessed December 5, 2023.
« Back to 2017 International Congress
MDS Abstracts - https://www.mdsabstracts.org/abstract/impact-and-communication-of-off-periods-in-parkinson-disease/