Objective: Description of a case of ICD following non-contemporaneous bilateral pallidothalamic focused ultrasound tractotomy.
Background: Impulsive and compulsive behaviours in PD are hypothesized to largely reflect increased behavioural drive mediated by dopaminergic mechanisms[1]. Impairments in top down cognitive control are less well understood. Impulsivity typically refers to behaviours that can be sensation seeking, poorly conceived and with impaired appreciation of risks and rewards. These problematic behaviours are considered compulsive when they are inappropriate to the situation and persist. Compulsivity is likely under-recognised in impulse control disorders[2].
Focused ultrasound (FUS) is a non-invasive lesional procedure with emerging evidence in treating the motor symptoms of Parkinson's disease, including tremor, rigidity and dyskinesia. FUS is more commonly performed unilaterally to avoid neurological and cognitive sequaelae, though there are a small number of case series describing efficacy in non-contemporaneous bilateral tractotomy[2]. Neuropsychiatric side effects have been rarely reported though follow up periods are typically short.
Method: We describe the case of a 60 year old man with Parkinson's disease who developed a range of impulsive and compulsive behaviours following bilateral pallidothalamic FUS. The case details are deidentified and published with consent.
Results: A 60 year old man with a 3 year history of tremor-dominant Parkinson's disease underwent left pallidothalamic tract FUS followed 12 months later by right sided pallidothalamic FUS tractomy [figure 1]. Two months following this, while on no pharmacotherapy, the patient developed new problems of excessive alcohol intake (8 standard drinks per day), compulsive writing, cocaine use and hypersexuality. The features emerged at the same time as the well described side effect of FUS tractotomy of hypophonia and dysarthria, with new freezing of gait with festination. After the second procedure, he had no demonstrable appendicular tremor or rigidity. Behavioural intervention (restricting access to finances) resulted in cessation of compulsive behaviours associated with undesirable consequences. Compulsive writing persisted for 3-4 hours per day.
Conclusion: We describe a novel case of ICD following bilateral FUS in PD and highlight the importance of nondopaminergic mechanisms in their genesis.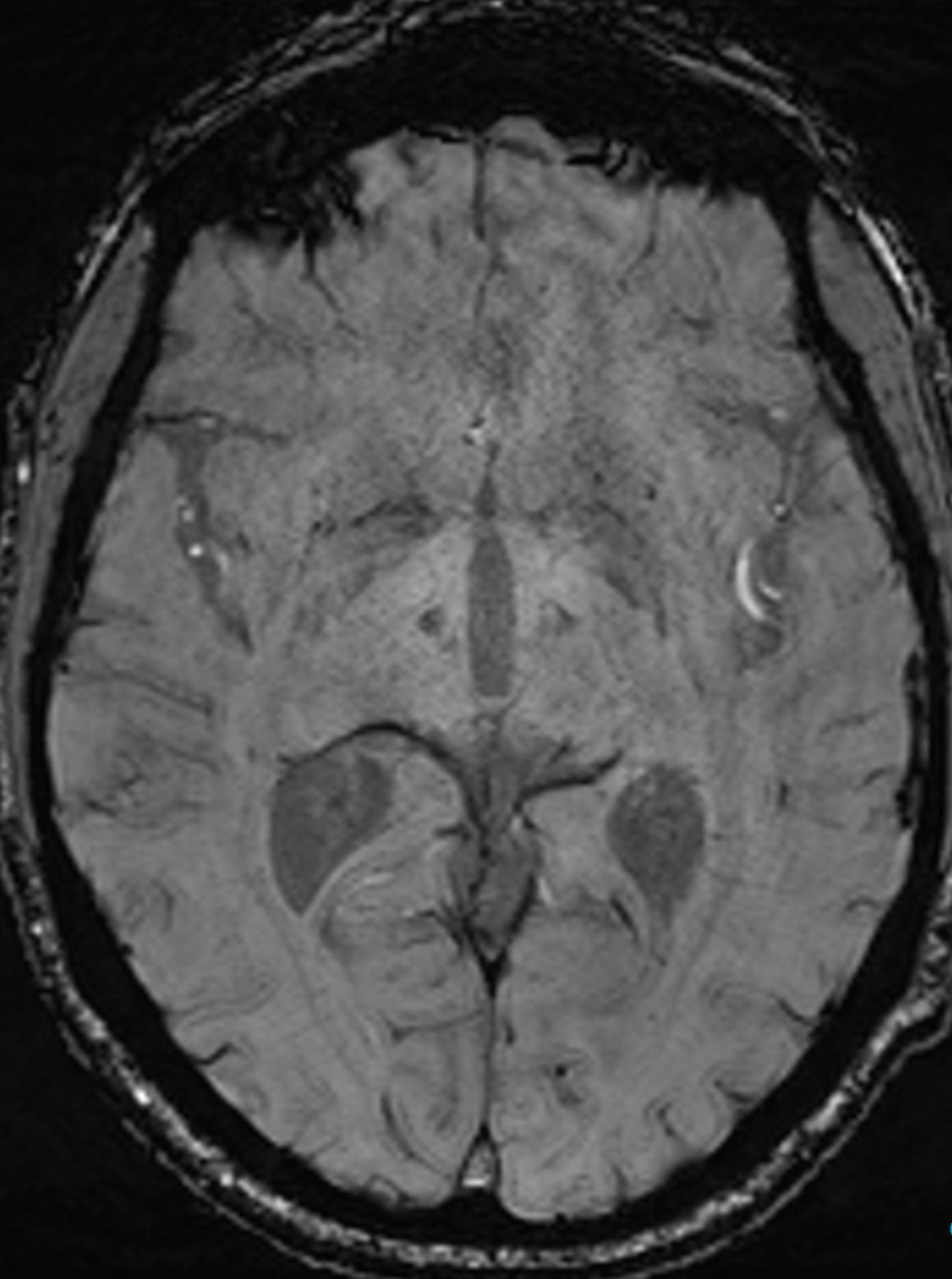 References: [1] Evans AH, Strafella AP et al; 2009; Impulsive and Compulsive Behaviors in Parkinson's Disease; Movement Disorder: 24;11; 1561-1570
[2] Dalley JW, Everitt B. and Robbins TW; 2011; Impulsivity, Compulsivity and Top-Down Cognitive Control; Neuron: 69;680-694
To cite this abstract in AMA style:
S. Farrand, P. Phal, K. Fernando, A. Evans, R. Blaze. Impulse control disorder following bilateral pallidothalamic tract focused ultrasound: a case report [abstract].
Mov Disord.
2022; 37 (suppl 2). https://www.mdsabstracts.org/abstract/impulse-control-disorder-following-bilateral-pallidothalamic-tract-focused-ultrasound-a-case-report/. Accessed September 25, 2023.
« Back to 2022 International Congress
MDS Abstracts - https://www.mdsabstracts.org/abstract/impulse-control-disorder-following-bilateral-pallidothalamic-tract-focused-ultrasound-a-case-report/