Session Information
Session Time: 1:45pm-3:15pm
Location: Hall 3FG
Objective: Introduction Developmental regression with spastic ataxia is a syndrome with differentials being leukodystrophy, HSP, Frederich's ataxia, ARSACS, cerebrotendinous xanthomatosis etc.Neuronal brain iron deposition is a radiologic-pathologic syndrome with various phenotypic presentations and clinico-genetic correlations.We present a case of spastic ataxia and intellectual disability
Background: Case presentation. 9/M had normal birth and development, motor and social milestones. Gait started changing from 2 ½ years with regression of milestones. He was not independent in activities of daily living.No family history of similar illness or any neurologic disease.
Methods: There was no dysmorphism, organomegaly, neurocutaneous markers or KF ring. Fundus examination was normal and there was no retinal degeneration. He had spasticity and hyperreflexia in all 4 limbs with cerebellar signs. Investigations revealed normal hemogram, renal and liver function tests. Copper studies were normal.Nerve conduction studies were normal, VEP was prolonged and BERA was normal. Genetic panel for Friedreich's ataxia, SCA 1,2,3,6,7 were negative. His MRI revealed hypointensity in globus pallidus in T2/FLAIR suggestive of NBIA and cerebellar atrophy.PANK2 mutation was negative. PLA2G6 compound heterozygous mutation was positive in the PLA2G6 gene strand in chromosome 22 with Exon 16 missense variation substitition of glutamine for arginine at codon 741 and exon 14 missense variation substitution of glutamic acid for alanine at codon 633. Nerve biopsy was normal with no spheroids.
Results: This patient's differentials were narrowed with MRI suggestive of T2/FLAIR hypointensity in globus pallidus and cerebellar atrophy. The NBIA disorders associated with this picture fitted into PLA2G6 and MPAN.PKAN was ruled out by negative mutation screening following which PLA2G6 mutation analysis was done and was found to be positive. The PLA2G6 mutations are known to be associated with three phenotypic diseases.Infantile neuroaxonal dystrophy (INAD), Atypical INAD and dystonia parkinsonism. This patient's clinical profile fitted into atypical NAD. However, nerve biopsy did not show spheroids.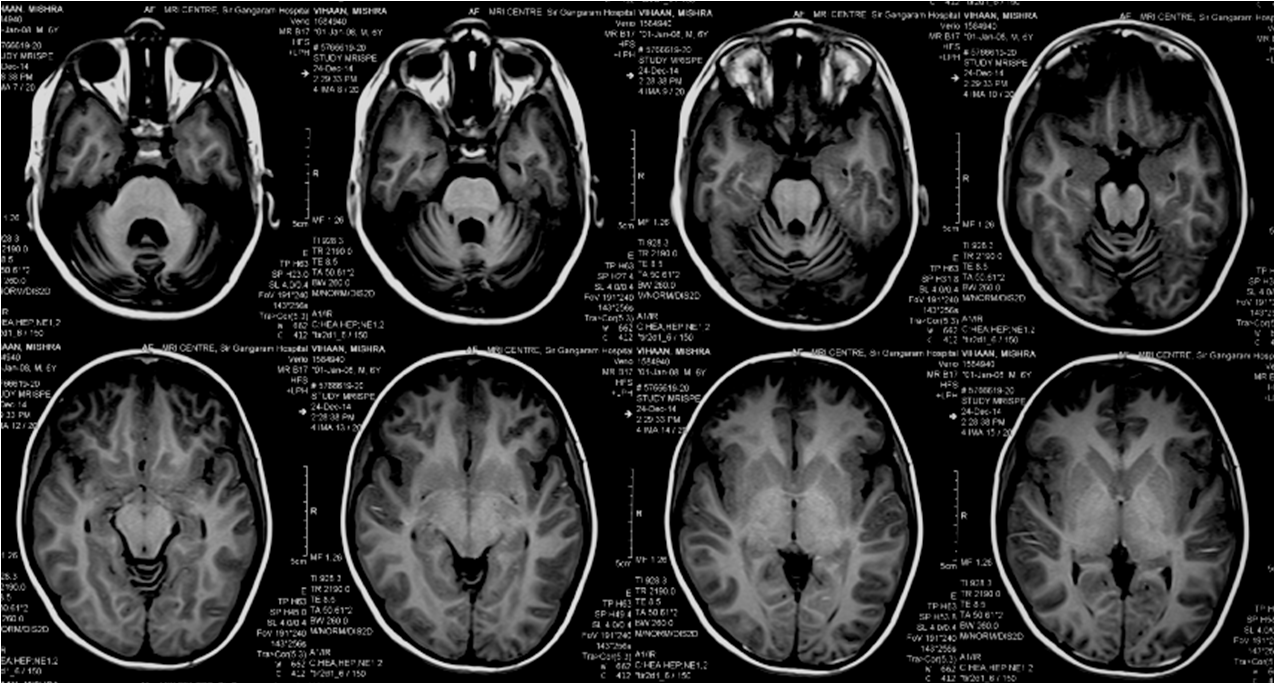 Conclusions: Spastic ataxia can be challenging to diagnose. Absent neuronal spheroids do not rule out the disease since spheroids accumulate with time and repeated biopsies may be needed. Video: https://www.dropbox.com/s/07bbdgz94b93l8j/20171226_123120.mp4?dl=0. Presented in videochallenge in MDSICON 2018 at Hyderabad.
References: 1. Dubey, D., Khemani, P., Remster, E. & Elliott, J. L. Gradually Progressive Spastic Ataxia in a Young Man: Steadily Unsteady. JAMA Neurol. 74, 238–241 (2017). 2. Hogarth, P. Neurodegeneration with Brain Iron Accumulation: Diagnosis and Management. J. Mov. Disord. 8, 1–13 (2015). 3. Selikhova, M. et al. A 30-year history of MPAN case from Russia. Clin. Neurol. Neurosurg. 159, 111–113 (2017). 4. Mubaidin, A. et al. Karak syndrome: a novel degenerative disorder of the basal ganglia and cerebellum. J. Med. Genet. 40, 543–546 (2003). 5. Gregory, A., Kurian, M. A., Maher, E. R., Hogarth, P. & Hayflick, S. J. PLA2G6 -Associated Neurodegeneration. in GeneReviews® (eds. Adam, M. P. et al.) (University of Washington, Seattle, 1993).
To cite this abstract in AMA style:
A. Elavarasi, V. Goyal, P. Samal. Intellectual disability with spastic ataxia: Atypical Infantile neuroaxonal dystrophy with absent spheroids [abstract].
Mov Disord.
2018; 33 (suppl 2). https://www.mdsabstracts.org/abstract/intellectual-disability-with-spastic-ataxia-atypical-infantile-neuroaxonal-dystrophy-with-absent-spheroids/. Accessed December 3, 2023.
« Back to 2018 International Congress
MDS Abstracts - https://www.mdsabstracts.org/abstract/intellectual-disability-with-spastic-ataxia-atypical-infantile-neuroaxonal-dystrophy-with-absent-spheroids/