Session Information
Session Time: 1:45pm-3:15pm
Location: Hall 3FG
Objective: Introduction. Jumping stump syndrome is considered to be a peripherally induced movement disorder due to damage to peripheral nerves leading to dystonia, myoclonus or choreiform movements. Psychogenic cases have also been reported. Here we report a case of jumping stump who was found to have structural cause.
Background: Case report. Our patient was a 40 year old male who underwent right above elbow amputation following a road traffic accident and started having involuntary movements 8-10 days later. He was referred as a case of jumping stump syndrome 5 months after onset. He had spasmodic contractions of right upper limb amputation stump which resolved completely during sleep. Video: https://www.dropbox.com/s/7xe6owvtdcl8txe/IMG_7371.MOV?dl=0
Methods: Evaluation. However, careful examination revealed right facial spasms (Figure 1) as well as intermittent lower limb movements on the same side. Because of this hemi distribution, MRI of the brain was ordered. MRI brain revealed lacunar infarcts in the left anterolateral thalamus and left frontal subcortical white matter (Figure 2).
Results: Discussion. Jumping stump is a clinical phenomenology characterized by myoclonic, dystonic or choreiform movements which are usually due to damage to peripheral nerves and associated with phantom limb pain. Previously reported cases were not associated with brain imaging abnormalities. This patient also presented with amputated stump movements, however MRI revealed lacunar infarcts.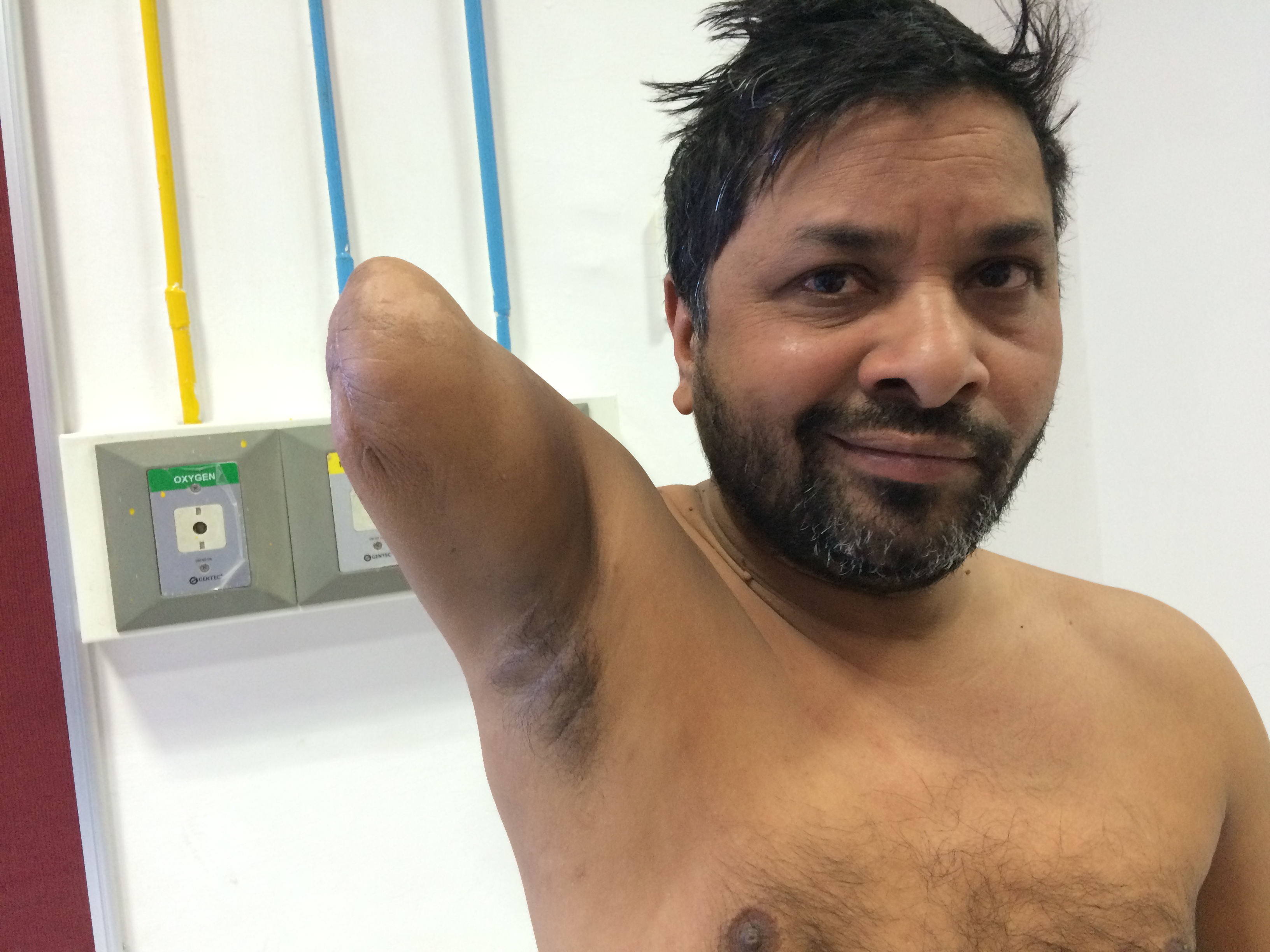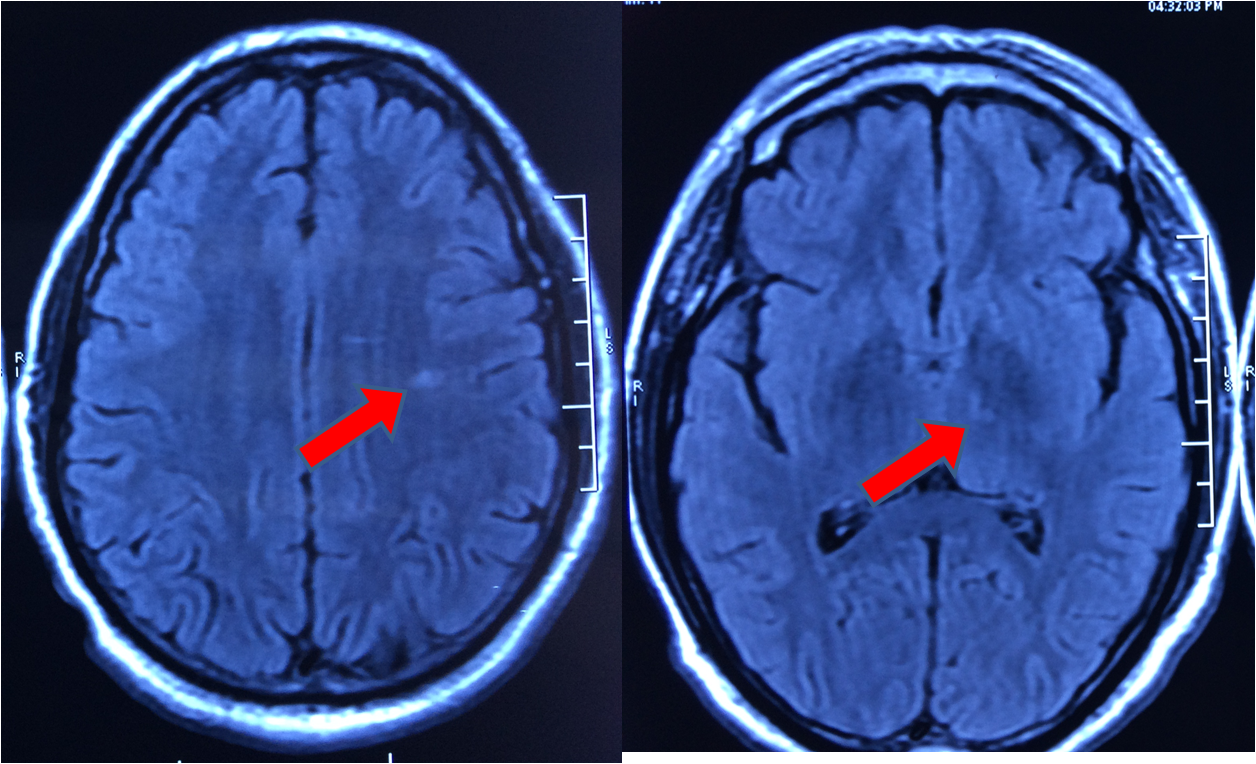 Conclusions: This is the first videotaped case of jumping stump and hemi-dystonia with a structural CNS cause.
References: 1. Aggarwal, A. & Thompson, P. D. Unusual focal dyskinesias. Handb. Clin. Neurol. 100, 617–628 (2011). 2. Alencar, R., Camargos, S., Cardoso, T., Maia, D. & Cardoso, F. Jumpy stump triggered by tardive dyskinesia. Neurol. Sci. Off. J. Ital. Neurol. Soc. Ital. Soc. Clin. Neurophysiol. 34, 125–126 (2013). 3. Buntragulpoontawee, M., Pattamapaspong, N. & Tongprasert, S. Multiple Neuromas Cause Painful 'Jumping Stump' in a Transfemoral Amputee: A Case Report. Int. J. Low. Extrem. Wounds 15, 271–273 (2016). 4. Marion, M. H., Gledhill, R. F. & Thompson, P. D. Spasms of amputation stumps: a report of 2 cases. Mov. Disord. Off. J. Mov. Disord. Soc. 4, 354–358 (1989). 5. Özcan, H. & Özcan, T. 'Jumping stump' phenomenon. J. Foot Ankle Surg. Off. Publ. Am. Coll. Foot Ankle Surg. 54, 517–518 (2015). 6. Tyvaert, L. et al. Myoclonus of peripheral origin: two case reports. Mov. Disord. Off. J. Mov. Disord. Soc. 24, 274–277 (2009). 7. Zadikoff, C., Mailis‐Gagnon, A. & Lang, A. E. A case of a psychogenic "jumpy stump". J. Neurol. Neurosurg. Psychiatry 77, 1101 (2006).
To cite this abstract in AMA style:
A. Elavarasi, V. Goyal. Jumping stump: Movement disorder with structural CNS pathology – Look before you label [abstract].
Mov Disord.
2018; 33 (suppl 2). https://www.mdsabstracts.org/abstract/jumping-stump-movement-disorder-with-structural-cns-pathology-look-before-you-label/. Accessed December 2, 2023.
« Back to 2018 International Congress
MDS Abstracts - https://www.mdsabstracts.org/abstract/jumping-stump-movement-disorder-with-structural-cns-pathology-look-before-you-label/