Session Information
Session Time: 1:45pm-3:15pm
Location: Hall 3FG
Objective: To evaluate long-term effects of using music to improve motor & non-motor symptoms on a patient with a 10 year history of Parkinson's.
Background: Parkinson's is a progressive, neurodegenerative condition and the motor and non-motor symptoms can impact activities of daily living and quality of life which medication alone cannot always improve. Many studies have shown that cueing strategies can improve gait (1) in the short, but not long-term. The patient, diagnosed at 61 years, attended a specialist Parkinson's multidisciplinary (MDT) clinic, presenting with freezing of gait (FOG), and anxiety at initial assessment. We introduced a music cue (via MP3 & headphones) for use indoor & outdoors, to combat these symptoms. The patient began experimenting with music, using it as a cue over the next 7 years. We were able to retrospectively study data collected from MDT attendances and evaluate it to establish the possible long term effects of music as a cue.
Methods: At initial & subsequent physiotherapy sessions, gait was assessed while "on", using a validated, physiotherapy-specific Parkinson's outcome tool (Lindop Parkinson's Assessment Scale LPAS) (2). Gait section is scored out of 18 with higher scores indicating better function.It includes Timed Up & Go Test (TUG). The patient used an MP3, headphones & selected music to improve gait & reduce FOG, and she chose to experiment with other music genres/speeds.
Results: Three years post-diagnosis, LPAS gait score was 18/18, & TUG 10.7seconds. After 3 months of using music, she reported reduced FOG, improved confidence and mood. She demonstrated that, with specific music/songs, she could safely walk backwards, skip & jig! After a further 3 years,TUG without music was 14.7s, but 9.2 with it. Medication was adjusted over the years. Ten years post diagnosis, daily equivalent levodopa = 390mg and she remained independently mobile with only 1 fall. LPAS scores remained high (Table 1), & TUG low(Table 2). She used music to lift her mood, remained cognitively intact ( MOCA 29/30) & had a negative anxiety screen (Hospital Anxiety & Depression scale)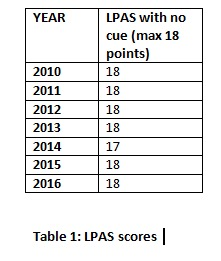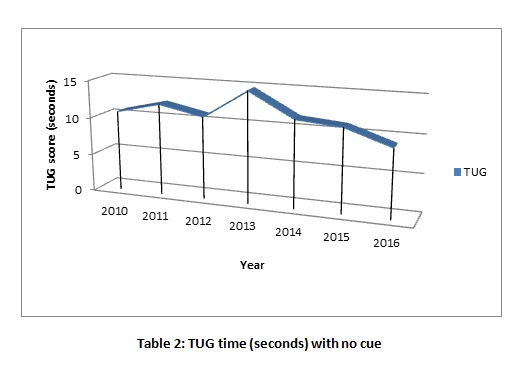 Conclusions: The patient received MDT intervention over 7 years. There may be a ceiling effect with LPAS, but one would expect deterioration over time. Music may not be the sole reason for improvement in symptoms and slow progression, but this case report demonstrates that music can be an effective long-term cue in Parkinson's, contributing to management & maintenance of mobility, anxiety & mood. A larger pilot study is being considered.
References: 1. Keus S, Munneke M, Graziano M. et al. European Physiotherapy Guideline for Parkinson's disease. 2014. KNGF/ParkinsonNet (www.ParkinsonNet.info). 2. Pearson MJP, Lindop FA, Mockett SP, Sauders L Validity and inter-rater reliability of the Lindop Parkinson's Disease Mobility Assessment: a preliminary study. Physiotherapy 95 (2009) 126-133.
To cite this abstract in AMA style:
F. Lindop, R. Skelly. Long-term effects of music as an auditory cue on motor and non-motor symptoms of Parkinson's disease: A case report [abstract].
Mov Disord.
2018; 33 (suppl 2). https://www.mdsabstracts.org/abstract/long-term-effects-of-music-as-an-auditory-cue-on-motor-and-non-motor-symptoms-of-parkinsons-disease-a-case-report/. Accessed December 7, 2023.
« Back to 2018 International Congress
MDS Abstracts - https://www.mdsabstracts.org/abstract/long-term-effects-of-music-as-an-auditory-cue-on-motor-and-non-motor-symptoms-of-parkinsons-disease-a-case-report/