Objective: To evaluate efficacy of cabergoline for treating FOG in advanced IPD.
Background: FOG is a major cause of disability in advanced IPD. FOG responds only partially to high dose L-dopa and deep brain stimulation (DBS) 1.Ergot derivative cabergoline is a long acting potent dopamine agonist with activity at D1,D2 and D5 receptors. Previously used in IPD , interest waned in this drug owing to potential of causing pleural and peritoneal fibrosis which was treatment duration and dose dependent2. Previous literature suggests cabergoline causes fewer dyskinesias and improves FOG3.
Method: Low dose cabergoline was given to 3 patients of IPD with FOG as their main symptom . All 3 were on varying combinations of L- Dopa and dopamine agonists (DA). Doses of L-Dopa and DA were kept constant during the study period. One patient had previously undergone DBS.
Results: 2 of the 3 patients had good response to cabergoline with FOG reduction to the tune of 40-50%. One patient reported around 20-30% improvement in FOG. Serial echocardiography did not show any pericardial pathology. Since none of the patients had dyskinesias as their prominent symptoms, it was difficult to analyze the effect of cabergoline on dyskinesias.
Conclusion: Cabergoline fell in disrepute owing to its potential of causing pleural/pericardial fibrosis. however these effects were seen when it was used at high dosages or as monotherapy . Its long half life, low potential of causing dyskinesias and efficacy in treating FOG suggest that it may be tried in low dosages as an adjunct to L-dopa and DA's for symptom control in advanced IPD. This may work especially well in low income developing countries where DBS owing to its high cost is out of reach of a majority of IPD patients. Serial Echocardiography is mandated along with.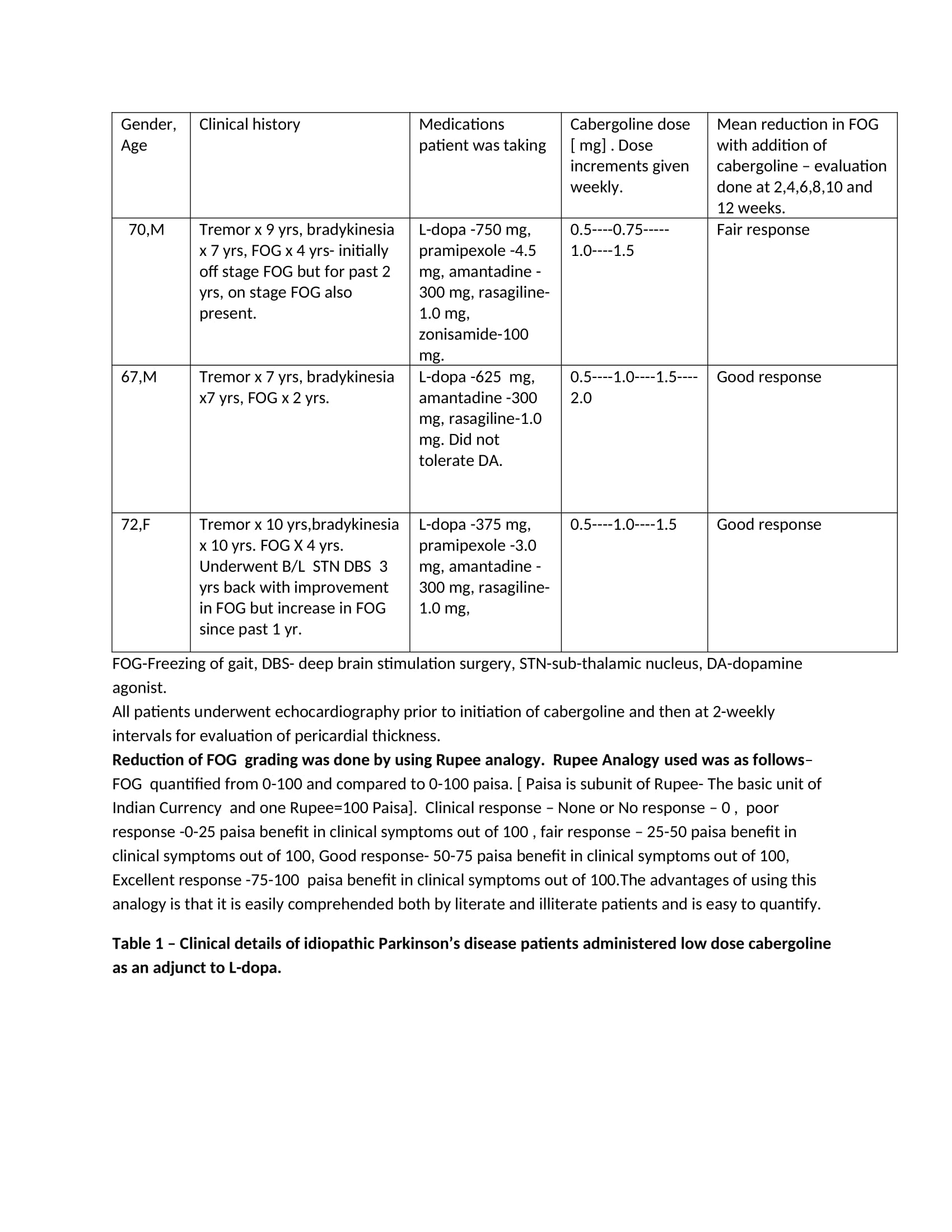 References: 1. Ferraye MU, Debu B, Fraix V, et al: Effects of subthalamic nucleus stimulation and levodopa on freezing of gait in Parkinson's disease. Neurology 2008;70:1431-1437. 2. Frans E, Dom R, Demedts M. Pleuropulmonary changes during treatment of Parkinson's disease with a long-acting ergot derivative, cabergoline. Eur Respir J 1992;5:263–5. 3. Lieberman A, Imke S, Muenter M, Wheeler K, Ahlskog JE, Matsumoto JY, Maraganore DM, Wright KF, Schoenfelder J (1993) Multicenter study of cabergoline, a long-acting dopamine receptor agonist, in Parkinson's disease patients with fluctuating response to levodopa/carbidopa. Neurology 43: 1981–1984
To cite this abstract in AMA style:
N. Sharma, A. Kumari, N. Sawal, H. Singh, K. Shukla. Low dose Cabergoline for freezing of gait in advanced Parkinson's disease – you can have your cake and eat it too! [abstract].
Mov Disord.
2020; 35 (suppl 1). https://www.mdsabstracts.org/abstract/low-dose-cabergoline-for-freezing-of-gait-in-advanced-parkinsons-disease-you-can-have-your-cake-and-eat-it-too/. Accessed December 7, 2023.
« Back to MDS Virtual Congress 2020
MDS Abstracts - https://www.mdsabstracts.org/abstract/low-dose-cabergoline-for-freezing-of-gait-in-advanced-parkinsons-disease-you-can-have-your-cake-and-eat-it-too/