Objective: To report a case of ARSACS associated with low serum vitamin E.
Background: Ataxia with vitamin E deficiency (AVED) presentation varies but usually starts with progressive ataxia, areflexia, and loss of proprioception with low vitamin E level (Plasma vitamin E concentration is generally <4.0 µmol/L (<1.7 mg/L)). Because oxidation of α-tocopherol by air may invalidate test results, precautions should be taken, and testing for mutations in TTPA gene is advised to confirm the diagnosis.(1)(2) Similar phenotype could be seen in other genetic diseases, as Friedreich ataxia and ARSACS; the latter is caused by mutation in the SACS gene on chromosome 13q12 classically characterized by progressive cerebellar ataxia, peripheral neuropathy, and pyramidal tract signs. It was reported originally in Québec-Canada, but more cases worldwide have been identified.(3)
Method: Case report.
Results: A 48-year-old man presented with history of progressive bilateral lower extremity numbness and weakness that started at the age of 22. Two years later he developed difficulty with the fine motor skills of both hands and his balance deteriorated. His parents are consanguineous, but none of his family has similar symptoms. Neurological exam shows overshooting saccades, ataxic dysarthria, clumsy rapid alternating movements and finger-nose-finger test. He has pes cavus and hammer toes. He has bilateral lower limb weakness (power 4/5) and spasticity with +3 reflexes at knees and +1 at ankles and downgoing plantars. Sensory exam shows only impaired vibration. Ophthalmological evaluation was unremarkable. Nerve conduction studies showed sensorimotor axonal polyneuropathy. Brain MRI showed T2 and FLAIR hyperintensity and thickening of middle cerebellar peduncles. Vitamin E level= 0.77 (lab range 3.8-18.4). Lipid profile, vitamin B12, copper, celiac antibodies, thyroid function, VDRL, echocardiogram, whole spine MRI were unremarkable. Vitamin E 800 IU twice/day was started but no improvement and the patient did not tolerate it. Later, Whole Exome sequencing (WES), showed homozygous likely pathogenic missense mutation, c.13658C>T (p.Thr4553lle) in SACS gene with no detectable variant in TTPA gene.
Conclusion: Hypovitaminosis E without genetic confirmation in the setting of ataxia may not be specific for AVED as vit E assay is prone to false results. Lacking diagnostic criteria of AVED, genetic analysis is warranted.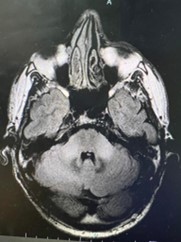 References: 1. Mariotti C, Gellera C, Rimoldi M, Mineri R, Uziel G, Zorzi G, et al. Ataxia with isolated vitamin E deficiency: neurological phenotype, clinical follow-up and novel mutations in TTPA gene in Italian families. Neurol Sci. 2004/08/10. 2004;25(3):130–7.
2. M S. Ataxia with Vitamin E Deficiency Summary Suggestive Findings. 2023;1–19.
3. Tremblay M, Girard-Côté L, Brais B, Gagnon C. Documenting manifestations and impacts of autosomal recessive spastic ataxia of Charlevoix–Saguenay to develop patient-reported outcome. Orphanet J Rare Dis [Internet]. 2022;17(1):1–19.
To cite this abstract in AMA style:
D. Al-Shorafat, K. Al-Hayk, M. Qawasmeh, W. Kamel, S. Bashayreh. Low serum vitamin E in a genetically confirmed Autosomal Recessive Spastic Ataxia of Charlevoix-Saguenay (ARSACS) [abstract].
Mov Disord.
2023; 38 (suppl 1). https://www.mdsabstracts.org/abstract/low-serum-vitamin-e-in-a-genetically-confirmed-autosomal-recessive-spastic-ataxia-of-charlevoix-saguenay-arsacs/. Accessed September 28, 2023.
« Back to 2023 International Congress
MDS Abstracts - https://www.mdsabstracts.org/abstract/low-serum-vitamin-e-in-a-genetically-confirmed-autosomal-recessive-spastic-ataxia-of-charlevoix-saguenay-arsacs/