Objective: To assess the feasibility and quality of evaluating motor symptoms through video consultations for Parkinson disease's (PD) patients in the Brazilian public health system.
Background: The COVID-19 pandemic hindered adequate clinical followup of patients with PD and shifted face-to-face consultations to telemedicine.1 Published research on methods to assess motor symptoms through video consultations were predominantly performed with patients from developed countries that had access to video consultations facilitated either due to a strict selection criteria or by being provided good quality technological means to partake in the procedure.2–4 The feasibility of evaluating motor symptoms through video consultations for PD's patients in developing countries like Brazil in a real life scenario is unknown.
Method: We performed a cross-sectional study with 32 Brazilian public health system PD's patients that agreed to partake in a video consultation. We tried to rate several motor items from the MDS-UPDRS© scale using the patient's available examination setting and technological means. We also evaluated several aspects related to the quality of the consultation in a likert scale ranging from 1 to 5 (1 being very poor and 5, very good).
Results: Most patients were female, married and white. Family income was low and most patients or caretakers had a good level of education. The majority of patients didn't have dementia, DBS and were somewhat dependent. Most had taken levodopa up to 90 minutes before consultation. Almost all used a smartphone for the consultation and most had aid from a caretaker.
[table1]
The most rateable motor parameters were hand movements, global spontaneity of movement, rest tremor amplitude of upper limbs and constancy of rest tremor. The least rateable parameters were freezing of gait, gait, leg agility and rest tremor amplitude of the lower limbs. Most rateable parameters were evaluated with little to no difficulty. Internet connection, video, audio and illumination quality ranged mostly from good to very good, while physical space was commonly rated as regular to good.
[table2]
[figure1]
[table3]
Conclusion: Motor parameters related to the upper limbs were frequently rateable, while parameters related to gait and lower limbs were the most difficult to rate. Physical space was the worst evaluated quality parameter for the video consultation.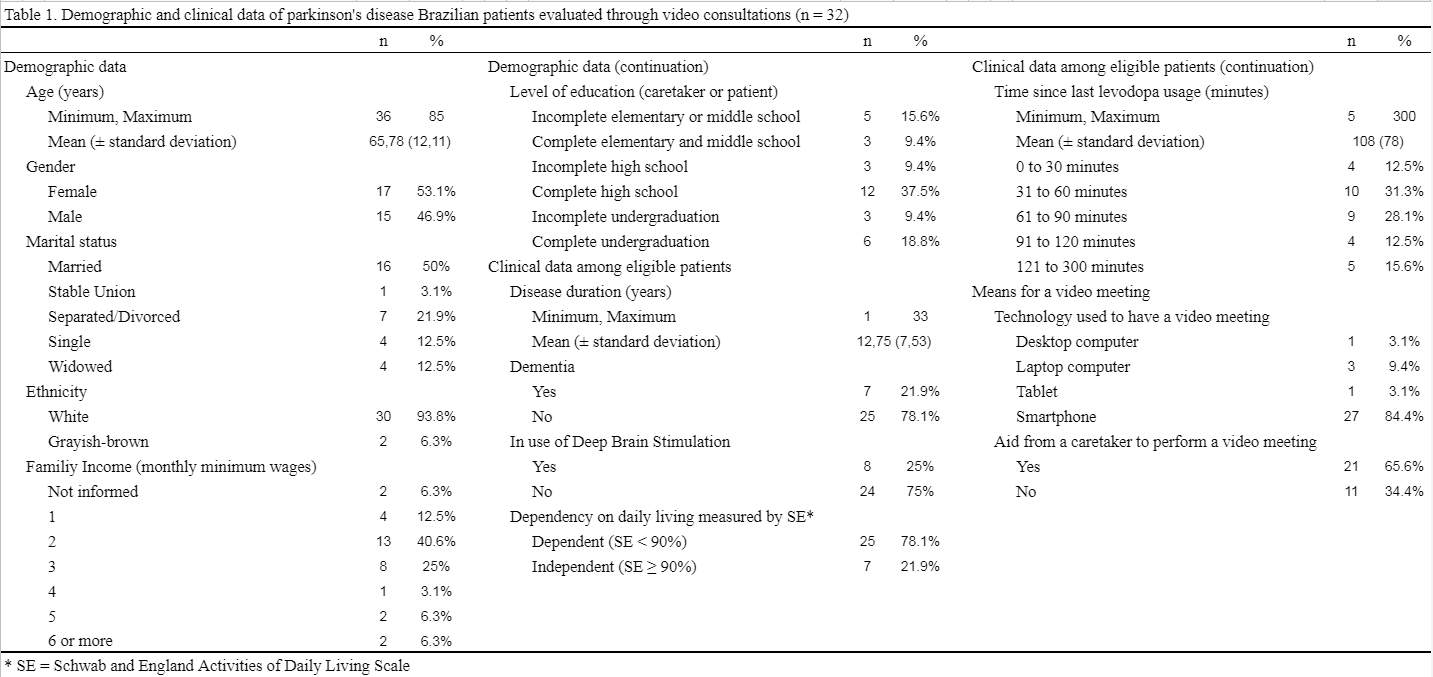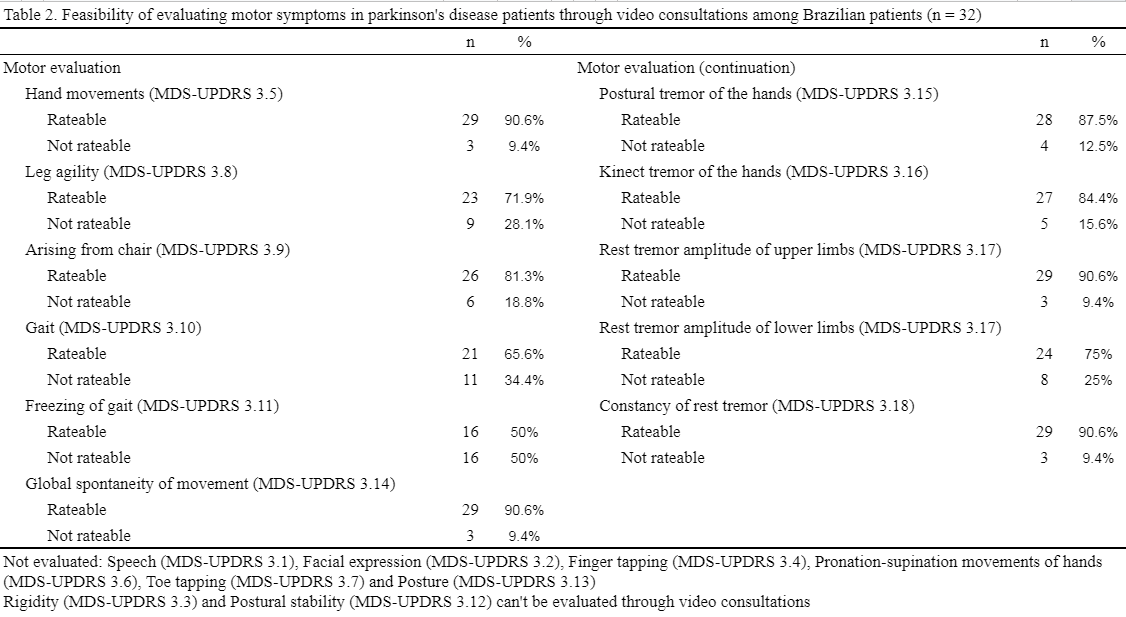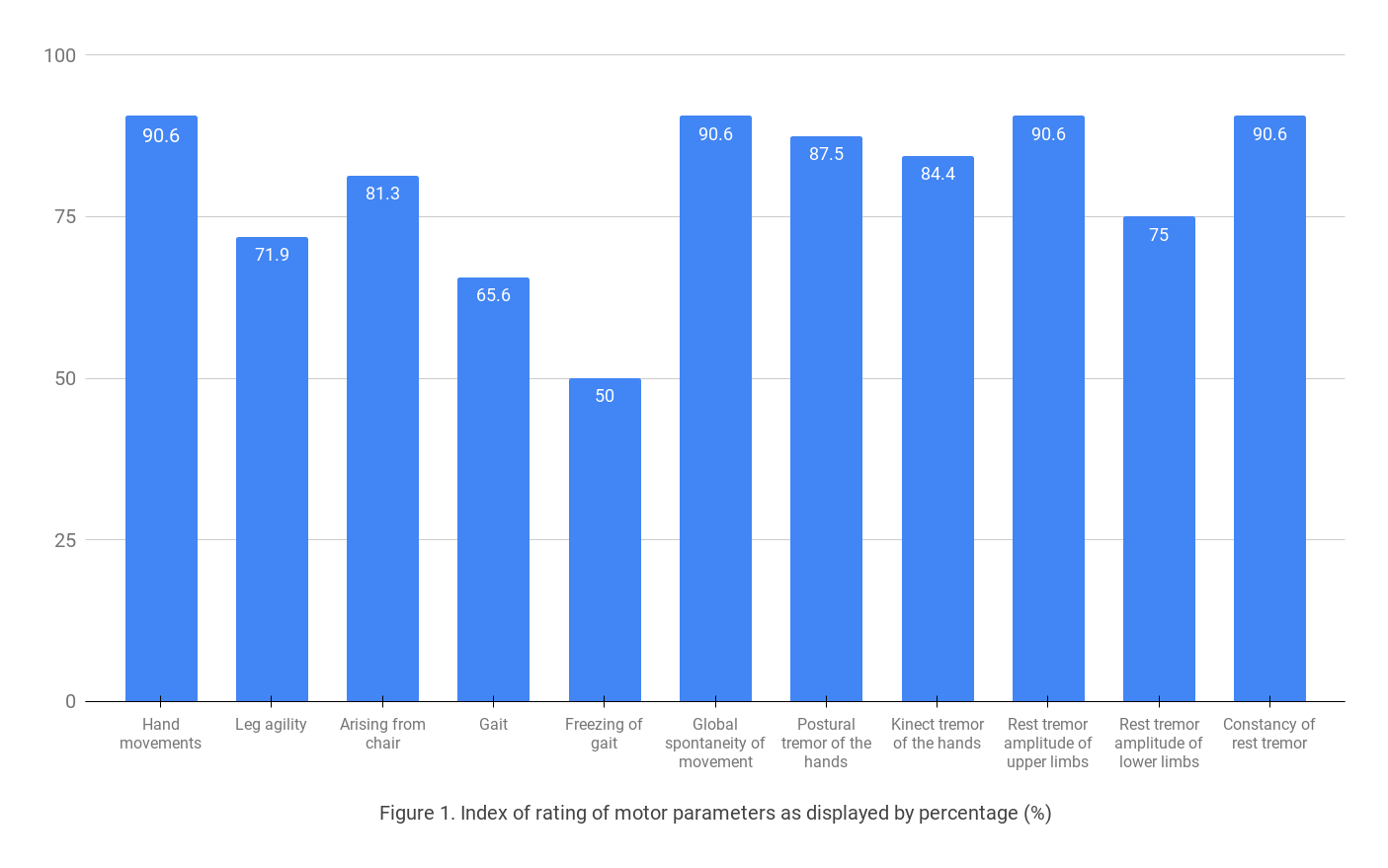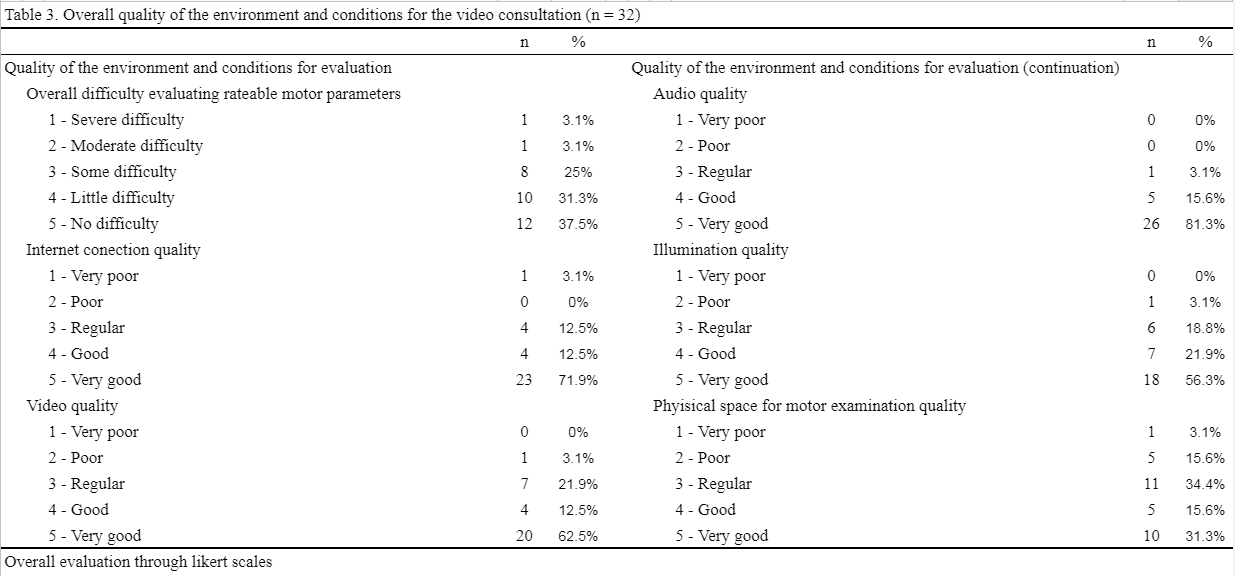 References: Stella M. Papa MD Patrik Brundin MD, PhD Victor S. C. Fung PhD, FRACP Un Jung Kang MD David J. Burn MD, FMedSci Carlo Colosimo MD, FEAN Han‐Lin Chiang MD Roy N. Alcalay MD, MS Claudia Trenkwalder MD and the MDS‐Scientific Issues Committee. Impact of the COVID‐19 Pandemic on Parkinson's Disease and Movement Disorders. Mov Disord. 2020;35(5). doi:10.1002/mds.28067 2. Schneider RB, Myers TL, Tarolli CG, et al. Remote Administration of the MDS-UPDRS in the Time of COVID-19 and Beyond. J Parkinsons Dis. 2020;10(4):1379-1382. 3. Cubo E, Gabriel-Galán JMT, Martínez JS, et al. Comparison of office-based versus home Web-based clinical assessments for Parkinson's disease. Mov Disord. 2012;27(2):308-311. 4. Abdolahi A, Scoglio N, Killoran A, Dorsey ER, Biglan KM. Potential reliability and validity of a modified version of the Unified Parkinson's Disease Rating Scale that could be administered remotely. Parkinsonism Relat Disord. 2013;19(2):218-221.
To cite this abstract in AMA style:
D. Dos Santos, D. Camelo, M. Strelow, M. Silva, P. Führ, L. Marins, A. Schumacher-Schuh. Motor evaluation of Parkinson's disease patients through video consultations in the Brazilian public health system – a real life feasibility study [abstract].
Mov Disord.
2021; 36 (suppl 1). https://www.mdsabstracts.org/abstract/motor-evaluation-of-parkinsons-disease-patients-through-video-consultations-in-the-brazilian-public-health-system-a-real-life-feasibility-study/. Accessed December 7, 2023.
« Back to MDS Virtual Congress 2021
MDS Abstracts - https://www.mdsabstracts.org/abstract/motor-evaluation-of-parkinsons-disease-patients-through-video-consultations-in-the-brazilian-public-health-system-a-real-life-feasibility-study/