Session Information
Session Time: 1:45pm-3:15pm
Location: Exhibit Hall C
Objective: The aim of this study is to investigate the effect of DNAJC13 mutation on the vesicle transport, α-synuclein (αSYN) distribution/catabolism, and neurodegeneration using a combination of cell culture and fly models.
Background: Recently, DNAJC13 have been identified as the causative gene for the PARK21-linked familial form of PD. Patients with DNAJC13 mutation represent late-onset, dopa-responsive parkinsonism with αSYN-positive Lewy bodies in the the substantia nigra and locus coeruleus. DNAJC13 is known as the mammalian homolog of receptor-mediated endocytosis 8 (RME-8), a DnaJ domain-containing protein originally identified in a screen for endocytic defect in Caenorhabditis elegans. RME-8 localizes to membrane of the early endosome and interacts with Wiscott-Aldrich and Scar Homolog (WASH) complex and sorting nexin 1 (SNX1), thereby contributes to the endosomal protein sorting. However, precise mechanism by which mutant DNAJC13 causes accumulation of αSYN and neuronal cell death leading to PD still remains unknown.
Methods: To generate human DNAJC13 transgenic (Tg) flies, pUAST plasmids encoding myc-tagged human wt or p.N855S mutant DNAJC13 were microinjected into Drosophila embryos. Eye phenotype was evaluated after crossing DNAJC13 Tg flies with control or human wt-αSYN Tg flies under eye-specific GMR-GAL4 driver. Locomotor activity was evaluated by climbing assay according to the methods described elsewhere. To investigate the effect of mutant DNAJC13 expression on intracellular trafficking, COS7 cells expressing GFP-tagged wt or p.N855S mutant DNAJC13 were co-transfected with mStrawberry-tagged Rab GTPases. The influence of mutant DNAJC13 on subcellular distribution of αSYN was determined using COS7 cells stably expressing HA-αSYN by Western blot analyses. In some experiments, cells over-expressing wt or mutant DNAJC13 were incubated with reference molecules including Alexa555-labeled transferrin or pHrodo-EGF. Time-lapse images of internalized reference molecules were acquired under confocal laser scanning microscope.
Results: The p.N855S mutant DNAJC13 Tg fly showed subtle, but significant irregularity of ommatidial array and size, locomotor impairment and loss of dopaminergic neurons, which were markedly exacerbated by the co-expression of human αSYN (Fig. 1, white arrowhead). Co-expression of mutant DNAJC13 with HA-tagged αSYN in COS7 cells resulted in the abnormal accumulation of αSYN in the endosome compartment. Intriguingly, this finding was accompanied by the impaired trafficking of reference molecules from the early to the late and/or recycling endosomes as well as disorganized assembly of intracellular actin cytoskeleton.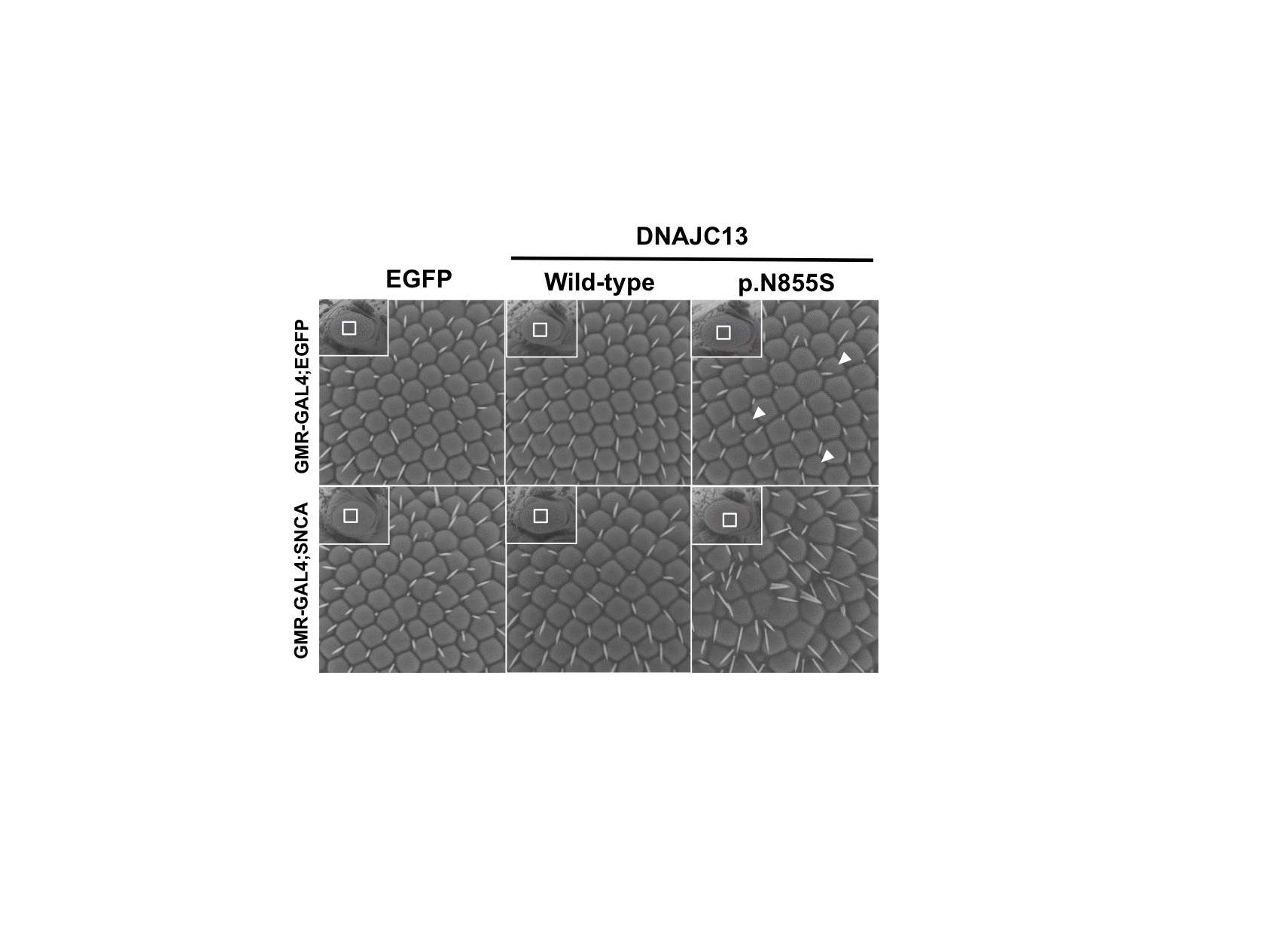 Conclusions: DNAJC13 mutation impairs specific endosomal trafficking and causes the aberrant endocytic retention of αSYN, which might thereby contributes to the neurodegeneration process leading to PD.
To cite this abstract in AMA style:
T. Hasegawa, S. Yoshida, M. Suzuki, J. Kobayashi, N. Sugeno, K. Sekiguchi, M. Edura, A. Kikuchi, A. Takeda, Y. Nagai, M. Aoki. Mutant DNAJC13 modulates accumulation and toxicity of alpha-synuclein through altered endosomal trafficking in cell and fly models of Parkinson's disease [abstract].
Mov Disord.
2017; 32 (suppl 2). https://www.mdsabstracts.org/abstract/mutant-dnajc13-modulates-accumulation-and-toxicity-of-alpha-synuclein-through-altered-endosomal-trafficking-in-cell-and-fly-models-of-parkinsons-disease/. Accessed December 9, 2023.
« Back to 2017 International Congress
MDS Abstracts - https://www.mdsabstracts.org/abstract/mutant-dnajc13-modulates-accumulation-and-toxicity-of-alpha-synuclein-through-altered-endosomal-trafficking-in-cell-and-fly-models-of-parkinsons-disease/