Objective: This research was conducted with a qualitative approach to assess the needs of patients with Parkinson's disease
Background: In the health system, the provision of services according to the needs of the community should be emphasized. The need of patients is a special concept and depends on the conditions and culture of a society in which opinions, views, and experiences of people play an important role.
Method: This research is exploratory sequential research in which the participants were selected by purposive sampling method. In this research, semi-structured interviews were conducted with 11 patients with Parkinson's disease, 11 caregivers of the patients, and six of the medical care workers to determine the needs of the patients. Data analysis was done by conventional content analysis method and continued until data saturation. The validity of the data was confirmed based on the criteria proposed by Goba and Lincoln.
Results: Based on the findings of the research, the needs of patients with Parkinson's are divided into five main categories, including physical needs with subcategories (safety, normal posture of the body, balanced nutrition, verbal communication, sleep quality, bowel dysfunction, urinary dysfunction, sexual problem, unpleasant physical feelings, physical activities), psychological needs (assessment and management of the patient's mood disorders, assessment and management of cognitive disorders, assessment and management of behavioral and personality disorders, independence, adaptation to the disease, mental activities), social needs (social participation, social support, access healthcare services), spiritual needs (religious need, existential need) and Treatment adherence needs (Following doctors' orders, following medication) was classified.
Conclusion: The results of the study show that patients with Parkinson's face many needs in different areas of life. Therefore, it can be said that Parkinson's is not only a movement disorder and these patients experience many different needs in different areas of life. If the needs of each area of a person's life are not met, it affects other areas and ultimately reduces the quality of life of patients. Therefore, health service providers must pay attention to the needs of Parkinson's patients with a holistic view and try to meet the needs in different areas.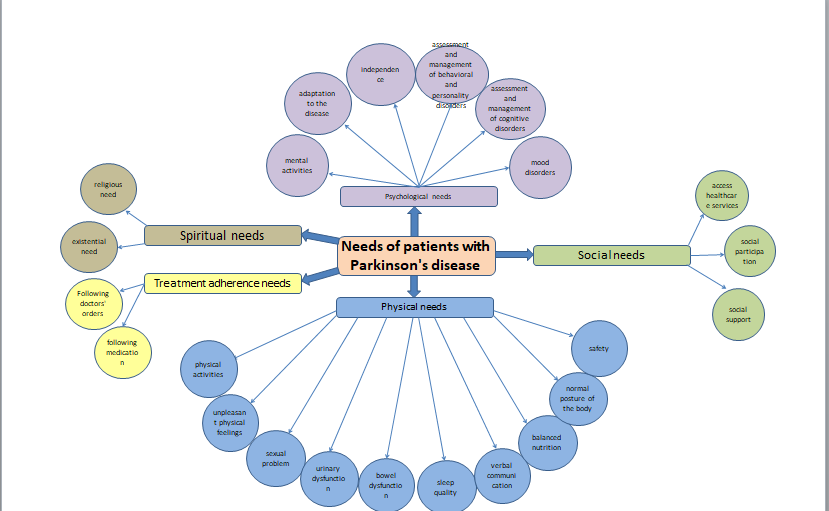 To cite this abstract in AMA style:
N. Geraminejad, A. Darvishpoor Kakhki. Needs assessment of patients with Parkinson's disease: a qualitative study [abstract].
Mov Disord.
2023; 38 (suppl 1). https://www.mdsabstracts.org/abstract/needs-assessment-of-patients-with-parkinsons-disease-a-qualitative-study/. Accessed September 27, 2023.
« Back to 2023 International Congress
MDS Abstracts - https://www.mdsabstracts.org/abstract/needs-assessment-of-patients-with-parkinsons-disease-a-qualitative-study/