Objective: The present study aims to explore the co-occurrence of impulse control disorder (ICD) and apathy and its neural correlates analyzing anatomical changes in gray matter (GM) in early untreated Parkinson's disease (PD) patients. Moreover, we aimed to investigate the possible longitudinal relationship between ICD and apathy and their possible impact on cognitive functioning during the first five years of PD.
Background: Although apathy and ICD are considered to represent opposite extremes of a continuum of motivated behavior (i.e., hypo- and hyperdopaminergic behaviors) [1], they might also co-occur [2]. However, their neural correlates in the early stage of PD and their longitudinal relationship as well as their influence on cognitive aspects have been not investigated.
Method: We used the baseline data from the Parkinson's Progression Markers Initiative (PPMI) database (www.ppmi-info.org/data) to identify the co-occurrence of apathy and ICD in 423 early drug-naïve PD patients. The baseline MRI volumes images of patients with both apathy and ICD were analyzed through Voxel Based Morphometry using SPM12. Multi-level models (MLM) were used to assess the longitudinal relationship (across 5 years) between apathy and ICD and their effect on neuropsychological scores.
Results: Co-occurrence of both apathy and ICD was observed in 23 (5.4%) patients. We found significant anatomic focal GM decreases at baseline for PD patients with apathy and ICD in the anterior cingulate cortex, middle and posterior cingulate cortex, medial prefrontal cortex, bilateral orbitofrontal cortex, middle frontal, and inferior temporal gyri, insula, thalamus, and cerebellum (Figure 1). MLM revealed that more severe ICD at 5 years were related to the use of medication with levodopa and dopamine agonists combined, younger age, and severe apathy; whereas, severe apathy at 5 years was related to the use of levodopa, worse motor state, advanced stage of the disease, and severe ICD, anxiety, and depression. Importantly, worse apathetic and ICD states were associated with poorer performance on executive tasks at 5 years.
Conclusion: Apathy and ICD seem to be related to each other in early PD. Particularly, their co-occurrence was found associated with GM decreases in cortical and subcortical areas and executive dysfunctions in 5 years from the diagnosis.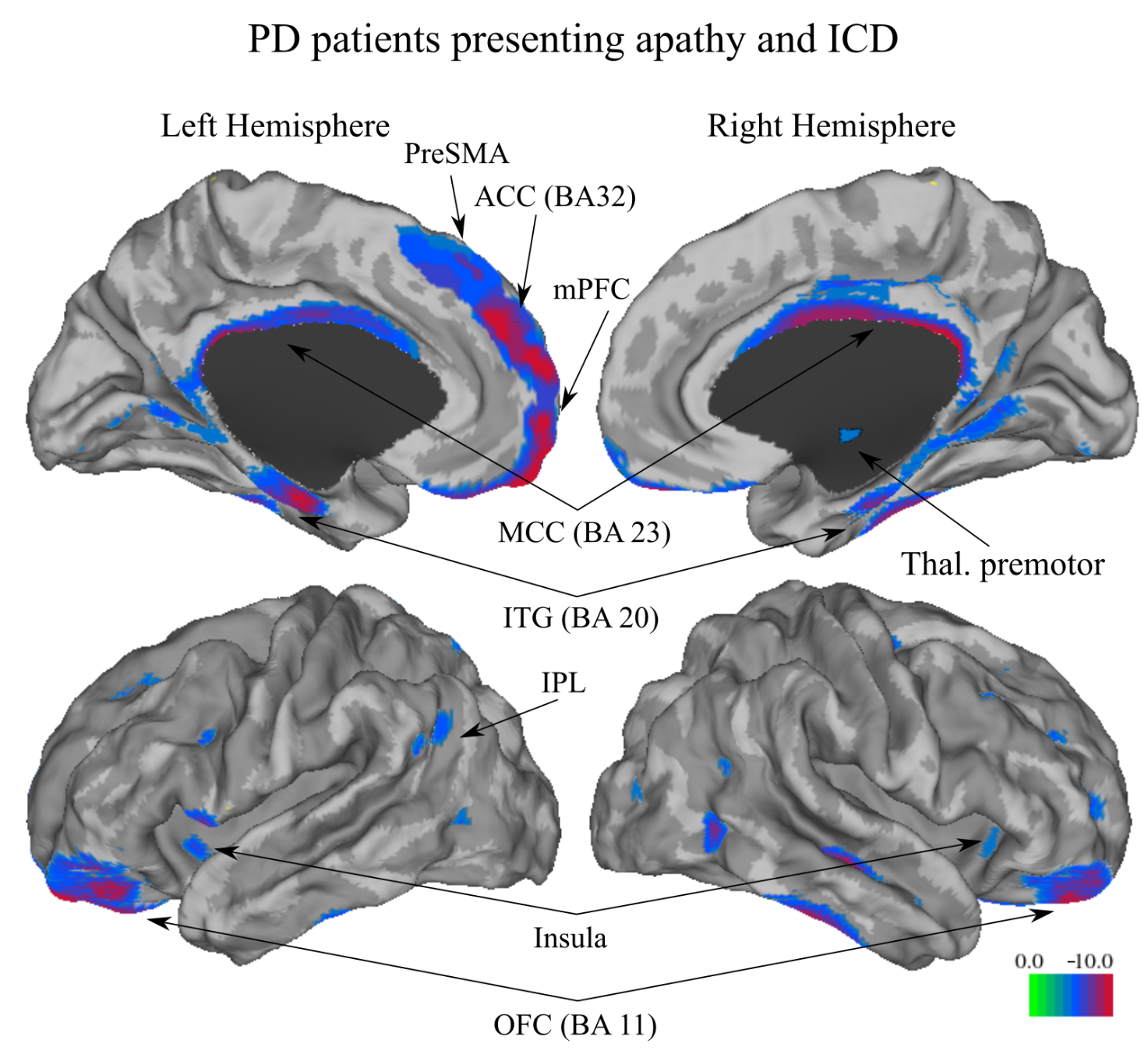 References: [1] Houeto JL, Magnard R, Dalley JW, Belin D, Carnicella S. Trait Impulsivity and Anhedonia: Two Gateways for the Development of Impulse Control Disorders in Parkinson's Disease?. Front Psychiatry. 2016;7:91. Published 2016 May 30. doi:10.3389/fpsyt.2016.00091
[2] Scott BM, Eisinger RS, Burns MR, et al. Co-occurrence of apathy and impulse control disorders in Parkinson disease. Neurology. 2020;95(20):e2769-e2780. doi:10.1212/WNL.0000000000010965
To cite this abstract in AMA style:
G. Maggi, S. Costa, F. Loayza, G. Santangelo, I. Obeso. Neural and cognitive correlates of the co-occurrence of apathy and Impulse Control Disorder in early Parkinson's Disease [abstract].
Mov Disord.
2022; 37 (suppl 2). https://www.mdsabstracts.org/abstract/neural-and-cognitive-correlates-of-the-co-occurrence-of-apathy-and-impulse-control-disorder-in-early-parkinsons-disease/. Accessed September 28, 2023.
« Back to 2022 International Congress
MDS Abstracts - https://www.mdsabstracts.org/abstract/neural-and-cognitive-correlates-of-the-co-occurrence-of-apathy-and-impulse-control-disorder-in-early-parkinsons-disease/