Session Information
Session Time: 1:15pm-2:45pm
Location: Les Muses Terrace, Level 3
Objective: To examine the neural correlates of walking with visual cues in Parkinson's disease (PD).
Background: Gait impairment is central to PD with links to falls risk. Specifically, gait is slow, asymmetric and more variable in PD, with short and shuffling steps compared to healthy controls. Visual cues can improve gait in PD but the underlying mechanisms involved are unclear, leading to variable application and response. Investigating how visual cues influence the neural activity involved in walking may allow greater understanding of the mechanisms involved in cueing response for gait, which could help develop effective therapeutics. Mobile electroencephalogram (EEG) is a neuroimaging technique that can be useful in investigating neural activity during walking [1].
Method: Nine people with PD (Age; 76±5.7, UPDRS-III; 30.7±11.3, ON medication) walked over-ground for two minutes with and without visual cues (lines to step over) while a 32-channel mobile EEG system (Mobita, TMSi, Netherlands) recorded brain activity and synchronized inertial sensors measured gait. EEGLAB software [2] was used to process EEG signals to derive brain activity, specifically source localized independent component (IC) clusters and their power spectral densities; Delta (δ:1-4Hz), Theta (q:4-8Hz), Alpha (α:8-13Hz), Beta (b:13-30Hz) and Gamma (γ:30-50Hz). We identified 35 ICs in total and formed five clusters with source locations in the pre-frontal cortex (PFC), pre-motor cortex (PMC) and the left, central and right parietal cortex (PC) (Figure 1).
Results: As expected, gait improved in PD when walking with visual cues, e.g. stride length (no-cue; 1.05±0.13m, cue; 1.18±0.12m, p=.033). Overall, power reduced in specific brain regions when walking with visual cues compared to without, such as the PFC (d: p=.017, b: p=.003, g: p<.001), PMC (q: p=.016, b: p<.001, g: p<.001), and left PC (g: p=.002). This may indicate reduced cognitive, motor and sensory load when walking with visual cues. However, there was also higher γ power (p=.002) in the central PC with visual cues, which may indicate that visual cues require discrete increases in visual processing.
Conclusion: These preliminary findings suggest that visual cues may influence brain activity in specific regions during walking in PD, which may underpin gait improvement. Future work is required to establish findings in a larger cohort.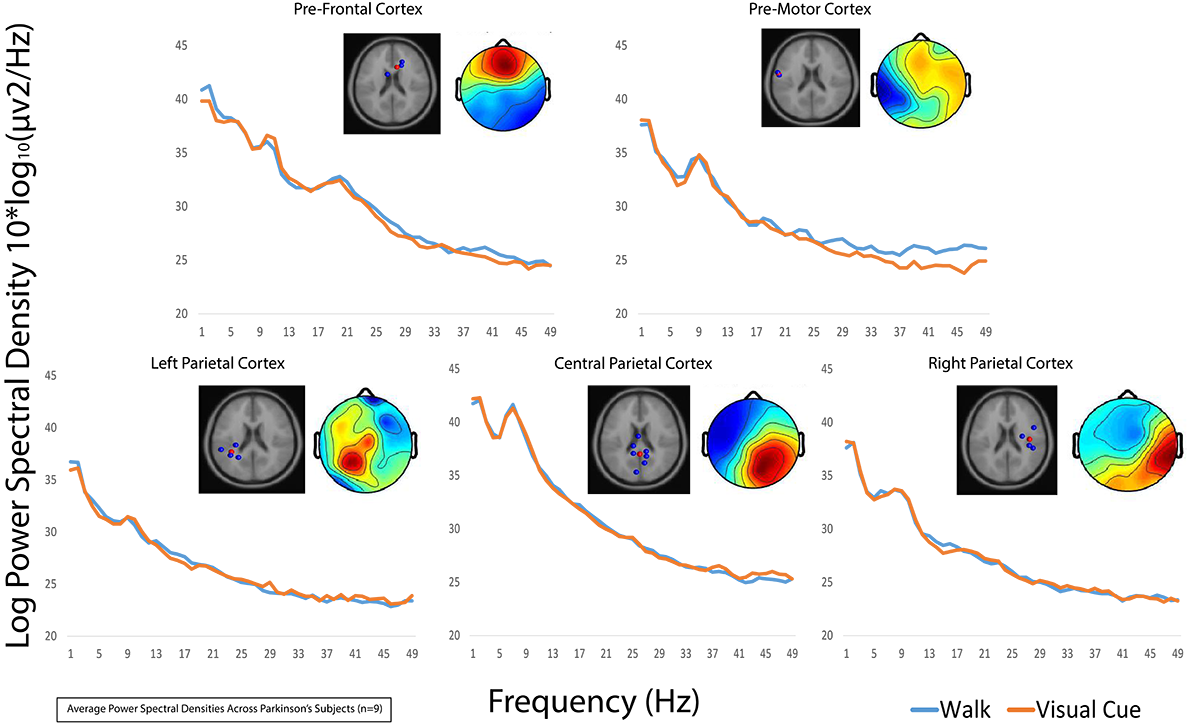 References: [1] Stuart, S., et al. (2018). Maturitas. [2] Delorme, A., & Makeig, S. (2004). J neuro meth.
To cite this abstract in AMA style:
S. Stuart, J. Wagner, S. Makeig, M. Mancini. Neural correlates of visual cues for gait impairment in Parkinson's disease: a preliminary analysis [abstract].
Mov Disord.
2019; 34 (suppl 2). https://www.mdsabstracts.org/abstract/neural-correlates-of-visual-cues-for-gait-impairment-in-parkinsons-disease-a-preliminary-analysis/. Accessed December 1, 2023.
« Back to 2019 International Congress
MDS Abstracts - https://www.mdsabstracts.org/abstract/neural-correlates-of-visual-cues-for-gait-impairment-in-parkinsons-disease-a-preliminary-analysis/