Session Information
Session Time: 1:45pm-3:15pm
Location: Hall 3FG
Objective: To present two cases of Neurologic Wilson's Disease with two different clinical picture. To review the the important diagnostics and tests in clinching the rare condition. To emphasize the different medications that can be used for patients with Neurologic Wilson's Disease.
Background: Wilson's Disease is a rare genetic disease resulting in pathologic deposition of copper in the liver, brain, cornea, kidney and cardiac muscle. Wilson's Disease has a prevalence rate of 30 cases per million qualifying as a rare disease based on the criterion of European Commission on Public Health.
Methods: Two cases of Neurologic Wilson's Disease were reviewed. The first one presenting with ataxia and parkisonian symptoms and the other one with dytonic form.
Results: Reviewed were two cases of Neurologic Wilson's Disease presenting with progressive movement disorder and Kayser-Fleischer rings with low serum copper, low ceruloplasmin and increased 24-hour urine copper in a background of normal liver enzymes. Cranial Imaging revealed symmetric basal ganglia hyperintensities in T2/FLAIR. 8th International Meeting on Wilson's Disease Scoring System and Unified Wilson Disease Rating Scale were also helpful in the diagnosis and monitoring of patients. For both cases, low copper diet was a mainstay treatment. Zinc supplementation was also initiated with note of remarkable improvements in speech, tremors and stiffening of extremities. The first case underwent D-Penicillamine treatment with slow uptitration of the drug to avoid hematologic consequences and to monitor for paradoxical neurological deterioration, as for the second case, patient was maintained on Zinc supplementation because of relatively severe baseline neurologic status. Treatment should still be individualized since no two patients with Wilson's Disease are the same. For patients with debilitating movement disorder refractory to chelation and medical treatment, botulinum toxin injection maybe offered. Screening of siblings of the patient and monitoring of their serum ceruloplasmin is a big part of management.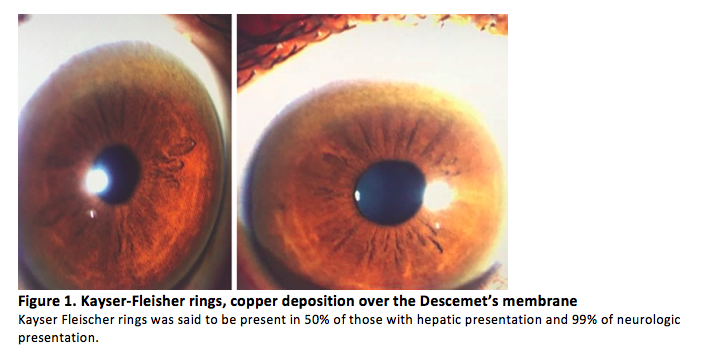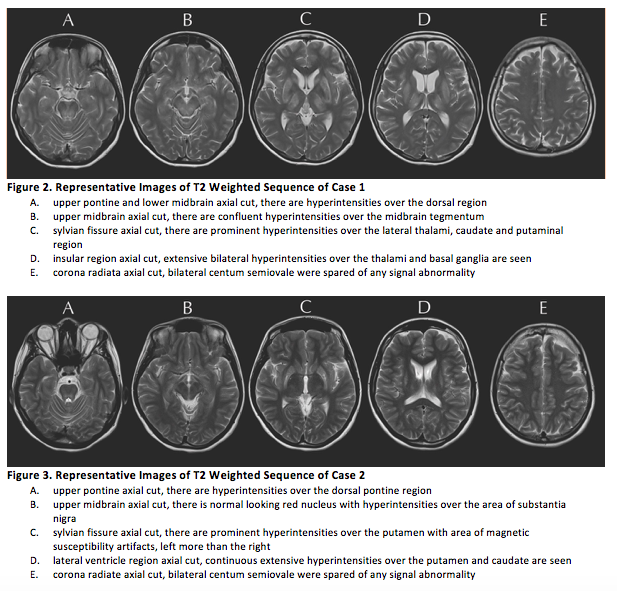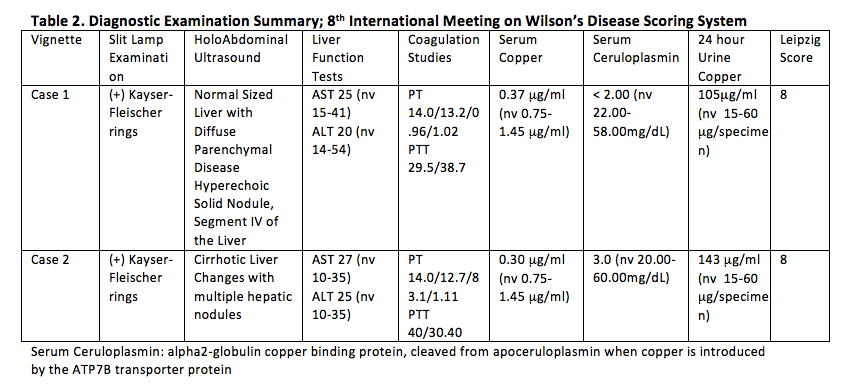 Conclusions: More often than not, these cases go unnoticed and misdiagnosed because of its rarity and varied presentation. Extensive work-up is necessary to clinch the diagnosis. To date, there is no test, except genetic methods that can be considered diagnostic on its own. As for the management, the earlier the intervention is initiated, the better prognosis would be for recovery. There are several treatment options and should be tailored to every patient with Neurologic Wilson's Disease. Since, Neurologic Wilson's Disease is considered as a Copper Toxicity, immediate diagnostic evaluation and early treatment initiation is a must.
References: Bandmann O, Weiss KH, and Kaler SG (2016). Wilson's disease and other neurological copper disorders. Lancet Neurology, 14(1), 103–113. Frucht SJ (Ed) (2013). Movement Disorder Emergencies: Diagnosis and Treament. Wilson's Disease by Brewer, GJ. Human Press.
To cite this abstract in AMA style:
R. Porlas, L. De Castillo, C. Dioquino. Neurologic Wilson's Disease: Case Series on a Diagnostic and Therapeutic Emergency [abstract].
Mov Disord.
2018; 33 (suppl 2). https://www.mdsabstracts.org/abstract/neurologic-wilsons-disease-case-series-on-a-diagnostic-and-therapeutic-emergency/. Accessed December 5, 2023.
« Back to 2018 International Congress
MDS Abstracts - https://www.mdsabstracts.org/abstract/neurologic-wilsons-disease-case-series-on-a-diagnostic-and-therapeutic-emergency/