Session Information
Session Time: 1:45pm-3:15pm
Location: Agora 3 West, Level 3
Objective: To assess the safety and tolerability of nilotinib (150-300 mg once daily) in moderate/advanced Parkinson's disease (PD).
Background: Nilotinib is approved by the FDA for chronic myeloid leukemia but not for PD. Several cell and animal model studies suggest that nilotinib may reduce alpha-synuclein pathology in PD. A small open-label clinical study tested the safety/tolerability of nilotinib in PD for the first time and reported that there were positive, though exploratory, signs of clinical benefits.
Method: NILO-PD is a Phase 2a randomized, double-blind, placebo-controlled, parallel group study. The study enrolled 76 participants with moderate to advanced PD. The participants were randomized 1:1:1 to a once daily dose of nilotinib (150 mg: 300 mg) or placebo for 6 months. The primary outcome is safety and tolerability. Secondary and exploratory outcomes include assessment of symptomatic effects of nilotinib, impact of nilotinib on progression of PD disability (MDS-UPDRS OFF/ON), cognitive function (DRS-2), quality of life, pharmacokinetics, and a battery of serum and spinal fluid biomarkers. Study design is presented in Figure [1]:
Results: The study is conducted at 25 Parkinson Study Group (PSG) sites in US. Recruitment started in November 2017 and was completed in December 2018. 125 participants were screened and 76 randomized (39.2% screen failure). Baseline characteristics of study participants are summarized by mean (standard deviation): 64.6 (7.5) years of age, 31.6% female, 54.7 (8.0) years at diagnosis, 9.9 (4.7) years disease duration, 66.4 (19.5) MDS-UPDRS OFF score, 48.3 (16.1) MDS-UPDRS ON score, 27.1 (2.2) MOCA score. The study is scheduled to complete subjects' ascertainment in September 2019 and primary outcome results are expected by December 2019.
Conclusion: This study will provide further information on safety/tolerability, dose selection and biomarkers of nilotinib as a potential novel symptomatic and disease-modifying therapy for PD, and determine if it is warranted to proceed with future studies in PD de novo population.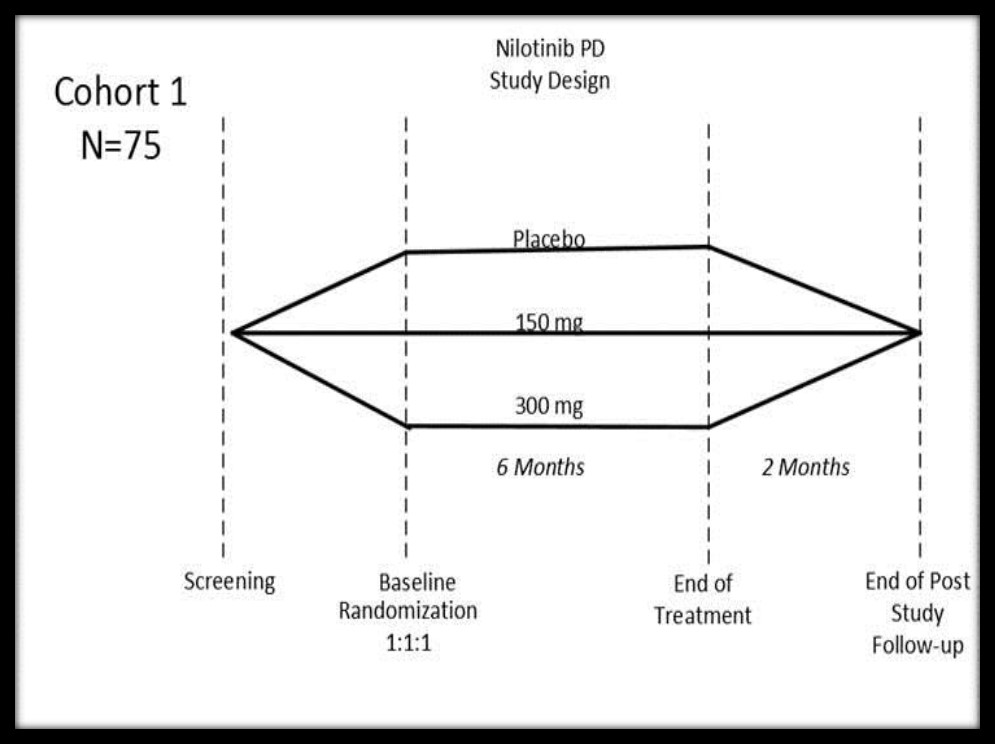 To cite this abstract in AMA style:
T. Simuni, B. Fiske, K. Merchant, C. Coffey, H. Matthews, R. Wyse, P. Brundin, D. Simon, M. Schwarzschild, D. Weiner, J. Adams, C. Venuto, L. Trusso, L. Baker, M. Kostrzebski, T. Ward, G. Rafaloff. NILO-PD: A Phase 2A Study of Nilotinib in Patients with Advanced Parkinson's Disease: Study Design and Status Update [abstract].
Mov Disord.
2019; 34 (suppl 2). https://www.mdsabstracts.org/abstract/nilo-pd-a-phase-2a-study-of-nilotinib-in-patients-with-advanced-parkinsons-disease-study-design-and-status-update/. Accessed September 28, 2023.
« Back to 2019 International Congress
MDS Abstracts - https://www.mdsabstracts.org/abstract/nilo-pd-a-phase-2a-study-of-nilotinib-in-patients-with-advanced-parkinsons-disease-study-design-and-status-update/