Objective: This study analyzed non-motor symptoms in newly diagnosed Parkinson's disease (PD) patients and controls in a large online cohort, comparing four groups based on age and gender.
Background: Non-motor symptoms may serve as potential diagnostic tools for PD,1 especially at its earliest stage, where diagnostic accuracy is lower.2 However, previous studies overlooked the impact of age and gender on symptom prevalence and reporting, and their association to the disease in specific PD groups in comparison to patients without PD but with similar demographics are lacking.
Method: We performed a cross-sectional analysis of the baseline of Fox Insight, an online longitudinal study of individuals with and without PD.3 We selected patients with newly diagnosed PD (≤3 years of disease) from four groups based on age at disease presentation (≤50 or >50 years) and gender, who were matched with controls. Thirty non-motor symptoms were binarily assessed (present or absent) by the NMS-Quest. We determined the prevalence ratio of non-motor symptoms with PD diagnosis in each group and conducted interaction analyses to compare prevalence ratios for each non-motor symptom across all groups through a robust Poisson regression.
Results: The number of patients in the groups of age of late-onset males and females, and young-onset males and females were, respectively, 3,786, 5,490, 618 and 656. The majority of non-motor symptoms were more prevalent in PD patients than in controls in all four groups.
[table1]
The non-motor symptoms with the most statistically significant prevalence ratio differences across all comparisons between the four groups were falls and talking or acting during sleep. The most significant differences in prevalence ratios were observed between late-onset males and young-onset females, and late-onset females and young-onset females, with differences present in 10 and 9 non-motor symptoms, respectively.
[table2]
Conclusion: Prevalence ratios of certain non-motor symptoms are different across specific groups of patients with PD. This information could guide clinicians in having a higher suspicion of the disease when these symptoms are present in specific patients.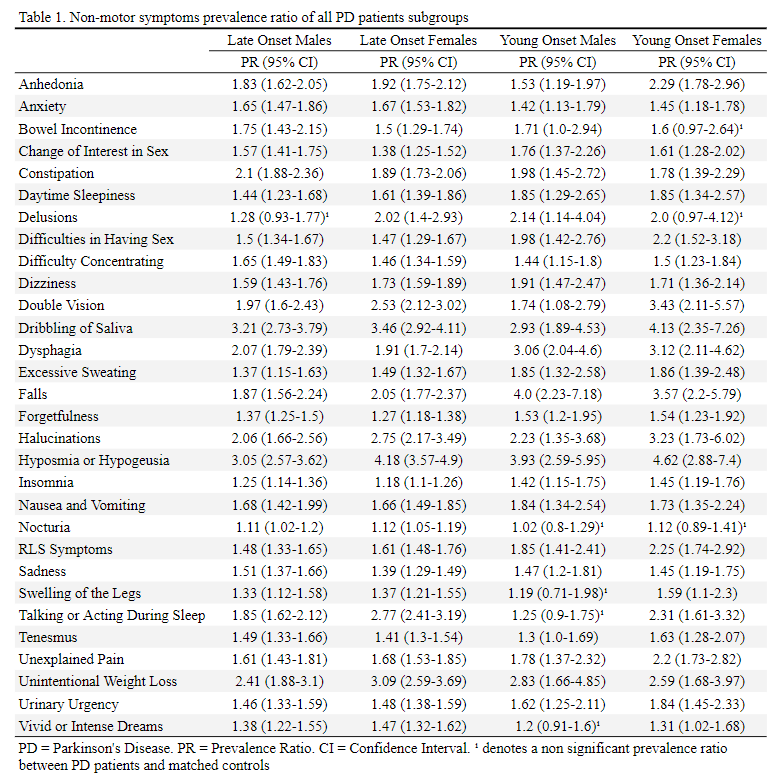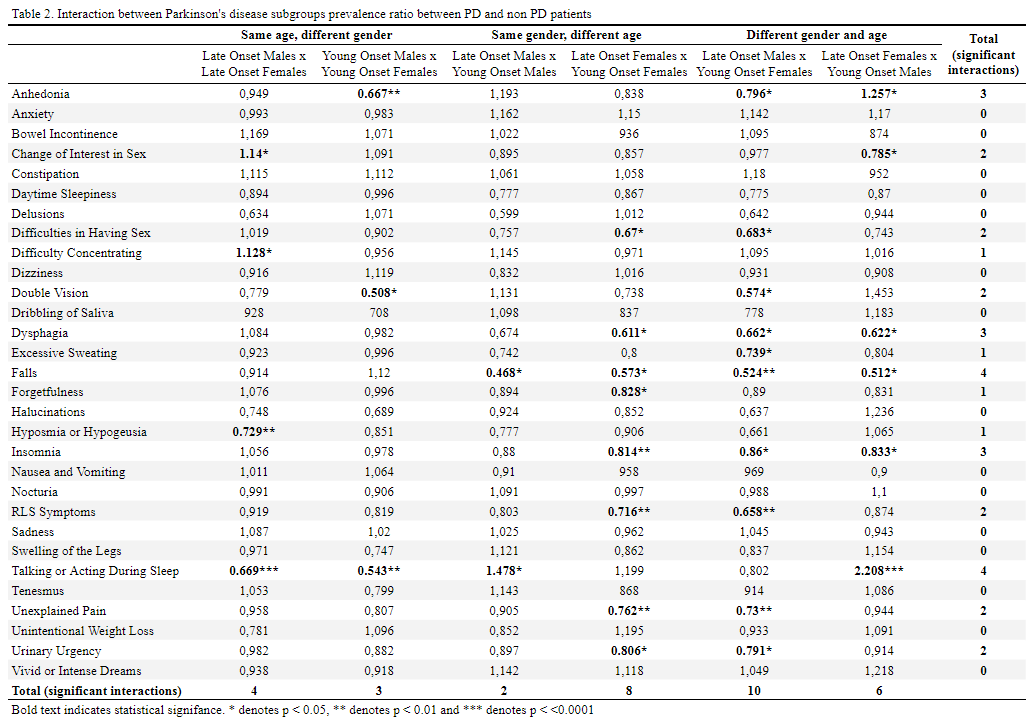 References: 1. Postuma RB, Berg D, Stern M, et al. MDS clinical diagnostic criteria for Parkinson's disease. Mov Disord. 2015;30(12):1591-1601.
2. Adler CH, Beach TG, Hentz JG, et al. Low clinical diagnostic accuracy of early vs advanced Parkinson disease: clinicopathologic study. Neurology. 2014;83(5):406-412.
3. Smolensky L, Amondikar N, Crawford K, et al. Fox Insight collects online, longitudinal patient-reported outcomes and genetic data on Parkinson's disease. Sci Data. 2020;7(1):67.
To cite this abstract in AMA style:
D. Teixeira-Dos-Santos, G. Pereira, C. Rieder, A. Schumacher-Schuh. Non-motor symptoms of Parkinson's disease: an analysis of gender and age-related differences in a large online cohort [abstract].
Mov Disord.
2023; 38 (suppl 1). https://www.mdsabstracts.org/abstract/non-motor-symptoms-of-parkinsons-disease-an-analysis-of-gender-and-age-related-differences-in-a-large-online-cohort/. Accessed September 25, 2023.
« Back to 2023 International Congress
MDS Abstracts - https://www.mdsabstracts.org/abstract/non-motor-symptoms-of-parkinsons-disease-an-analysis-of-gender-and-age-related-differences-in-a-large-online-cohort/