Objective: The aim of this work is to show our clinical experience with opicapone in real practice in a cohort of 68 parkinsonian patients followed 2 years.
Background: Opicapone is a three-generation, long-action, peripheric, selective and reversible COMT-I, that has shown efficacy treating "wearing- OFF" in idiopathic Parkinson´s disease (PD) (1).
Follow-up in pivotal studies is 6-months, and long-term experience in real life is still lacking.
Method: Retrospective study of parkinsonian patients treated with opicapone in a Movement Disorders Unit, from June 2017 to June 2019.
We have analyzed demographic characteristics, disease stage, withdrawn reasons, and mean time to new dopaminergic therapy dose increase.
Results: Demographic characteristics of the cohort and main results are shown on the table below.
We needed to decrease the levodopa dose in 47% of the patients, with a mean reduction of 30% of the dose.
We have identified that patients at II-III H-Y stages, suboptimal response and simple motor fluctuations are the best responders and shown greatest benefit. 14 patients have fluctuations of less than 2 years of evolution (Early Fluctuators)
We had to discontinue opicapone in 35% of the patients, mostly in the first year of follow -up. Causes of withdrawal are shown on the Figure.
The incidence of dyskinesia was lower in our cohort than in the pivotal studies.
In 13% of the patients, the clinical benefits lasted more than 8 months. Two patients no needed to increase levodopa dose in the 12 months after introduction of opicapone.
Conclusion: Opicapona was effective and well tolerated in PD patients at II-III H-Y stages, in some cases with a prolonged benefit effect over time.
In our experience, opicapone should be administered with caution and close monitoring in advanced PD patients or cognitive impairment. A higher risk of confusional state and hallucinations were seen in such population.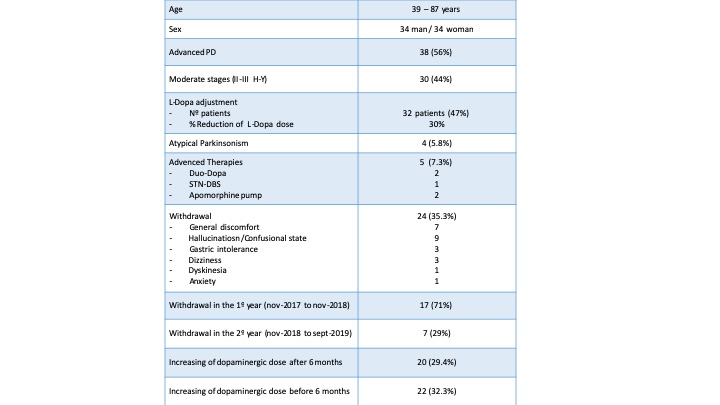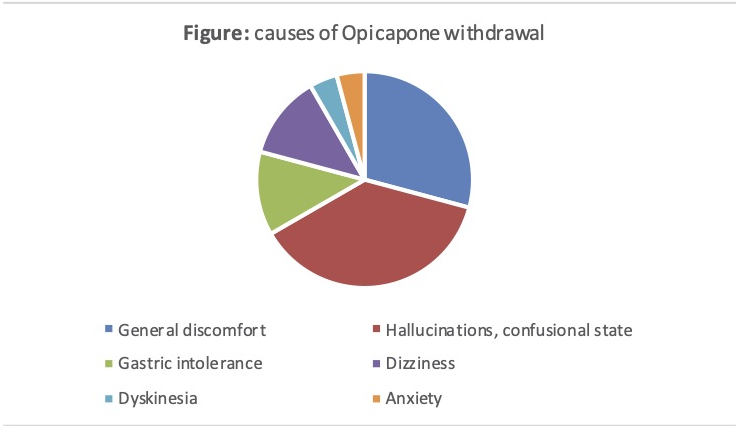 References: (1) Ferreira J et al. Lancet Neurol 2016; 15: 154-165
To cite this abstract in AMA style:
M. Mata, C. Borrue, M. Almarcha. Opicapone management: A 2-year follow up real- life practice study [abstract].
Mov Disord.
2020; 35 (suppl 1). https://www.mdsabstracts.org/abstract/opicapone-management-a-2-year-follow-up-real-life-practice-study/. Accessed December 7, 2023.
« Back to MDS Virtual Congress 2020
MDS Abstracts - https://www.mdsabstracts.org/abstract/opicapone-management-a-2-year-follow-up-real-life-practice-study/