Objective: To describe a case of Paraneoplastic Cerebellar degeneration (PCD) linked to anti-SOX 1 antibody with no discernible malignancy.
Background: PCD is a rare neurological disorder characterized by varied manifestations including ataxia, nystagmus, dysarthria, dizziness, and vertigo. An isolated rapidly progressive cerebellar syndrome is typically associated with anti- Yo(Purkinje cell antibody), Tr and mGluR1 antibodies. In this report, we present a case of PCD linked to anti- SOX 1 antibody, a relatively uncommon antibody. Approximately 36.5% of those with small cell carcinoma of the lung have Anti-SOX-1 antibodies1. No malignancy was detected in our patient despite a comprehensive assessment.
Method: Not applicable
Results: A 56-year-old gentleman with no previous comorbidities and non-smoker presented with horizontal head nodding and slurring of speech which progressed over two years. No history of imbalance, cognitive impairment, seizures or dysphagia. Examination revealed staccato speech, prominent head tremors with mild head posturing and mild impairment in tandem walking. His general physical examination and systemic examination were normal. Contrast-enhanced MRI Brain showed mild vermian and superior cerebellar atrophy(Image 1). His serum paraneoplastic antibody panel was strongly positivity for Anti- SOX 1 antibodies. CECT chest and whole-body PET- CT scans were unremarkable. We made a diagnosis of paraneoplastic cerebellar degeneration associated with anti-SOX 1 antibody and started him on methylprednisolone pulse therapy and continued oral steroids. His head tremors decreased significantly at four week follow-up.
Conclusion: Patients with anti-SOX1 antibody related PCD must be carefully examined for malignancy. Patients without evidence of malignancy may have an excellent response to immunotherapy. All these patients should undergo comprehensive cancer screening at regular intervals.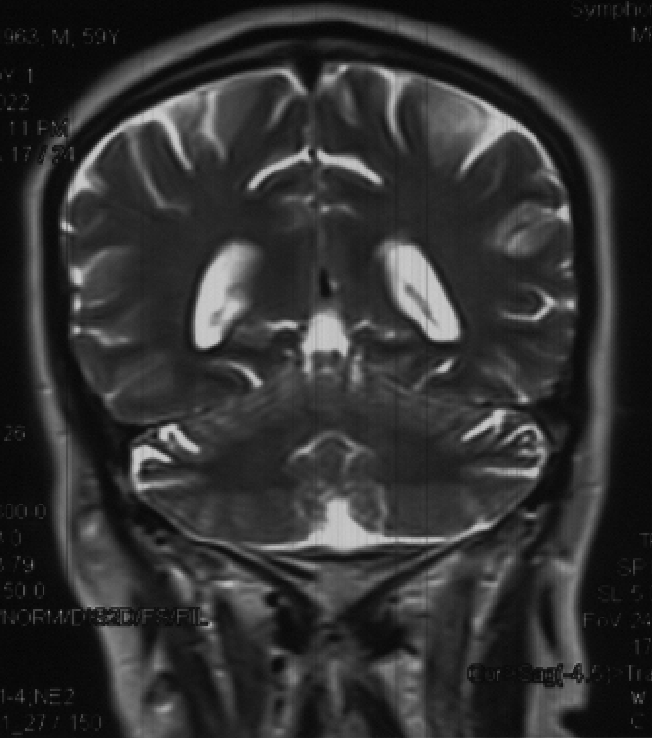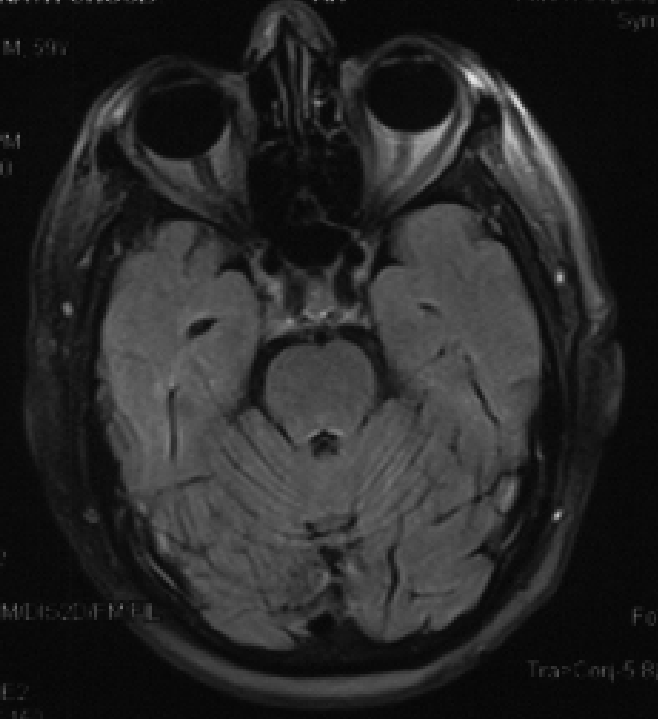 References: 1. Sun X, Tan J, Sun H, Liu Y, Guan W, Jia J, Wang Z. Anti-sox1 antibodies in paraneoplastic neurological syndrome. Journal of Clinical Neurology (Seoul, Korea). 2020 Oct;16(4):530.
2. Loehrer PA, Zieger L, Simon OJ. Update on paraneoplastic cerebellar degeneration. Brain Sciences. 2021 Oct 26;11(11):1414.
To cite this abstract in AMA style:
K. Sai Krishna, F. Mustafa, R K. Singh, A. Das, B. Mishra, A. Elavarsi, D. Vibha, M. Tripathy, S. Gaikwad. Paraneoplastic cerebellar degeneration due to an anti-SOX 1 antibody manifesting as head tremors, without evidence of underlying malignancy [abstract].
Mov Disord.
2023; 38 (suppl 1). https://www.mdsabstracts.org/abstract/paraneoplastic-cerebellar-degeneration-due-to-an-anti-sox-1-antibody-manifesting-as-head-tremors-without-evidence-of-underlying-malignancy/. Accessed September 28, 2023.
« Back to 2023 International Congress
MDS Abstracts - https://www.mdsabstracts.org/abstract/paraneoplastic-cerebellar-degeneration-due-to-an-anti-sox-1-antibody-manifesting-as-head-tremors-without-evidence-of-underlying-malignancy/