Objective: To describe the characteristics of patients with cervical dystonia (CD) or blepharospasm (BLEPH) treated with botulinum toxin (BoNT) in routine care using claims data
Background: CD and BLEPH affect approximately 10 people per 100,000 and 3 people per 100,000, respectively [1]. BoNTs such as incobotulinumtoxinA can be used to treat CD and BLEPH.
Method: Adults in the United States with a diagnosis of CD (ICD-9-CM: 723.5, 333.83; ICD-10-CM: M43.6, G24.3) or BLEPH (ICD-9-CM 333.81, ICD-10-CM G24.5) and evidence of treatment with BoNT between 8/1/2010 through 5/31/2022 in the Optum Clinformatics Data Mart administrative claims database were selected for analysis. Both new users and prevalent users were included. Patients were categorized into two cohorts: patients with incobotulinumtoxinA use and patients with use of another BoNT. We describe patient demographics, co-medications, and BoNT utilization. No statistical comparisons between therapies were conducted.
Results: The final study population was 1,547 incobotulinumtoxinA users and 17,355 users of non-incobotulinumtoxinA toxins for CD and 1,395 incobotulinumtoxinA users and 9,257 users of non-incobotulinumtoxinA toxins for BLEPH [table 1]. Most patients were 45+ years old and female. Between 40-50% of patients lived in the South (which is reflective of the data source) and over 70% were Non-Hispanic White. The most common co-medications were anticholinergics, used by approximately 80% of CD patients and two-thirds of BLEPH patients of patients. Additionally, 30% of CD patients used peripheral muscle relaxants. Prior toxin use was relatively common, as was the use of multiple toxins. Prior onabotulinumtoxinA use was identified in 31% and 44% of incobotulinumtoxinA users with CD and BLEPH, respectively. Use of rimabotulinumtoxinB or abobotulinumtoxinA was relatively less common in these populations.
Conclusion: This claims-based study provides insight into the characteristics of insured patients with CD and BLEPH treated with BoNT. Patients are commonly Non-Hispanic White female patients ≥45 years of age. Use of multiple BoNT formulations was relatively common. The prevalence of co-medications suggests that management of symptoms of CD and BLEPH involve other therapies beyond BoNT.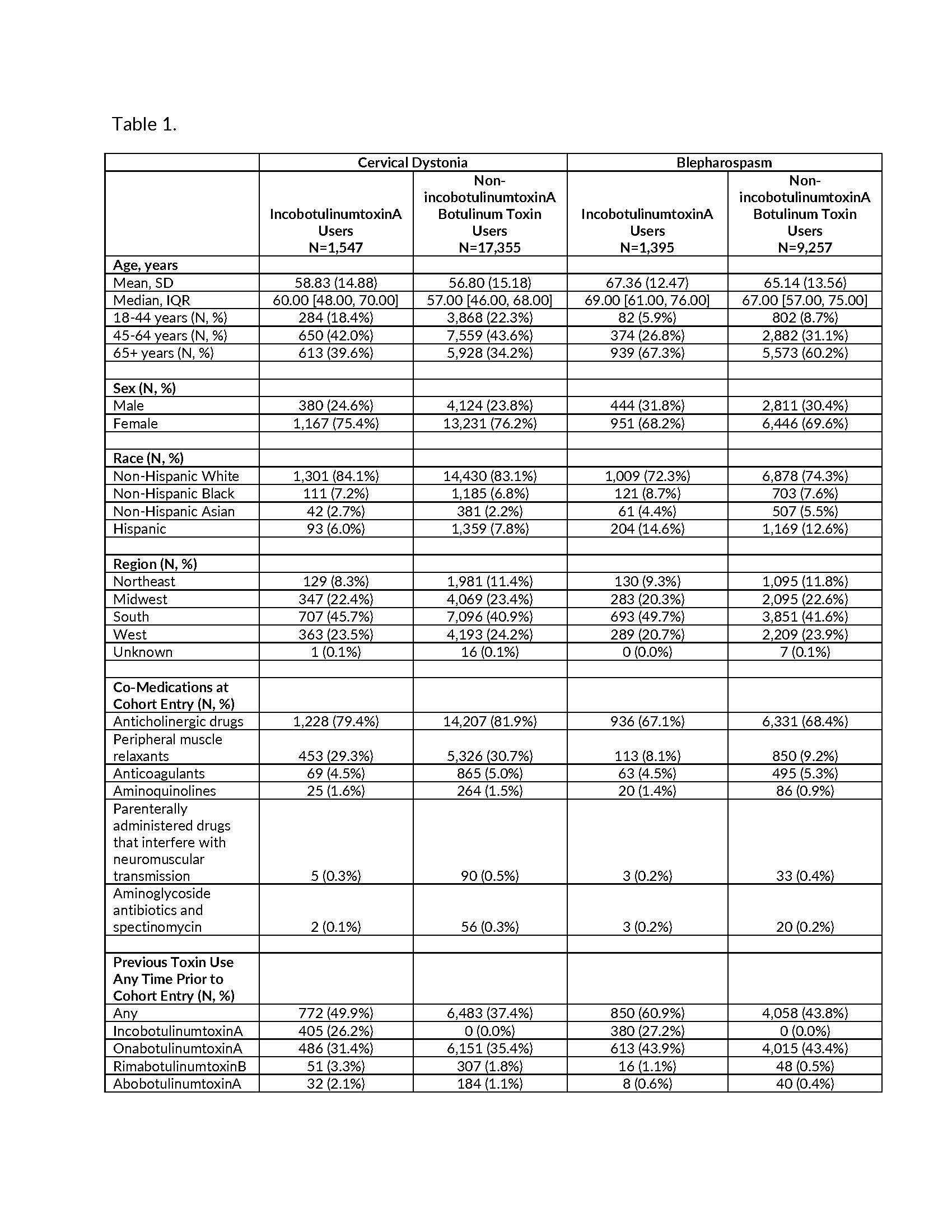 References: 1. Medina A, Nilles C, Martino D, Pelletier C, Pringsheim T. The prevalence of idiopathic or inherited isolated dystonia: a systemic review and meta-analysis. Mov Disord Clin Pract. 2022;9(7)860-868.
To cite this abstract in AMA style:
M. Hast, A. Kong, S. Desai, S. Syed, J. Holmes. Patient characteristics and real-world use of botulinum toxins for treatment of cervical dystonia and blepharospasm [abstract].
Mov Disord.
2023; 38 (suppl 1). https://www.mdsabstracts.org/abstract/patient-characteristics-and-real-world-use-of-botulinum-toxins-for-treatment-of-cervical-dystonia-and-blepharospasm/. Accessed September 22, 2023.
« Back to 2023 International Congress
MDS Abstracts - https://www.mdsabstracts.org/abstract/patient-characteristics-and-real-world-use-of-botulinum-toxins-for-treatment-of-cervical-dystonia-and-blepharospasm/