Objective: To evaluate common phenotypes of tonic spasms (TS) in patients with spasticity and inform therapeutic interventions.
Background: Spasticity can be associated with several hyperkinetic involuntary movements, most commonly TS. The phenomenology and location of these spasms can guide therapeutic interventions. The prevalence and treatment-responsiveness of the different TS phenotypes have not been studied in a systematic manner.
Method: A consecutive patient sample was prospectively recruited from a specialized spasticity management clinic. All patients were assessed for spasticity-associated involuntary movements including stereotypic TS. TS were differentiated from all other involuntary movements based on previously-published criteria as in [table1] [1]. Patients with demyelinating diseases – in whom tonic spasms can exist without tonic spasticity- were excluded from this analysis and will be reported separately in a future comparative study. Treatment-responsiveness was assessed from each patient. This study is still ongoing.
Results: This interim analysis included 48 consecutive patients with spasticity (mean age 50 +/- 14 years, 50% female) due to stroke (50%), HSPP (14.5%), spinal cord injury/compression (12.5%), and miscellaneous causes (23%). TS were present in 69% of the patients and the most prevalent phenotypes were isometric lower-extremity spasms (44%) followed by knee extensor spasms (33%), isometric upper-extremity spasms (12.5%), flexor hip (8%), adductor hip (8%), isometric truncal (8%), flexor elbow (4%), flexor knee (4%), dorsiflexor ankle (4%), adductor ankle (4%), flexor toes (4%), and 1 (2%) of each of the following: extensor hip, ankle, and toe spasms. The average Pen Spasm Frequency Scale of the study population was 1 (range 0 to 4). Therapeutic plan generally followed the algorithm in [table2] resulting in significant improvement of spams in 27% of patients, partial improvement in 48%, and no improvement in 21%.
Conclusion: TS are common in patients with spasticity and have stereotypic phenotypes that can guide therapeutic interventions.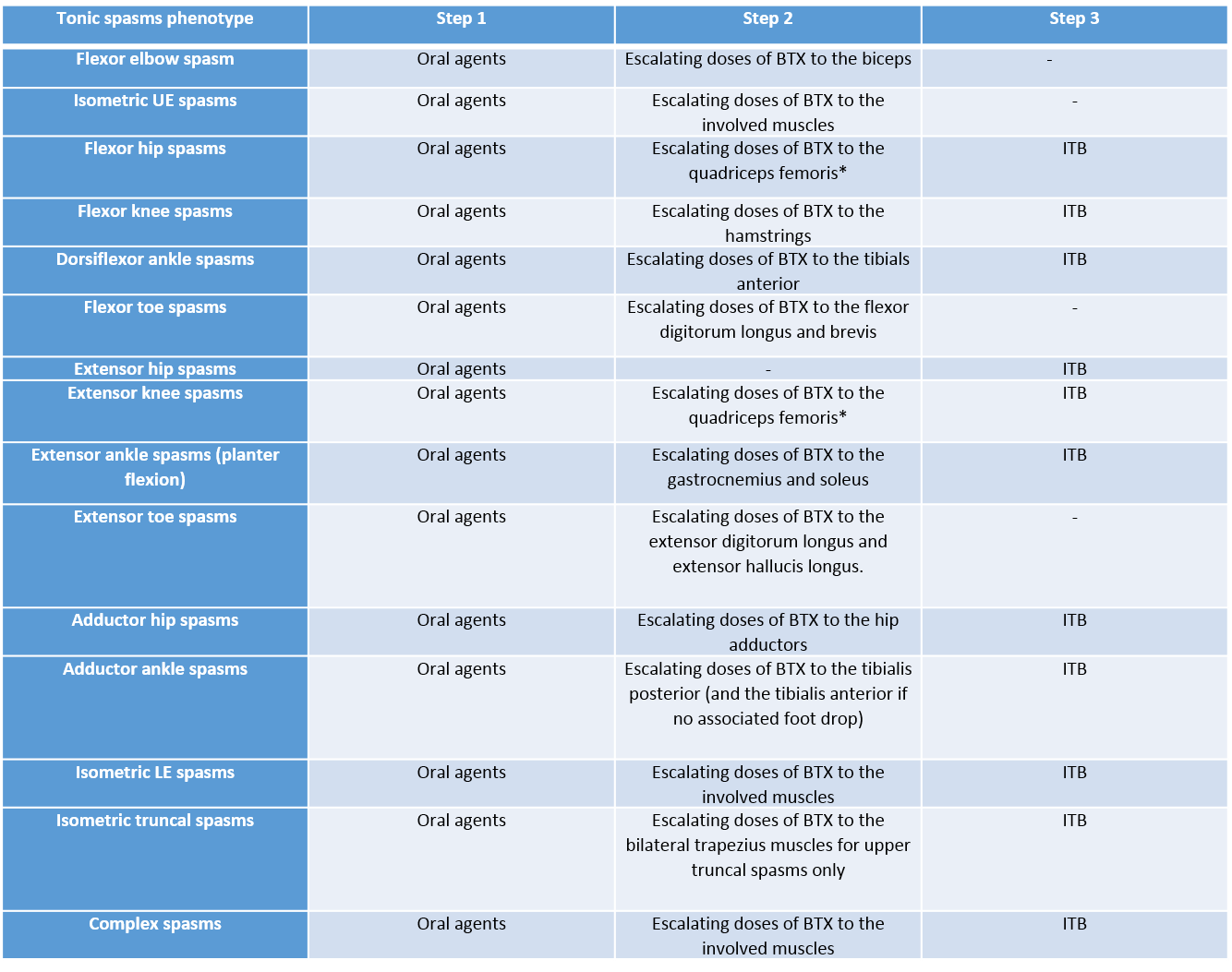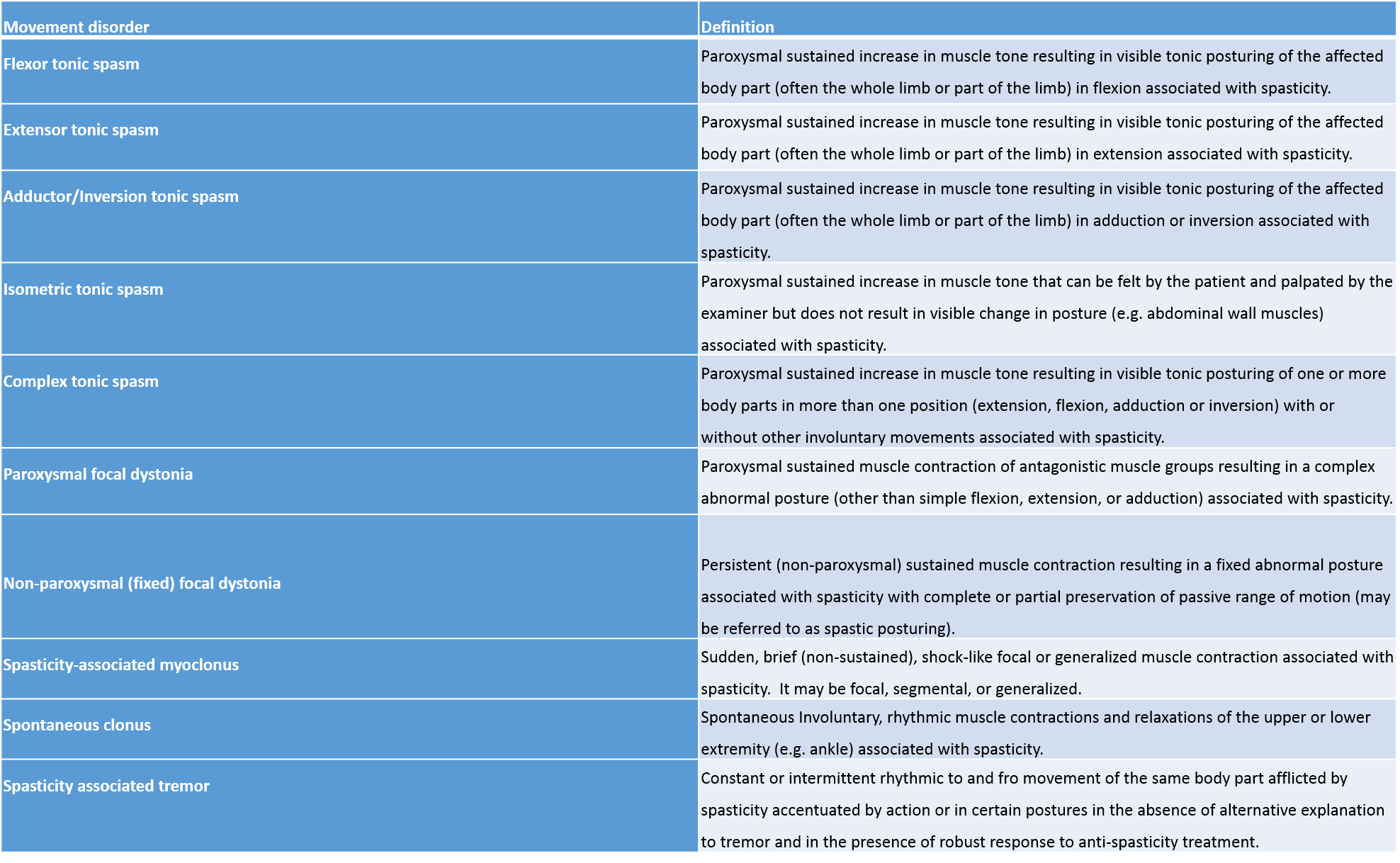 References: 1- Abboud H, Macaron G, Yu XX, Knusel K, Fernandez HH, Bethoux F. Defining the spectrum of spasticity-associated involuntary movements. Parkinsonism Relat Disord. 2019;65:79–85. doi:10.1016/j.parkreldis.2019.05.007
To cite this abstract in AMA style:
H. Abboud, S. Saad, M. Elkasaby, C. Kilbane. Phenotyping spasticity-associated tonic spasms: implications for therapy [abstract].
Mov Disord.
2020; 35 (suppl 1). https://www.mdsabstracts.org/abstract/phenotyping-spasticity-associated-tonic-spasms-implications-for-therapy/. Accessed December 7, 2023.
« Back to MDS Virtual Congress 2020
MDS Abstracts - https://www.mdsabstracts.org/abstract/phenotyping-spasticity-associated-tonic-spasms-implications-for-therapy/