Session Information
Session Time: 1:45pm-3:15pm
Location: Agora 3 West, Level 3
Objective: To understand physicians' barriers in management of movement disorders (MD) with Onabotulinumtoxin-A (OnabotA).
Background: OnabotA effectiveness for treating MD is well known. However, from clinicians' perspective there remain challenges in managing MD & meeting patient expectations. Present survey aims to identify practice patterns and MD management barriers prevailing in the experienced neurologist community.
Method: A cross-sectional, multi-center, observational survey on 178 neurologists with >1 year experience in treating MD with OnabotA was conducted with a 52-item questionnaire after receiving informed consent, pro-bono.
Results: Survey was completed by 101 neurologists from different clinical settings [figure 1]. Table 1 highlights new/chronic MD patients treated with OnabotA by respondents in the past year. Overall 52.5% respondents had >6 years of experience in using OnabotA for MD. Majority (67.3%) agreed OnabotA as the treatment of choice for cervical dystonia (CD) vs 12.9% who chose medication therapy as first line treatment. About 79.2% neurologists were moderately-to-highly satisfied with its impact in MD and ~80% reported a positive impact on patient's quality of life. Despite clinical experience, distinguishing primary dystonia and compensatory secondary movements remains a challenge for many (65.3%). Regarding time to first OnabotA treatment following MD diagnosis, 37.6% stated patients received OnabotA after 1 year of diagnosis [table 2]. Respondents were asked to choose from pre-defined dose-ranges, 47.5% & 58.4% neurologists used an average dose of 25-50U for blepharospasm (BFS) and hemifacial spasm (HFS) respectively, and 50.5% used 101-200U for CD [table 3]. Overall, 69.4% physicians await treatment effect to wear-off before re-treatment with OnabotA. While 36% respondents reported <25% patient drop-off after first cycle of treatment, 51% neurologists reported >25% patients' drop-off after first treatment [figure 2].
Conclusion: Our survey results suggest unmet needs of additional physician education to improve identification of primary dystonia and timely initiation of OnabotA therapy. Furthermore, results suggest that patient drop-off continues to be a problem, even for an experienced neurologist which should encourage efforts for evaluating and addressing the reasons for discontinuation (i.e. patient expectations/goal settings).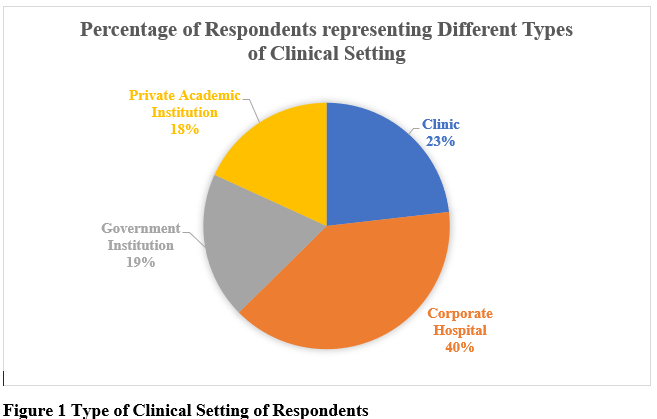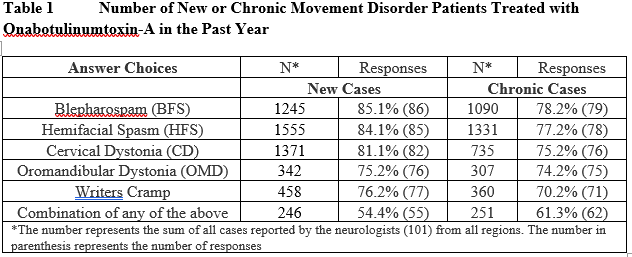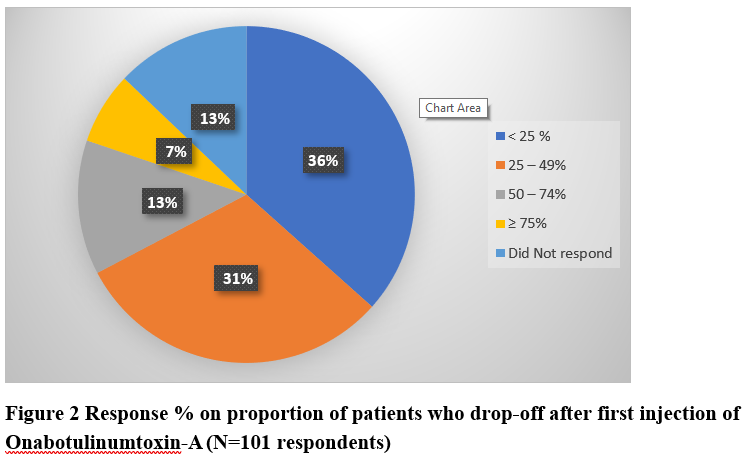 To cite this abstract in AMA style:
G. Kumar, P. Wadia, H. Kumar, P. K, S. Gupta, V. Goyal, A. Raza, A. Zuzek, A. Patel. Practice Patterns with Onabotulinum Toxin-A for Movement disorders: South Asian Neurologist Survey [abstract].
Mov Disord.
2019; 34 (suppl 2). https://www.mdsabstracts.org/abstract/practice-patterns-with-onabotulinum-toxin-a-for-movement-disorders-south-asian-neurologist-survey/. Accessed December 7, 2023.
« Back to 2019 International Congress
MDS Abstracts - https://www.mdsabstracts.org/abstract/practice-patterns-with-onabotulinum-toxin-a-for-movement-disorders-south-asian-neurologist-survey/