Session Information
Session Time: 1:15pm-2:45pm
Location: Hall 3FG
Objective: Estimate the prevalence of depression among patients with PD presenting to a tertiary neurology clinic in the premier healthcare institution in Sri Lanka Identify any significant clinical or demographic associations for presence of depression in this patient sample Forward recommendations and suggestions for providing optimal care for patients with a dual diagnosis of PD and depression.
Background: The prevalence and associations for depression in patients with Parkinson's disease vary widely between studies(1). Therefore it is important to identify unique attributes within a community on this phenomenon and this is the first study from Sri Lanka on the prevalence and associations for co-occurring depression in patients with Parkinson's disease.
Methods: We conducted this cross sectional study at the Institute of Neurology, National Hospital of Sri Lanka. All patients with a diagnosis of idiopathic Parkinson's disease followed up at the movement disorder clinic of the institute were enrolled. The patients were interviewed by investigators with an interviewer administered questionnaire. Symptoms of depression were assessed with Hamilton rating scale for depression.
Results: We enrolled 75 patients [males; 54 (75%), mean age; 63.6 years, SD ± 6.8]. Demographic and clinical characteristics of the sample are summarized in tables 1 and 2 respectively.Forty six (61.3%) patients had been either formally diagnosed with depression (some successfully treated) or showed evidence of depression (undiagnosed) at the time of evaluation. Bradykinesia, monthly income below Rs. 10,000, being employed and having a family history of depression in a first degree relative were significantly associated with a diagnosis of depression (p < 0.05) ( Table 3).Age of onset of PD, duration of PD, gender, level of education and prevalence of other co-morbidities such as diabetes and hypertension was not associated with the incidence of depression.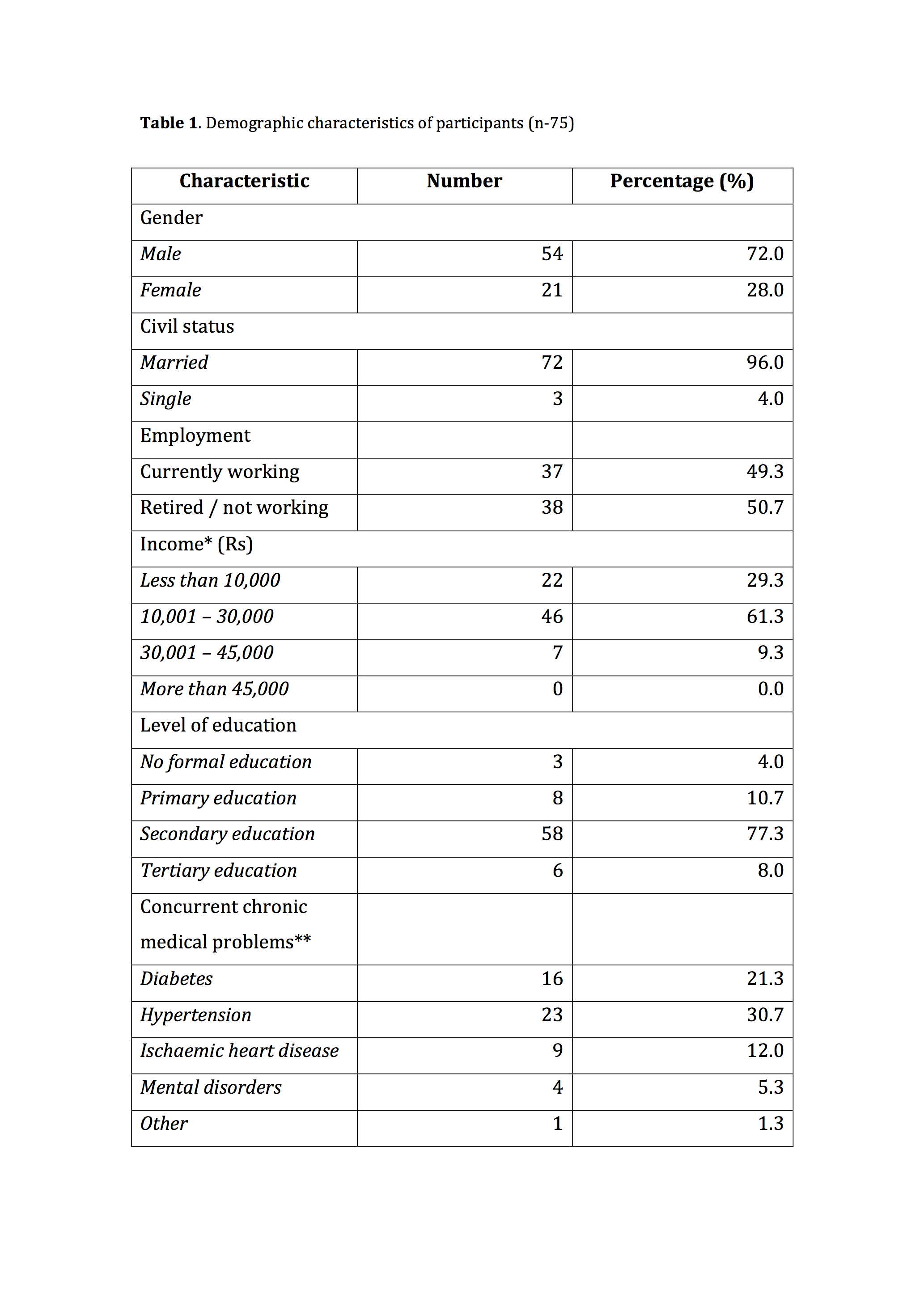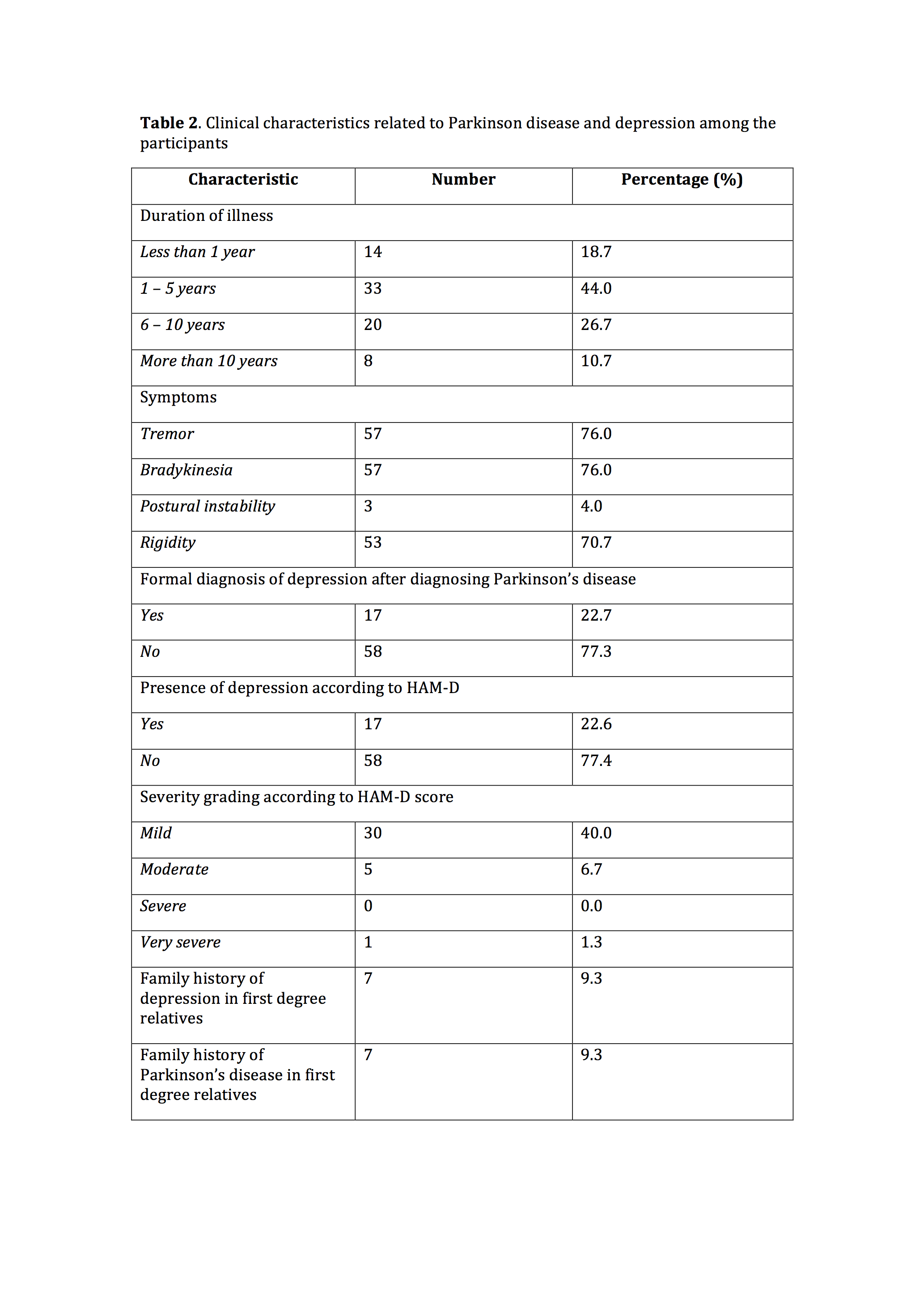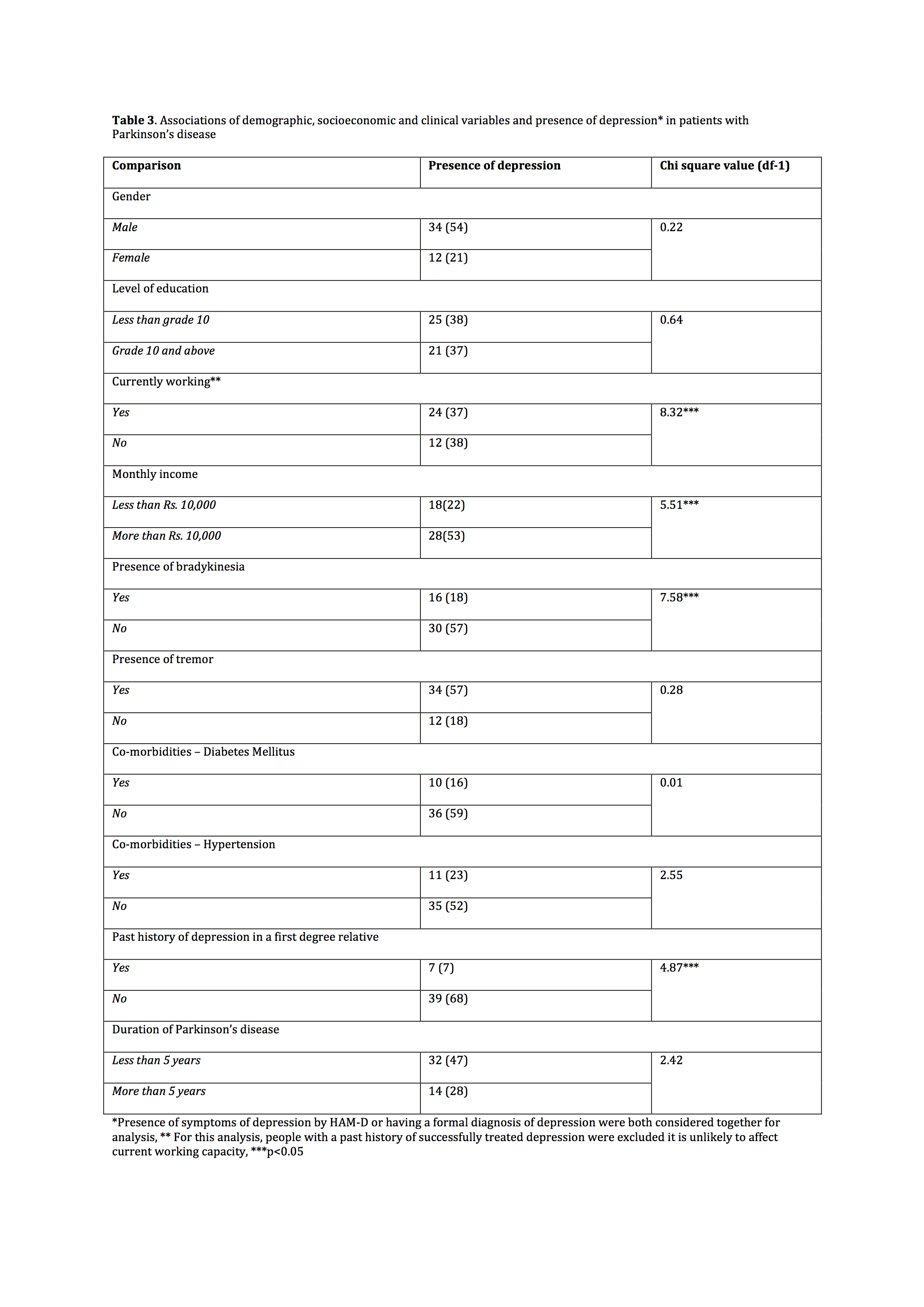 Conclusions: Given the potential benefit in treatment, all patients with PD (and especially those with above risk factors) should be screened for depression regularly. HAM-D would be a good tool for this as it has good reliability, validity and can be administered within a reasonable time limit.
References: 1.Bomasang-Layno E, Fadlon I, Murray AN, et al.; Antidepressive treatments for Parkinson's disease: A systematic review and meta-analysis. Parkinsonism Relat Disord 2015. doi: 10.1016/j.parkreldis.2015.04.018.
To cite this abstract in AMA style:
T. Herath, C. Rodrigo, M. Withana. Prevalence and associations for depression in patients with Parkinson's disease: A Sri Lankan experience [abstract].
Mov Disord.
2018; 33 (suppl 2). https://www.mdsabstracts.org/abstract/prevalence-and-associations-for-depression-in-patients-with-parkinsons-disease-a-sri-lankan-experience/. Accessed December 10, 2023.
« Back to 2018 International Congress
MDS Abstracts - https://www.mdsabstracts.org/abstract/prevalence-and-associations-for-depression-in-patients-with-parkinsons-disease-a-sri-lankan-experience/