Objective: To study problems faced by PD patients during lockdown due lack of healthcare and medication procurement and address such problems using telemedicine via virtual Out Patient Department(OPD) setup
Background: During COVID-19 Lockdown, PD patients faced lack of regular follow-up and erratic supply of medication due to indefinite suspension of transport and OPD services. These effects of lockdown were dampened at our institute where a voluntary PD registry of all patients attending OPD was maintained and telemedicine was being practiced for >4 years for poor, disabled and distant patients.
PD is challenging to ensure regular OPD follow-up as it is physically disabling & expensive due to high cost of travel in developing countries where a caretaker invariably accompanies patient.
Our registry with up-to-date contact details, elaborate clinico-epidemiological data and treatment history of each patient was applied to establish telemedicine to ensure regular follow-up & medication-adherence for such patients.
Method: A registry was utilized to contact patients during lockdown & their data was accessible via unique identification number. Detailed telephonic interviews were carried out to assess difficulties faced by patients during lockdown[Table 1]
Patients with DBS were regularly assisted in video-call sessions of programming. Their follow-up is described in greater detail (7months) than the other patients(6weeks)[Table 2]
Results: Despite Nation-wide lockdown, healthcare services were functional as contact with 92.1% of registry was established through virtual OPD setup by neurologists daily. It helped us study problems faced by patients during lockdown & offer prompt solution while curtailing undue panic caused by irresponsible social media forwards & fake-news articles promoting an urge to self-medicate prophylactically with antibiotics/anti-malarial drugs & supplements against medical advice.
Conclusion: Telemedicine offered constant contact with patients and eliminated risk of exposure to COVID-19 while offering primary-care at no additional cost.
Our cohort was free from severe adverse effects of self-medication as spread of misinformation was curtailed. Patients who were forced to discontinue expensive drugs due to unavailability or unemployment were correctly counselled to ensure LD/CD consumption to prevent NMS on levodopa discontinuation.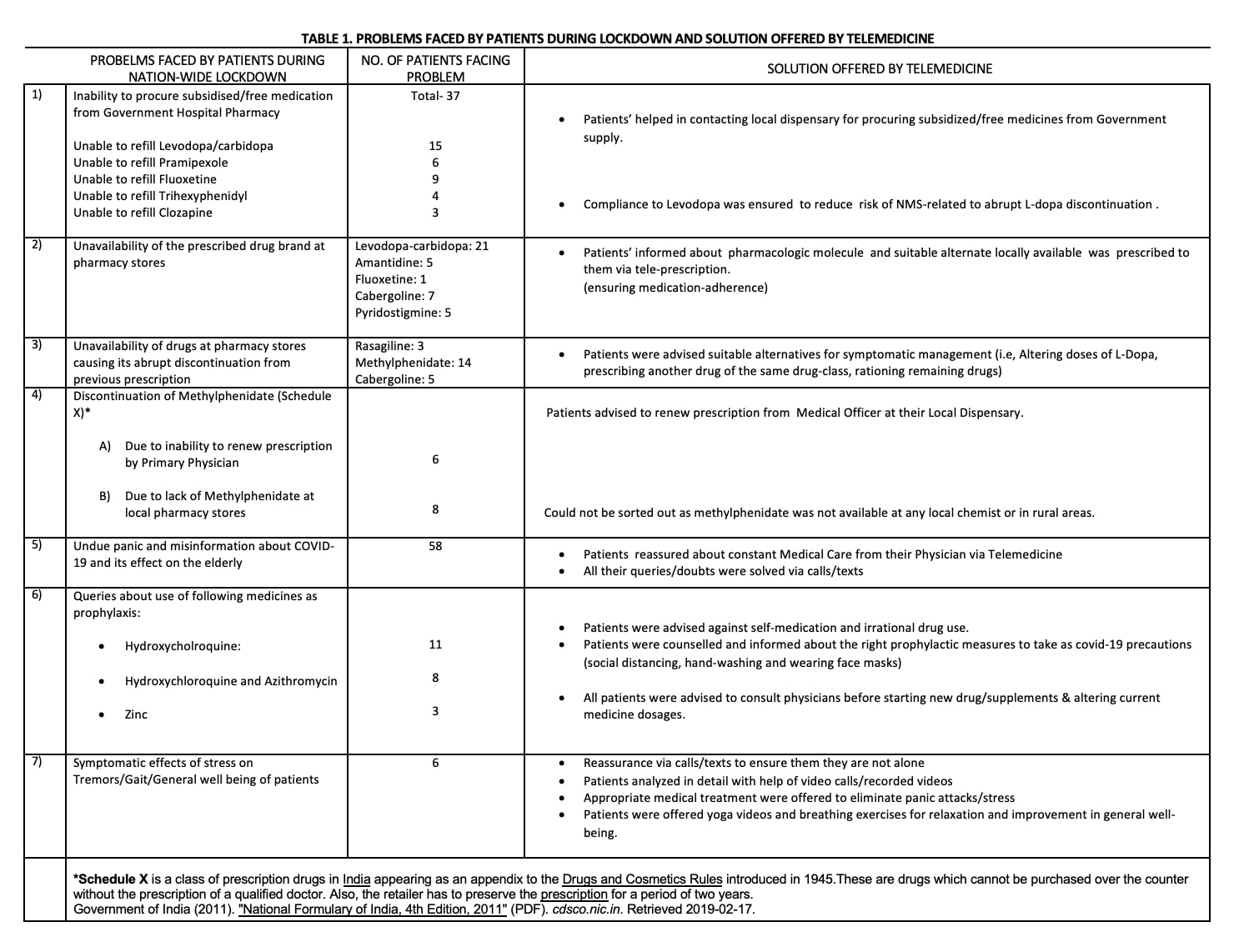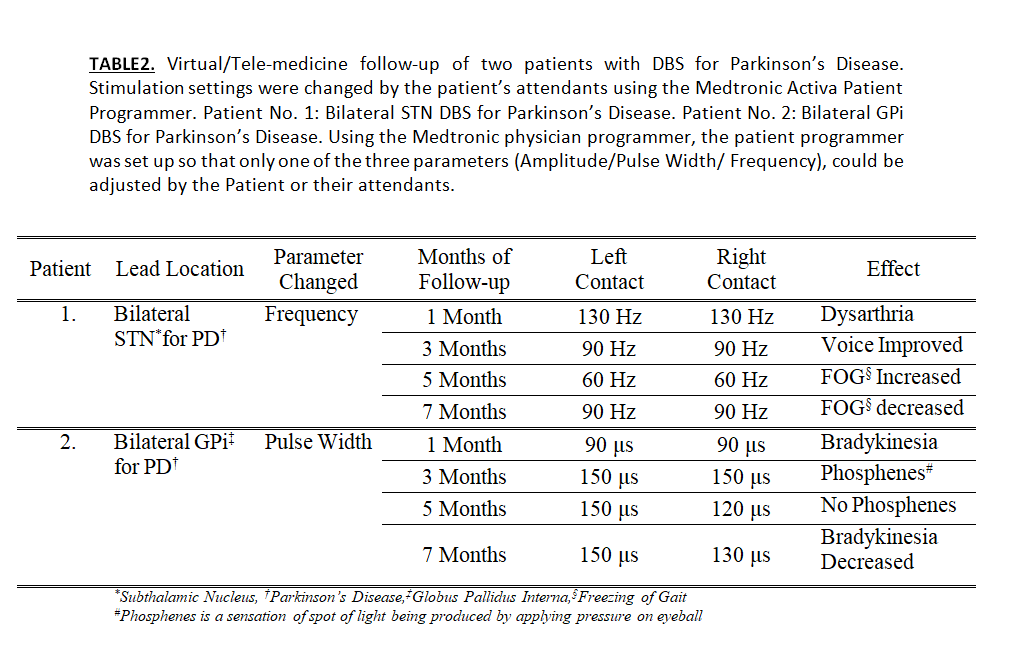 To cite this abstract in AMA style:
K. Shukla, N. Sawal. Problems faced by Parkinson's disease patients during COVID-19 pandemic compulsory lockdown and its management with the help of Telemedicine in a North Indian cohort [abstract].
Mov Disord.
2021; 36 (suppl 1). https://www.mdsabstracts.org/abstract/problems-faced-by-parkinsons-disease-patients-during-covid-19-pandemic-compulsory-lockdown-and-its-management-with-the-help-of-telemedicine-in-a-north-indian-cohort/. Accessed December 7, 2023.
« Back to MDS Virtual Congress 2021
MDS Abstracts - https://www.mdsabstracts.org/abstract/problems-faced-by-parkinsons-disease-patients-during-covid-19-pandemic-compulsory-lockdown-and-its-management-with-the-help-of-telemedicine-in-a-north-indian-cohort/