Objective: We herein describe a case of Progressive supranuclear palsy (PSP), who had diplopia as well as abduction nystagmus resembling an Internuclear ophthalmoplegia-like phenotype.
Background: INO is mostly observed with lesions of the medial longitudinal fasciculus (MLF), resulting in ipsilateral adduction weakness and a contralateral abduction nystagmus, the latter being an adaptive process to overcome the adduction weakness, consistent with the Hering's law of equal innervation. Cases where such disparity of conjugate gaze occurs without any MLF lesion have been referred to as pseudo-INO. M. gravis, GBS, and MFS are known causes of pseudo-INO due to peripheral neuromuscular conduction deficits to extraocular muscles. PSP can however be another disorder in this list, but conversely, with a supranuclear mechanism.
Method: Our patient is a 65-year-old male, with 2 years of slowness of activities, backward falls, apathy with behavioral complaints, and double vision.
Examination revealed predominantly frontal cognitive deficit (Frontal assessment battery score 10/18), hypophonic slurred speech, masked facies, staring look, and procerus sign (Figure 1). Sensorimotor and cerebellar testing was normal, except for increased tone, axial > limb rigidity, and a slow, short stepped, extrapyramidal gait with reduced arm swing bilaterally. A diagnosis of PSP was evident with clinical scenario and neuroimaging findings.
Oculomotor findings (Video 1) were interesting; there was supranuclear vertical more than horizontal gaze paresis, slow horizontal saccades, bilateral lateral more than medial gaze restriction with abduction nystagmus.
Results: Our patient had INO-like (Pseudo-INO) disparity of intra-ocular horizontal movements, with lateral > medial gaze paresis causing diplopia, and abduction nystagmus on lateral gaze in addition to the classic vertical and horizontal supranuclear components (VOR can overcome both horizontal and vertical gaze palsies). The progressive neurodegeneration of neural integrators and vestibulo-cerebellum may cause this "dissociated gaze evoked nystagmus", resembling INO.
Conclusion: We hereby emphasize that PSP, a midbrain predominant neurodegenerative disorder, may have atypical horizontal oculomotor findings. With more such reports, PSP can be convincingly considered as a differential of INO-like ocular findings 'Pseudo – INO", and probably the only supranuclear cause for the same.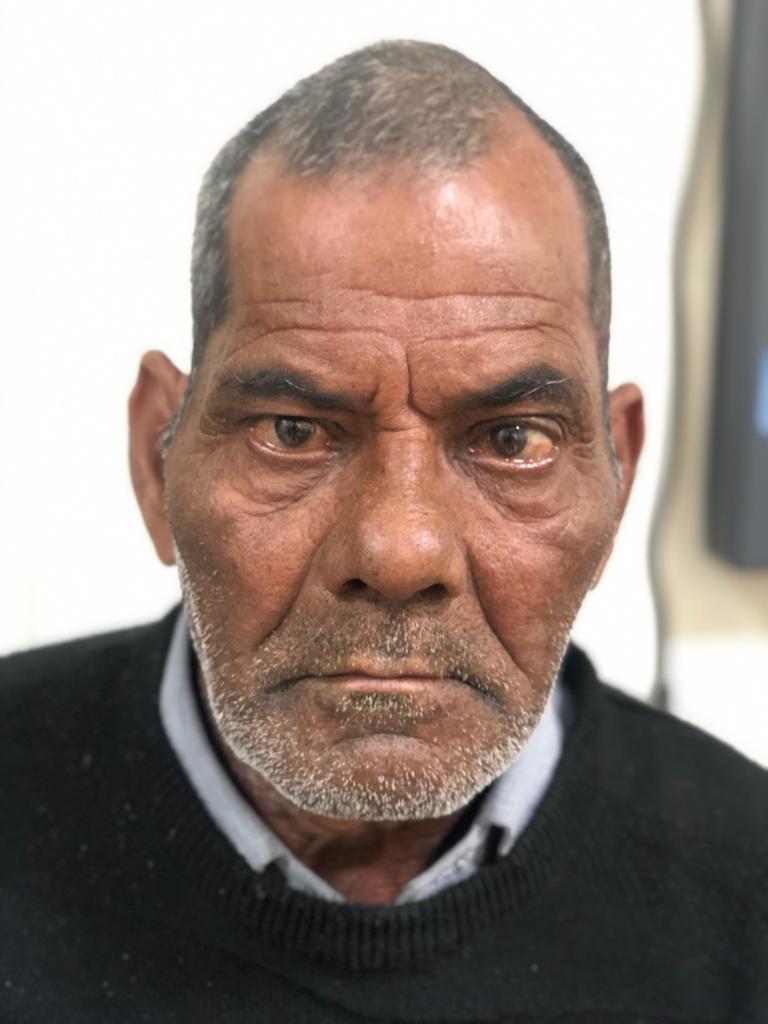 References: 1. Nijsse B, Bettink MW, Neuteboom RF. Pseudointernuclear ophthalmoplegia as a presenting feature of ocular myasthenia gravis. BMJ Case Rep. 2014;2014:bcr2013203234. Published 2014 Jun 13.
2. Traber GL, Valko Y, Gulik R, Weber KP. Mystery Case: Don't fall for pseudo-INO! Neurology 2017;88:e205-e206.
3. Phokaewvarangkul, O., Bhidayasiri, R. How to spot ocular abnormalities in progressive supranuclear palsy? A practical review. Transl Neurodegener 8, 20 (2019)
4. Gupta, H. V., Karlowski, K., & Whittaker, T. J. (2020). Bilateral INO in PSP. Annals of Indian Academy of Neurology, 23(2), 235–7
5. Matsumoto, H., Inaba, T., Kakumoto, T., Miyano, R., Uchio, N., & Sakurai, Y. (2019). Progressive Supranuclear Palsy with Wall-Eyed Bilateral Internuclear Ophthalmoplegia Syndrome: Authors' Second Case. Case reports in neurology, 11(2), 205–208.
6. Klarendic, M., Hribar, M., Urbancic, N. B., Zupancic, N., Kramberger, M. G., Trost, M., Battelino, S., Kaski, D., & Kojovic, M. (2021). Central nystagmus in progressive supranuclear palsy: A neglected clinical feature?. Parkinsonism & related disorders, 84, 15–22.
To cite this abstract in AMA style:
DK. Khandelwal, VM. Mathur. Pseudo-INO in PSP? – A Case Report [abstract].
Mov Disord.
2022; 37 (suppl 2). https://www.mdsabstracts.org/abstract/pseudo-ino-in-psp-a-case-report/. Accessed September 23, 2023.
« Back to 2022 International Congress
MDS Abstracts - https://www.mdsabstracts.org/abstract/pseudo-ino-in-psp-a-case-report/