Objective: To assess the real-world safety of onabotulinumtoxinA (onabotA) for the concomitant treatment of cervical dystonia (CD) and chronic migraine (CM).
Background: In the United States, onabotA is approved for the treatment of CD and CM, which may occur concurrently; however, safety data are limited for this treatment combination.
Method: SYNCHRONIZE, a phase 4, retrospective chart review study conducted at 10 US clinical sites, evaluated safety of onabotA treatment for >1 therapeutic indication within a 3-month period in adults treated for CD and CM. Safety was evaluated for up to 24 months.
Results: Of 279 patients in SYNCHRONIZE, 121 (43%) received onabotA for CD and CM (mean age, 46.2 years; 83% female; 60% White), with a mean of 8.4 onabotA treatments [table1]. Common comorbidities included anxiety (24%), depression (23%), significant pain condition (19%), and sleep disorder (12%); 11 additional patients were treated for CD, CM, and other concomitant conditions (oromandibular dystonia [n=5], blepharospasm [n=2], spasticity [n=2], blepharospasm and oromandibular dystonia [n=1], spasticity and oromandibular dystonia [n=1]). In the CD/CM group, most patients (94.2%) received treatment from the same provider for both conditions and 40% traveled ≥20 miles for onabotA treatment. The proportion of patients reporting ≥1 treatment-emergent adverse event (TEAE) within 6 months of treatment was 18% [table2]; this proportion remained generally consistent up to 24 months (14%). The most common TEAEs were neck pain, headache, and migraine [table2], consistent with those previously reported for CD or CM. Dysphagia was reported in 1 patient treated for CD/CM and 1 for CD/CM/spasticity. Dosage interval between indications was ≤24 hours for 58% of patients. Most patients received ≥200 to <400U of onabotA within 3 months, with an overall mean dose of 288.8U [table3]. There was no apparent trend between AEs and dosing intervals or cumulative 3-month dose. No patients were determined to have a lack of effect based on clinical objective measurement.
Conclusion: In patients treated concurrently for CD and CM within a 3-month period, safety was consistent with the onabotA label, with no new safety signals. Some patients traveled a long distance to receive onabotA treatment, highlighting the potential burden of treating multiple indications on separate days.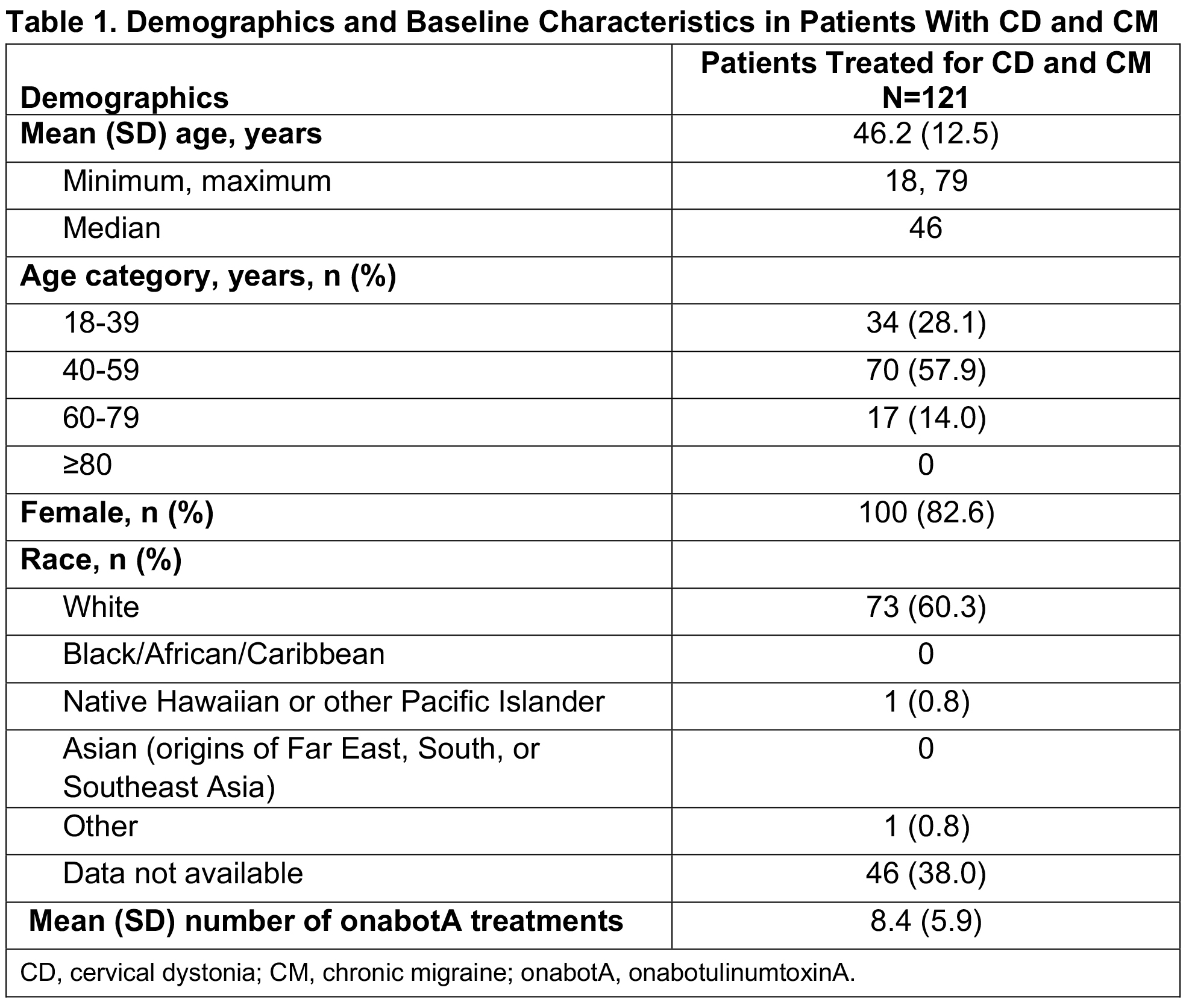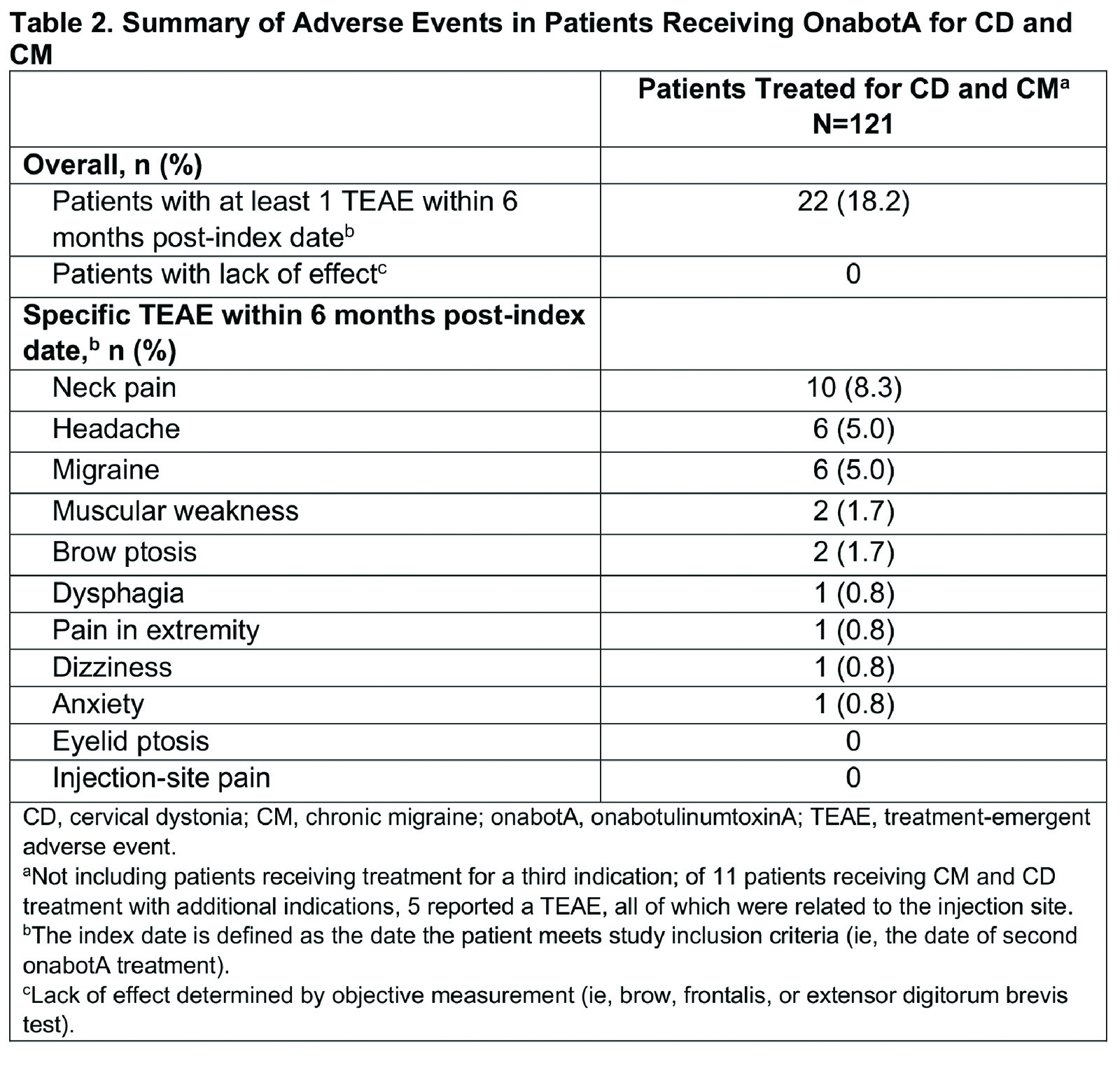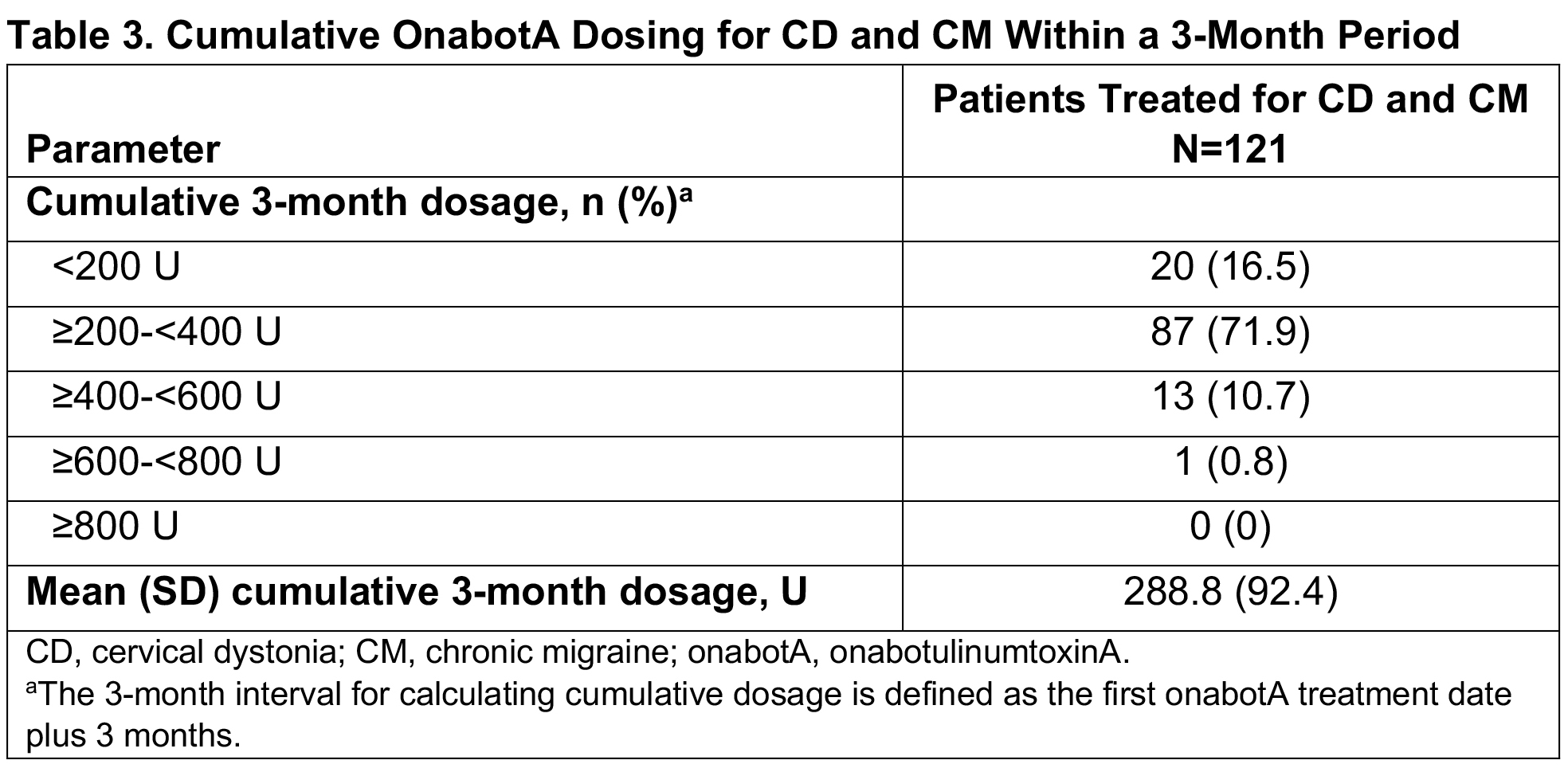 To cite this abstract in AMA style:
C. Rhyne, K. Martinez, J. Stoilova, A. Patel, K. Becker Ifantides, R. Singh, I. Yushmanova, M. Sadeghi, S. Battucci, G. Forde. Real-world retrospective safety analysis of onabotulinumtoxinA for the treatment of patients with concurrent cervical dystonia and chronic migraine [abstract].
Mov Disord.
2023; 38 (suppl 1). https://www.mdsabstracts.org/abstract/real-world-retrospective-safety-analysis-of-onabotulinumtoxina-for-the-treatment-of-patients-with-concurrent-cervical-dystonia-and-chronic-migraine/. Accessed September 23, 2023.
« Back to 2023 International Congress
MDS Abstracts - https://www.mdsabstracts.org/abstract/real-world-retrospective-safety-analysis-of-onabotulinumtoxina-for-the-treatment-of-patients-with-concurrent-cervical-dystonia-and-chronic-migraine/