Objective: To compare a US- and Germany-based staged screening process to identify people at risk of developing Parkinson's disease (PD).
Background: The Parkinson's Progression Marker Initiative (PPMI) and the Healthy Brain Ageing (HeBA) study are international efforts to characterize people at risk of PD prior to the traditional timing of diagnosis. How features related to PD development vary across geographic regions is not well understood but important for global application of screening protocols for early detection of PD.
Method: We compare results of two screening protocols to identify people at risk of PD. As part of the European HeBA initiative, the German study site Kassel followed a unique recruitment strategy, thereby aiming for a more population-based approach: all registered residents of a defined geographic region in the ages 50 to 80 were personally addressed with an invitation card to take part in an Online Survey. In the US, participants were invited to complete questionnaires online (PPMI Online) through media campaigns and outreach to participants of PPMI Clinical to recruit friends and family. A subset of participants without a PD diagnosis in both studies were invited to complete a smell test (ST) based on study-specific eligibility criteria [Figure 1].
Results: Basic demographic characteristics of both online cohorts were similar, though more participants of PPMI Online self-reported smell loss and a family history of PD; the proportion of people reporting dream enactment behavior (DEB) was similar [Table 1]. A higher percentage of participants with low ST were identified in HeBA [Table 2]. Features associated with a low ST were similar between groups, except DEB reported in PPMI Online was associated with hyposmia [Table 3].
Conclusion: A stepwise screening procedure (with an online survey and subsequent remote smell testing) seems to be a feasible strategy to identify subjects with features related to PD. A personalized outreach strategy recruits more subjects with no family history for PD, but DEB appear to be similarly frequent. The phrasing of the question for DEB, study-specific selection criteria, or the recruitment population seem to be crucial for its predictive capacity towards a low ST result.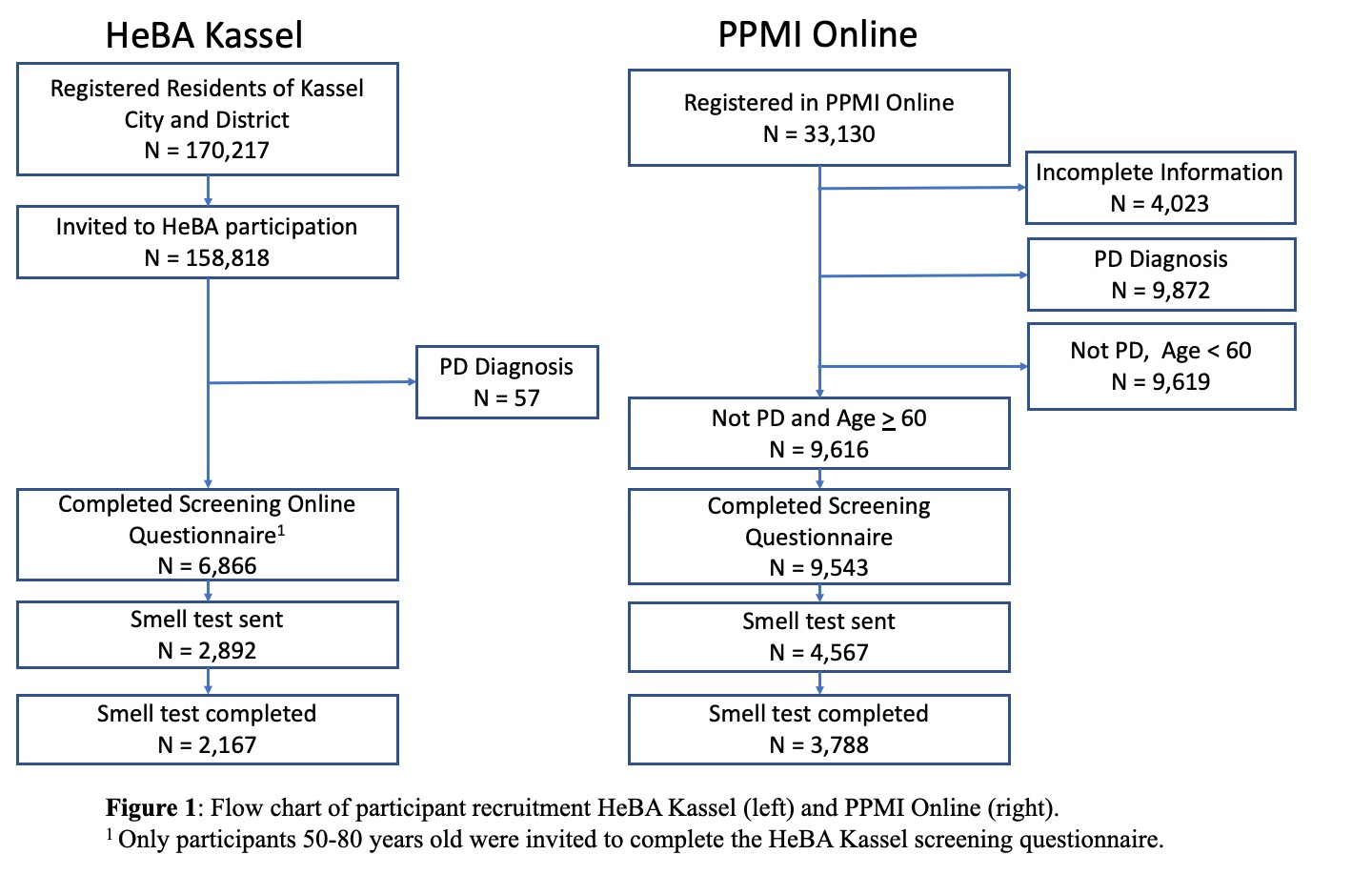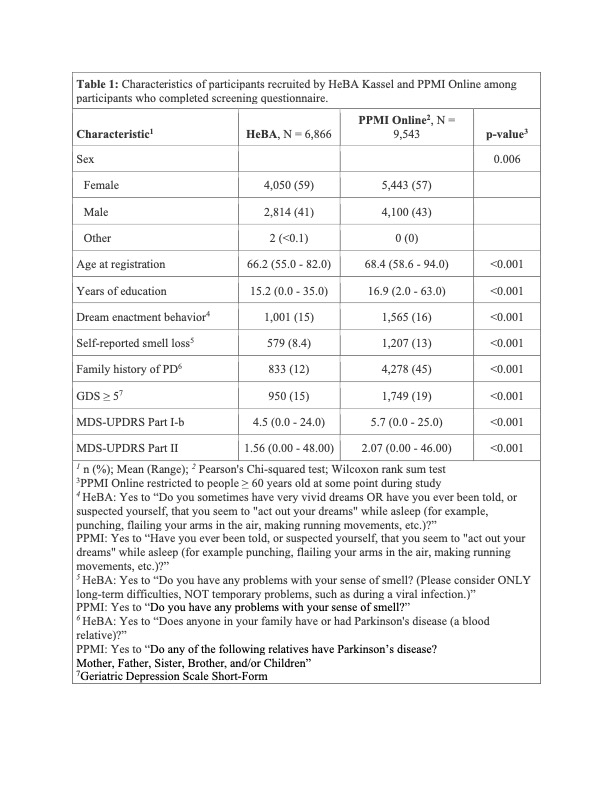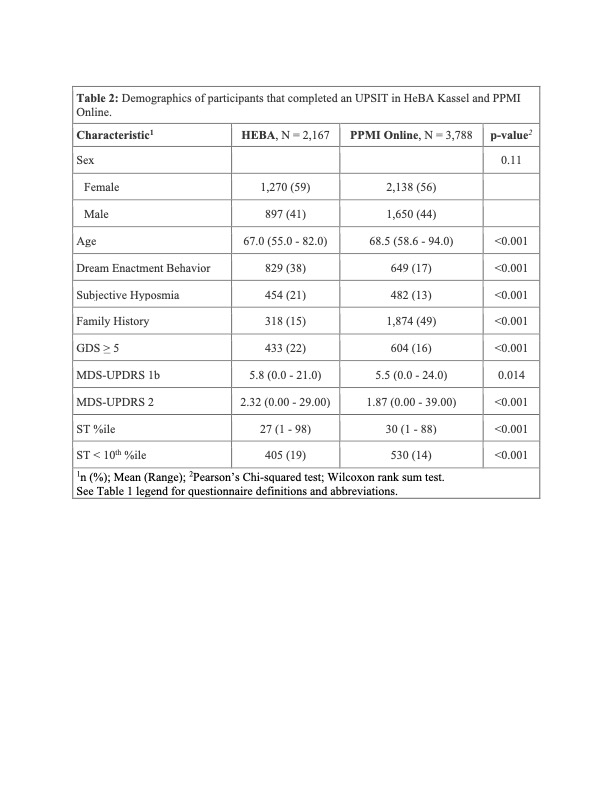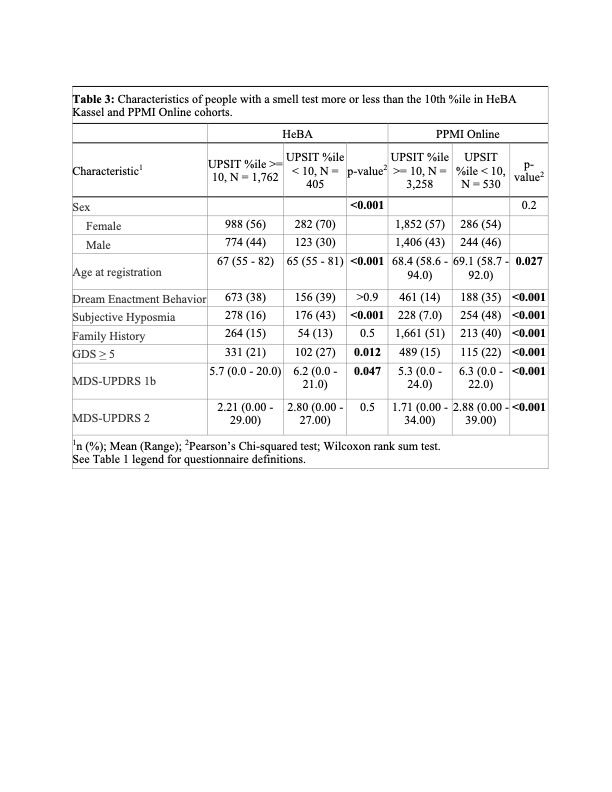 To cite this abstract in AMA style:
E. Brown, S. Schade, S. Ghosh, K. Rege, V. Satagopam, M. Marti, W. Poewe, R. Kruger, C. Trenkwalder, L. Chahine, R. Dobkin, D. Weintraub, E. Tolosa, C. Marras, E. Bryan, J. Valverde Twiggs, M. Korell, K. Marek, B. Mollenhauer, C. Tanner. Recruiting people at risk of Parkinson's disease: comparative data from PPMI Online and HeBA Kassel [abstract].
Mov Disord.
2023; 38 (suppl 1). https://www.mdsabstracts.org/abstract/recruiting-people-at-risk-of-parkinsons-disease-comparative-data-from-ppmi-online-and-heba-kassel/. Accessed September 23, 2023.
« Back to 2023 International Congress
MDS Abstracts - https://www.mdsabstracts.org/abstract/recruiting-people-at-risk-of-parkinsons-disease-comparative-data-from-ppmi-online-and-heba-kassel/