Session Information
Session Time: 1:45pm-3:15pm
Location: Exhibit Hall C
Objective: To present the results of a phase 1 study of ABBV-8E12 in subjects with Progressive Supranuclear Palsy (PSP) and design of a phase 2 study assessing efficacy, safety, and tolerability of ABBV-8E12 in subjects with PSP.
Background: ABBV-8E12 is a humanized anti-tau monoclonal antibody being developed for the treatment of PSP and Alzheimer's disease (AD).
Methods: The phase 1 study was a double-blind, placebo-controlled, single ascending dose study assessing the safety, tolerability, and pharmacokinetics of ABBV-8E12 in subjects with PSP (NCT02494024). Subjects were randomized 3:1 to either drug or placebo in 4-subject blocks and received a single intravenous dose of ABBV-8E12 (2.5, 7.5, 15, 25, or 50 mg/kg) or placebo. Safety was monitored for 84 days post-dosing.
Results: Thirty subjects were enrolled and randomized. At screening, the mean (SD) subject age was 69.4 years (7.4); 16 (53%) were male, and the mean (SD) PSP Rating Scale score was 35.6 (7.6). Twenty-seven subjects completed the 84-day follow-up and 1 (3.3%) subject withdrew from the study due to adverse event (AE). AEs occurred in 21 of the 30 (70%) subjects. The AEs with the highest subject incidence were dermatitis (n=5) and fall (n=5).[table1] Three serious AEs were reported (10% incidence), one in each of the 15, 25, and 50 mg/kg cohorts. Noncompartmental analysis based on the complete pharmacokinetic dataset indicates dose-proportional increases in AUC and Cmax. The estimated half-life of ABBV-8E12 is approximately 1 month. A phase 2 study evaluating the 52-week efficacy and safety of ABBV-8E12 in PSP subjects is currently recruiting (NCT02985879).[figure1] Eligible subjects (n=180) will meet criteria for possible/probable PSP and have symptoms for <5 years. In addition to the ongoing phase 2 study in PSP subjects, a phase 2 study evaluating ABBV-8E12 in early AD subjects is also currently recruiting (NCT02880956).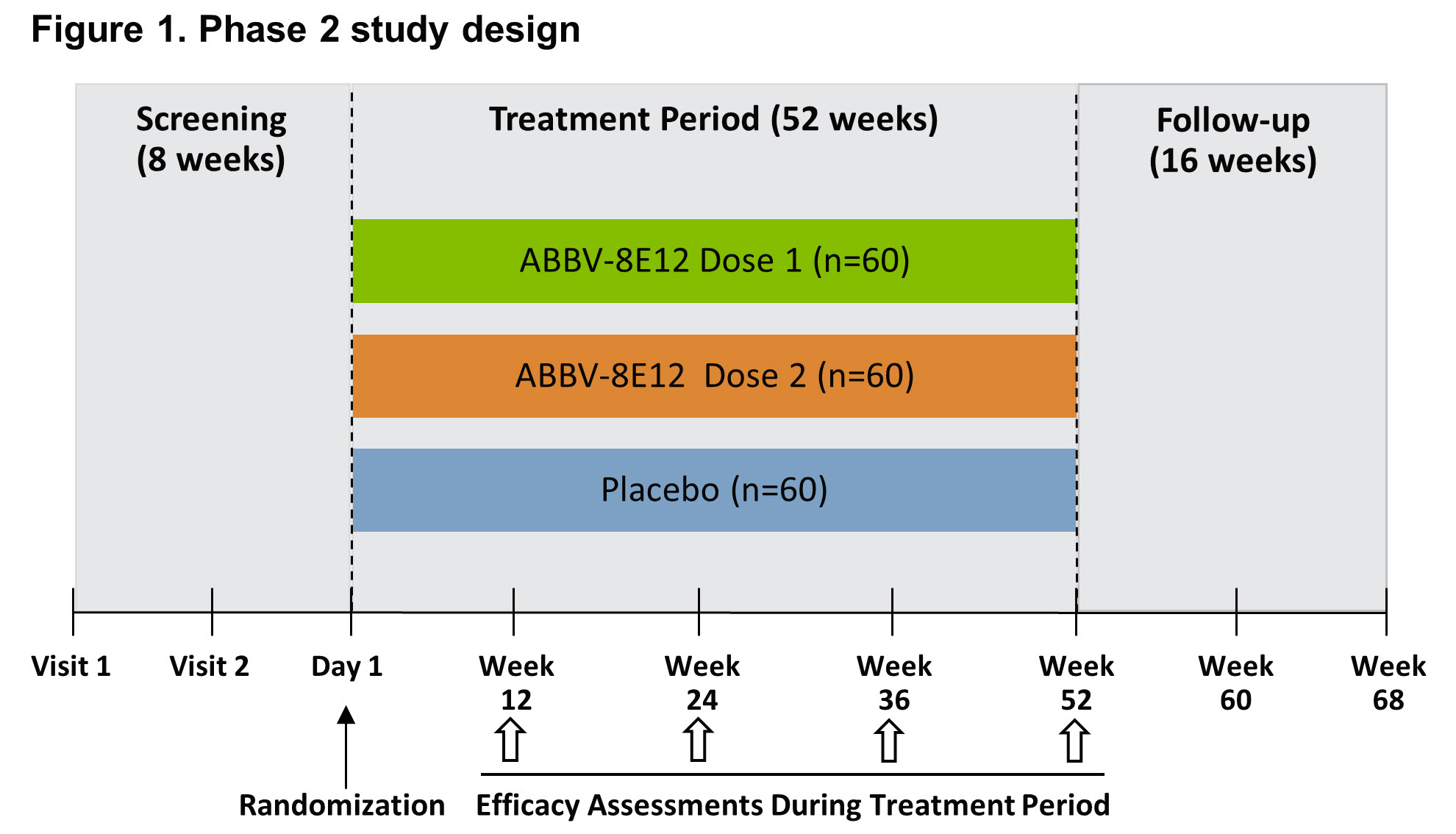 Conclusions: When administered as a single dose up to 50 mg/kg in PSP subjects, ABBV-8E12 exhibited an acceptable safety and tolerability profile to support repeat-dose testing in subjects with tauopathies.
To cite this abstract in AMA style:
N. Mendonca, T. West, J. Braunstein, I. Fogelman, Y. Bordelon, I. Litvan, E. Roberson, H. Hu, P. Verghese, R. Bateman, H. Florian, D. Wang, D. Ryman, L. Gault, K. Budur, B. Rendenbach-Mueller, D. Kerwin, A. Boxer, D. Holtzman. Results of a Phase 1, Single Ascending Dose, Placebo-Controlled Study of ABBV-8E12 in Patients with Progressive Supranuclear Palsy and Phase 2 Study Design [abstract].
Mov Disord.
2017; 32 (suppl 2). https://www.mdsabstracts.org/abstract/results-of-a-phase-1-single-ascending-dose-placebo-controlled-study-of-abbv-8e12-in-patients-with-progressive-supranuclear-palsy-and-phase-2-study-design/. Accessed November 29, 2023.
« Back to 2017 International Congress
MDS Abstracts - https://www.mdsabstracts.org/abstract/results-of-a-phase-1-single-ascending-dose-placebo-controlled-study-of-abbv-8e12-in-patients-with-progressive-supranuclear-palsy-and-phase-2-study-design/