Session Information
Session Time: 1:45pm-3:15pm
Location: Les Muses Terrace, Level 3
Objective: To obtain insight in the process of community pharmacist-led structured medication reviews in patients with Parkinson's disease (PD), by evaluating medication modifications and recommendations, and its effect on the amount of medication used daily.
Background: The complexity of medication schedules and polypharmacy in PD easily leads to compliance issues and drug related problems. A structured medication review (SMR) is a potentially effective intervention strategy to improve adherence and optimize therapy. To better explain clinical effects of an SMR in PD patients, more should be known about proposed treatment modifications and recommendations.
Method: In this multicenter randomized controlled trial [1], 144 PD-patients were included. Patients in the intervention group received a community pharmacist-led SMR according to the Royal Dutch Pharmacists Association Guidelines [2], performed at baseline. The control group received usual care. All proposed medication modifications and recommendations were recorded. Prescribed medication at baseline and after six months were compared.
Results: Both groups were comparable at baseline. Of all patients, 88 (61%) were men and mean age was 72.0 years (SD±7.5). Patients took 7.6 (SD±2.4) different medicines at 5.2 (SD±1.5) intake moments daily. Thus far, 56 SMRs were analyzed in which a total of 98 medication modifications were proposed, mostly concerning PD-related medication (26%) (Table 1). Only 48% of the proposed modifications was finally carried through. Higher age was significantly associated with higher numbers of proposed modifications. Fifty-five recommendations were given, mostly concerning practical aspects of medication intake and dietary advices. After six months, no difference was found regarding the amount of medicines used daily between both groups.
Conclusion: This is the first study analyzing the process of an SMR in PD patients. Both modifications and recommendations mostly concerned PD-medication, which might be in highest need for optimization. Reasons for unaccepted modifications together with clinical effects of an SMR have to and will be further analyzed, to further select the most appropriate medication interventions to improve treatment effect.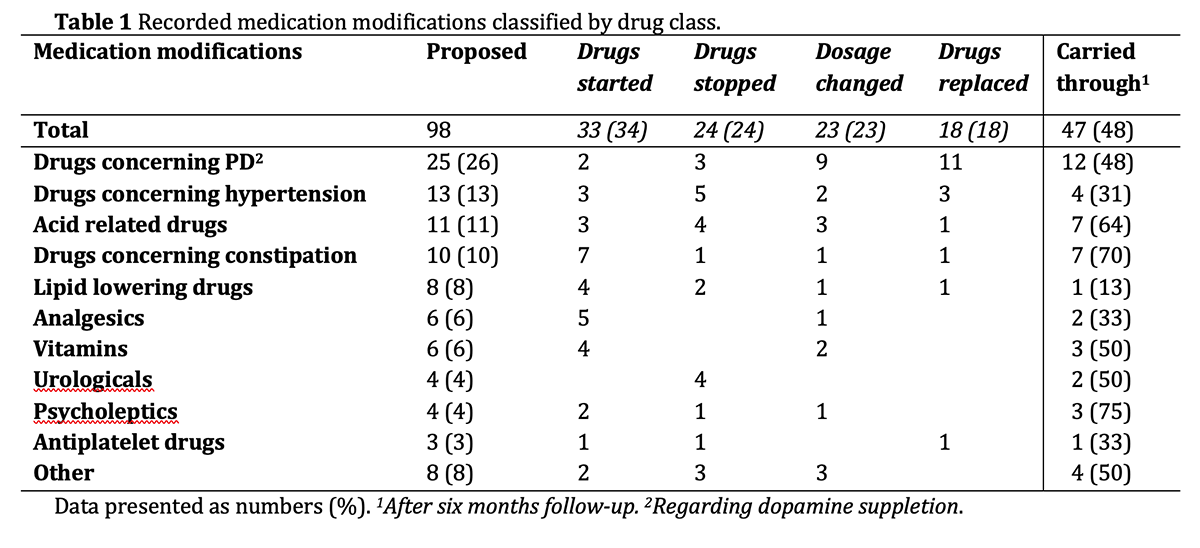 References: [1] Oonk NGM, Movig KLL, Munster EM, et al. The effect of a structured medication review on quality of life in Parkinson's disease: The study protocol. Contemp Clin Trials Commun. 2019;13:100308. doi: 10.1016/j.conctc.2018.100308. [2] Verduijn M, Leendertse A, Moeselaar, et al. Multidisciplinary Guideline Polypharmacy in elderly. Huisarts Wet. 2013;56(8):414-419. doi:10.1007/s12445-013-0215-y.
To cite this abstract in AMA style:
N. Oonk, P. Oude Avenhuis, K. Movig, K. Koehorst-Ter Huurne, WH. Nijmeijer, M. van Kesteren-Biegstraaten, J. Vd Palen, L. Dorresteijn. Results of community pharmacist-led structured medication reviews in Parkinson's Disease [abstract].
Mov Disord.
2019; 34 (suppl 2). https://www.mdsabstracts.org/abstract/results-of-community-pharmacist-led-structured-medication-reviews-in-parkinsons-disease/. Accessed November 29, 2023.
« Back to 2019 International Congress
MDS Abstracts - https://www.mdsabstracts.org/abstract/results-of-community-pharmacist-led-structured-medication-reviews-in-parkinsons-disease/