Objective: To explore the possible role of retinal assessment in a differential diagnostic setting in Essential Tremor (ET) through a standardized OCT protocol.
Background: ET represents a broad phenotypically heterogeneous neurodegenerative condition, often encompassing subtle clinical aspects overlapping with early stages of Parkinson's Disease (PD). Moreover, longstanding ET demonstrated a higher risk of developing PD, especially with a Tremor-Dominant phenotype. Therefore, in some conditions, a differential diagnostic approach between ET and early-PD could be challenging. Optical Coherence Tomography (OCT) has been recognized as a reliable tool to assess retina as a proxy of neurodegeneration.
Method: Macular layers and peripapillary retinal nerve fiber layer (RNFL) thickness among ET, early-PD and Healthy Controls (HCs) were assessed using OCT. Exclusion criteria were glaucoma, concurrent retinal disease, ocular trauma, cataract, high intraocular pression, systemic disease impairing visual system (diabetes, uncontrolled hypertension/hypotension, cardiovascular diseases) and other neurological diseases.
Results: Forty-two eyes from 23 ET, 41 eyes from 21 early-PD and 33 eyes from 17 HCs were analysed. Macular RNFL, Ganglion Cell Layer, Inner Plexiform Layer and Inner Nuclear Layer were thinner in PD as compared with ET and even more in HCs. No significant adjunctive data were reported considering ET in comparison to different PD phenotypes. Peripapillary temporal quadrant thinning was demonstrated in ET in respect with HCs.
Conclusion: In early-PD and ET macular inner retina was thinner than HC, and values of ET were between PD and HC. These findings suggest a possible OCT role in a differential diagnostic setting.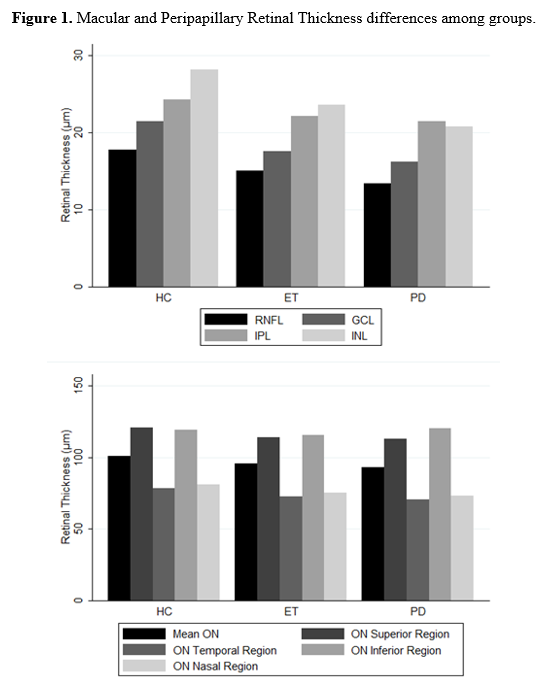 To cite this abstract in AMA style:
C. Terravecchia, G. Mostile, CG. Chisari, A. Luca, R. Terranova, C. Rascunà, G. Donzuso, CE. Cicero, G. Sciacca, M. Zappia, A. Nicoletti. RETINAL THICKNESS IN ESSENTIAL TREMOR AND EARLY PARKINSON'S DISEASE: EXPLORING DIAGNOSTIC INSIGHTS [abstract].
Mov Disord.
2022; 37 (suppl 2). https://www.mdsabstracts.org/abstract/retinal-thickness-in-essential-tremor-and-early-parkinsons-disease-exploring-diagnostic-insights/. Accessed September 21, 2023.
« Back to 2022 International Congress
MDS Abstracts - https://www.mdsabstracts.org/abstract/retinal-thickness-in-essential-tremor-and-early-parkinsons-disease-exploring-diagnostic-insights/