Objective: To describe a kidney transplant recipient with severe tacrolimus-induced parkinsonism.
Background: Kidney transplant recipients have to adhere to strict immunosuppressive regimens, which generally include calcineurin inhibitors (CNI), to prevent graft rejection. The CNI tacrolimus is considered superior to the alternative CNI cyclosporin, because tacrolimus is associated with less acute rejections and higher graft survival rates after transplantation [1, 2]. However, tacrolimus use often results in side effects, of which neurological side effects are one of the most prominent [1].
Method: –
Results: Six weeks after successful kidney transplantation, a 65-year-old man arrived at our emergency department with gait impairments and trembling hands. He reported frequent falls, also on his face, due to impaired balance. Neurological examination revealed tremor, a broad-based small shuffling gait, a stooped posture, postural instability, and a striatal toe, which may all be signs of parkinsonism. A detailed timeline with events, symptoms and laboratory values is shown in [Figure 1].
Most causes of parkinsonism were deemed unlikely, particularly due to the rapid development of symptoms, and because there were no signs of bradykinesia or rigidity. No evidence of metabolic disorders, electrolyte disturbances, or infectious diseases which could explain the clinical syndrome were found. Tacrolimus trough concentration was 9.6 µg/L and eGFR was 21 ml/min/1.73m2. A literature search revealed two case reports of parkinsonism following initiation of tacrolimus therapy in liver transplant recipients [3, 4], and given the temporal relationship between initiation of tacrolimus therapy and the start of symptoms this was found to be the most likely diagnosis.
We converted tacrolimus to cyclosporin which resulted in marked improvement of parkinsonism, in strong support of the diagnosis. In the first week after conversion, the patient's gait improved markedly, the finger cramps were resolved, and tremor diminished.
Conclusion: This is the first case report which describes a tacrolimus-induced parkinsonism in a kidney transplant recipient which was successfully and safely treated by switching tacrolimus to cyclosporin. Our case report is particularly noteworthy because of its clinical severity, impact on daily life, and the rapid improvement after changes in pharmacotherapeutic treatment.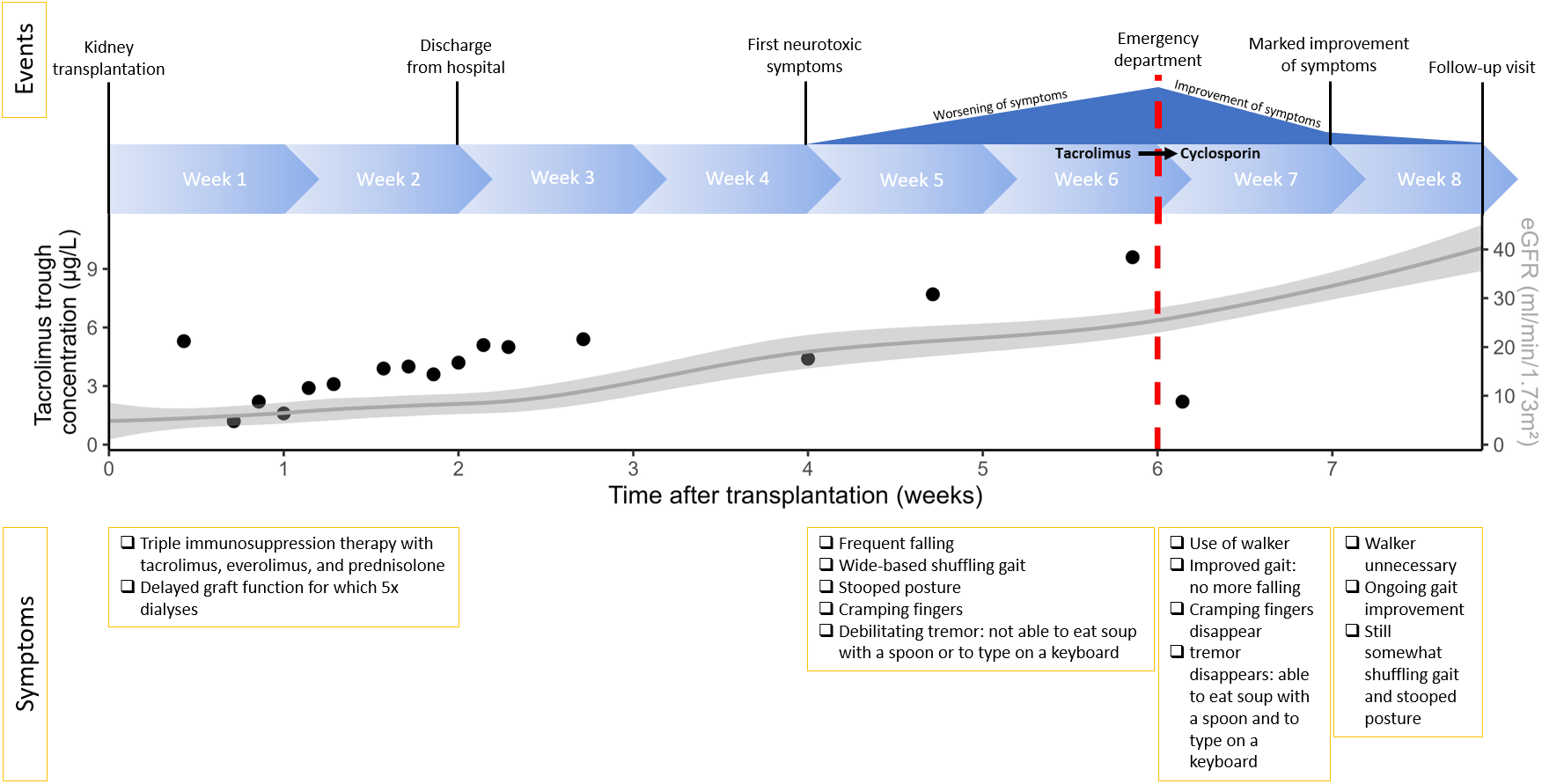 References: 1. Webster AC, Woodroffe RC, Taylor RS, Chapman JR, Craig JC. Tacrolimus versus ciclosporin as primary immunosuppression for kidney transplant recipients: Meta-analysis and meta-regression of randomised trial data. Br Med J. 2005;331(7520):810-814. doi:10.1136/bmj.38569.471007.AE
2. Neuberger JM, Bechstein WO, Kuypers DRJ, et al. Practical Recommendations for Long-Term Management of Modifiable Risks in Kidney and Liver Transplant Recipients: A Guidance Report and Clinical Checklist by the Consensus on Managing Modifiable Risk in Transplantation (COMMIT) Group. Vol 101.; 2017. doi:10.1097/TP.0000000000001651
3. Rifaie N, Koeppen S, Treckmann JW, Paul A, Saner FH. New-Onset Parkinson Syndrome After Liver Transplantation. Transplantation. 2012;94(8). https://journals.lww.com/transplantjournal/Fulltext/2012/10270/New_Onset_Parkinson_Syndrome_After_Liver.17.aspx
4. Diaz-Segarra N, Edmond A, Yonclas P. Functional improvement of tacrolimus-induced parkinsonism with amantadine after liver transplantation: A case report. Clin Neuropharmacol. 2021;44(4):141-144. doi:10.1097/WNF.0000000000000444
To cite this abstract in AMA style:
N. Riemersma, D. Kremer, R. Prak, F. Huser, M. Vander Stouwe, C. Vroomen, S. Bakker. Severe tacrolimus-induced parkinsonism after kidney transplantation [abstract].
Mov Disord.
2023; 38 (suppl 1). https://www.mdsabstracts.org/abstract/severe-tacrolimus-induced-parkinsonism-after-kidney-transplantation/. Accessed September 21, 2023.
« Back to 2023 International Congress
MDS Abstracts - https://www.mdsabstracts.org/abstract/severe-tacrolimus-induced-parkinsonism-after-kidney-transplantation/