Objective: To assess the sleep patterns in relation to disease severity.
Background: Parkinson's disease is a progressive neurodegenerative disease. The non-motor symptoms are said to be more disabling than the motor features, sleep disorders are found in 98% of PD patients, they may result from the disease process, medications or nocturnal disturbances. The progression of PD is as it stands is inevitable with studies giving conflicting reports on the prevalent sleep disorders in relation to disease severity.
This study seeks to find out the sleep patterns in relation to the severity of PD in our Ibadan patients as none has so far being reported.
Method: This was a descriptive cross-sectional study conducted at the University College Hospital, Ibadan. Eighty- four consecutive consenting adults with PD were recruited. Patient's information including socio-demographic data, medical and social history, sleep hygiene, PD history and medications were recorded.
PD patients were diagnosed according to specified diagnostic criteria and rating scales of PD staging (Hoehn &Yahr), cognitive functioning (Mini Mental State Examination (MMSE), sleep disorders (Parkinson's disease sleep scale (PDSS), Epworth Sleepiness Scale(ESS), REM behavioural disorder (REMBD) screening questionnaire, STOP BANG for Obstructive sleep apneas (OSA)and quality of life (PD Quality of Life Questionnaire(PDQOL-39) were applied on all PD patients. Statistical significance was set at p<0.05.
Results: Eighty-four (84) PD patients were recruited. The mean age of PD participants was-70.5 (SD-8.8) years. They included 55(65.5%) males and 29 (34.5%) females. Hypertension was the predominant co-morbidity of about 49 (58.3%) in PD participants and diabetes was diagnosed in 14 (16.7%) in PD participants.
The sleep patterns in PD participants did not differ significantly across the stages of PD except in sleep- related breathing disorders with scores of 2.9(1.0) in mild stage versus 3.6(1.1) in the moderate-advanced stage, with a p-value 0 .005, similarly, the Epworth scale scores, were 6(3-11) and 9(6-14) respectively in the mild and moderate/advanced stage, with a p –value 029.
Conclusion: Sleep related breathing disorders and excessive a daytime sleepiness rates increase with disease severity. Further studies with polysomnography will help confirm the above findings.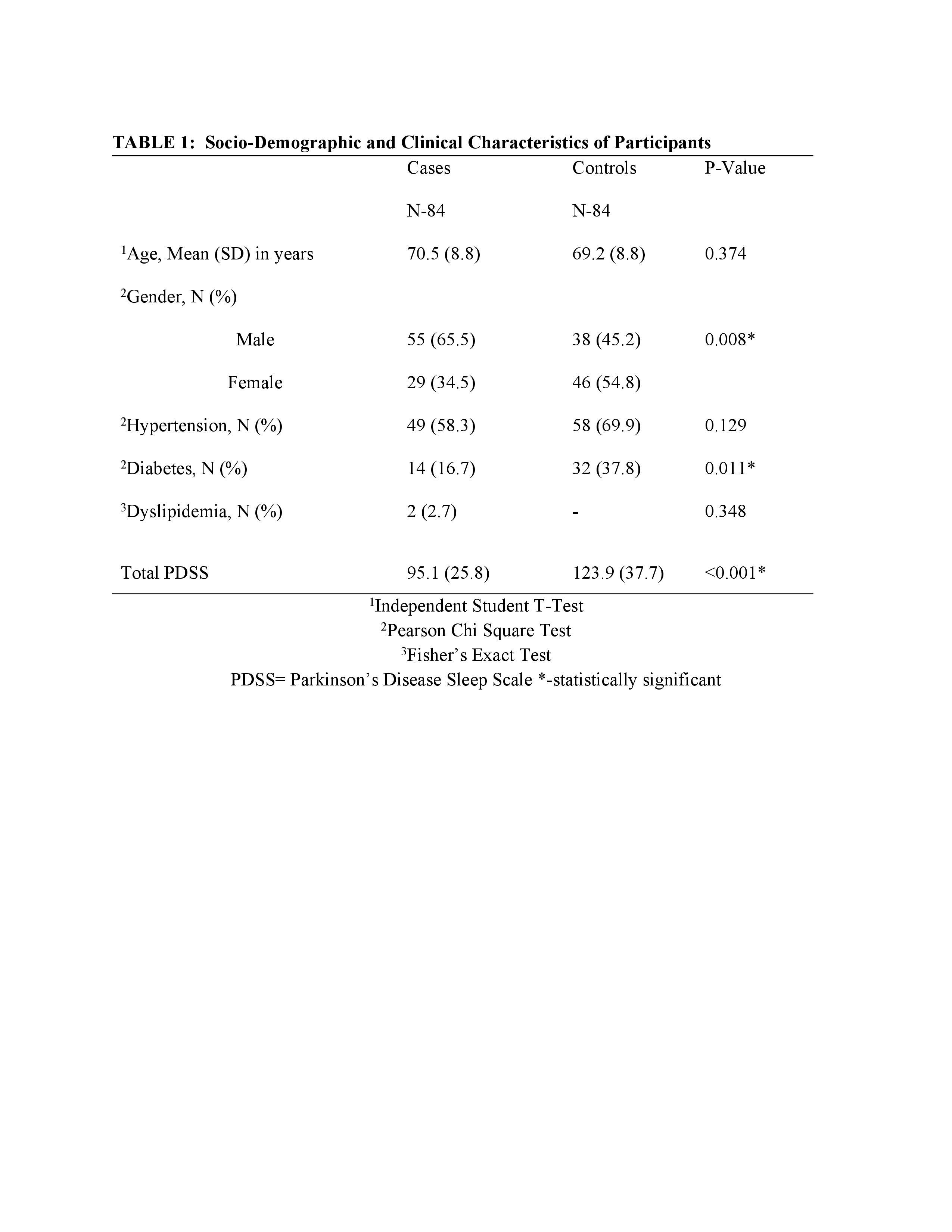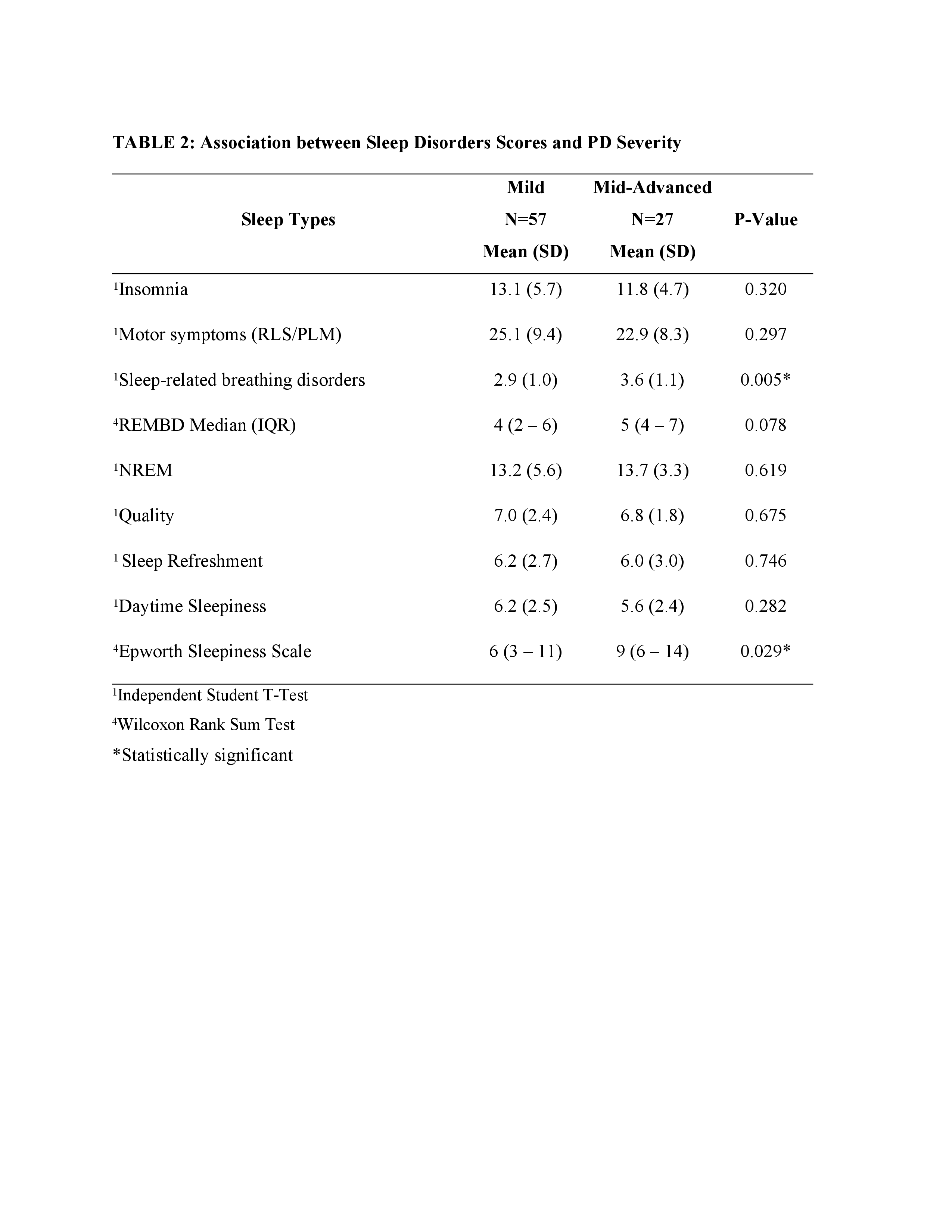 To cite this abstract in AMA style:
R. Oguntoye. Sleep Patterns in Relation to Disease Severity in Parkinson's Disease: A Study of 84 Ibadan Patients [abstract].
Mov Disord.
2020; 35 (suppl 1). https://www.mdsabstracts.org/abstract/sleep-patterns-in-relation-to-disease-severity-in-parkinsons-disease-a-study-of-84-ibadan-patients/. Accessed November 29, 2023.
« Back to MDS Virtual Congress 2020
MDS Abstracts - https://www.mdsabstracts.org/abstract/sleep-patterns-in-relation-to-disease-severity-in-parkinsons-disease-a-study-of-84-ibadan-patients/