Session Information
Session Time: 1:45pm-3:15pm
Location: Agora 2 West, Level 2
Objective: To study the spectrum of movement disorders in children with immune-mediated diseases in Yangon Children Hospital, Myanmar
Background: Immune-mediated diseases represent expanding conditions of pediatric movement disorders and can be modified by treatment in time.
Method: We prospectively studied immune-mediated diseases admitted to our hospital from January 2018 to December 2018. Total 39 patients (26 males and 13 females) with age ranging from 1-12 years were enrolled. They were categorized into 3 age groups: 7 patients were 1-5 years, 17 patients were 5-10 years, and 15 patients were >10 years. Demographic and clinical characteristics with focus on the movement disorders were recorded. Neuroimaging, cerebrospinal fluid analysis (CSF), blood tests and tumor screening were done. Patients were treated with symptomatic and/or therapeutic treatment and were followed up.
Results: Out of 39 cases, Sydenham chorea (46.1%) is commonest cause and followed by immune encephalitis (40.9%), Opsoclonus myoclonus syndrome (OMS) (7.7%) and pediatric autoimmune neuropsychiatric disorders associated with streptococcal infections (PANDAS) and Antiphopholipid syndrome (APS) for 2.5% each. Hyperkinetic movement disorders were observed in nearly all patients which were shown in [Table 1]. Pure hypokinetic disorder was seen in one patient of PANDAS. 46.1% of patients presented with at least 2 types of disorders including OFLD, dystonia, stereotypes, myoclonus and choreoathetosis. OFLD were common in age 1-10 years of immune encephalitis, choreoathetosis were common in age 5-12 years of Sydenham chorea. Stereotypes were seen on age between 5-10 years of immune encephalitis. Majority (74.4%) were received both symptomatic and therapeutic treatment. 53.8% were received steroid and/or immunoglobulin therapy and 10.2% were add-on immunosuppressant therapy. 94.9% has good response and significant decrease in movement disorders. Two patients with mixed movement disorders of immune encephalitis and APS were died.
Conclusion: Pediatric immune-mediated diseases are mainly present with mixed movement disorders, predominantly hyperkinetic with chorea, stereotypies and OFLD. OFLD and stereotypies are prevalent in immune encephalitis. High index of suspicion in patients presenting with movement disorders will be important in early diagnosis and treatment of immune-mediated diseases and minimise relapse.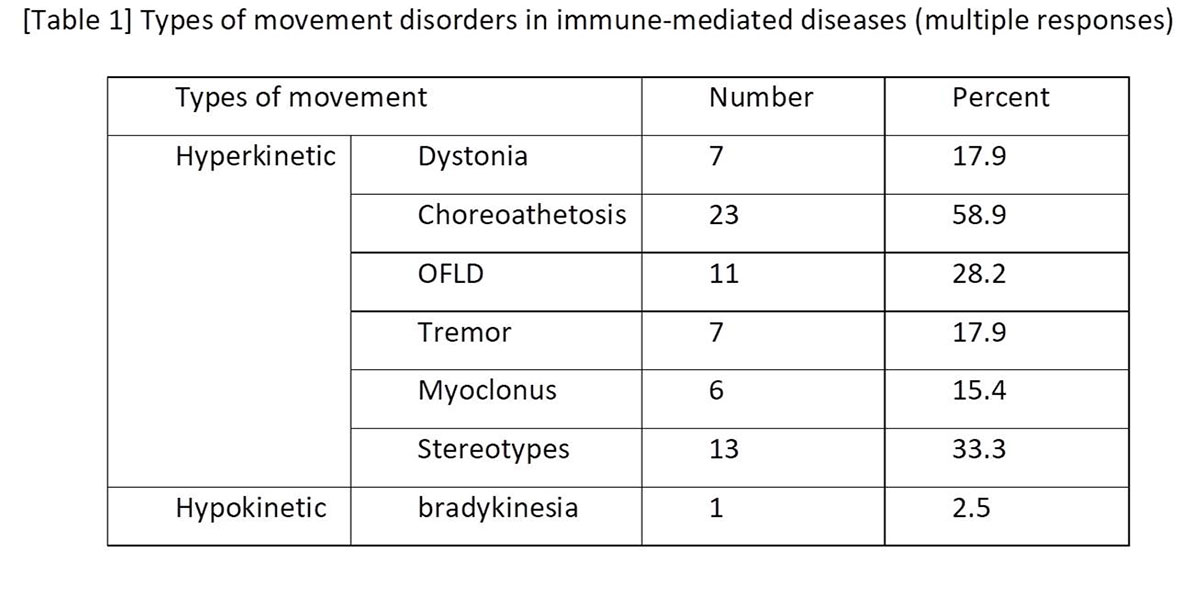 References: [1] Korn-Lubetzki I, Brand A, Steiner I. Recurrence of Sydenham chorea: implications for pathogenesis. Arch Neurol 2004;61:1261–1264. [2] Mohammad SS, Dale RC. Principles and approaches to the treatment of immune-mediated movement disorders. Eur J Paediatr Neurol. 2018 Mar;22(2):292-300. [3] Swedo, S.E., Leckman, J.F., and Rose, N.R. From research subgroup to clinical syndrome: modifying the PANDAS criteria to describe PANS (Pediatric Acute-onset Neuropsychiatric Syndrome). Pediatr Therapeut. 2012; 2012 [4] Dean, S.L. and Singer, H.S. Treatment of Sydenham's chorea: a review of the current evidence. Tremor Other Hyperkinet Mov (N Y). 2017; 7: 456. [5] Dale, R.C., Gorman, M.P., and Lim, M. Autoimmune encephalitis in children: clinical phenomenology, therapeutics, and emerging challenges. Curr Opin Neurol. 2017; 30: 334–344.
To cite this abstract in AMA style:
A. Saan, K. Linn, A. Minaye, C. Hlaing, K. Ko, H. Wintaung, N. Lin, Y. Wintaung. Spectrum of Movement disorders in pediatric immune-mediated diseases [abstract].
Mov Disord.
2019; 34 (suppl 2). https://www.mdsabstracts.org/abstract/spectrum-of-movement-disorders-in-pediatric-immune-mediated-diseases/. Accessed November 28, 2023.
« Back to 2019 International Congress
MDS Abstracts - https://www.mdsabstracts.org/abstract/spectrum-of-movement-disorders-in-pediatric-immune-mediated-diseases/