Session Information
Session Time: 1:45pm-3:15pm
Location: Les Muses, Level 3
Objective: Elucidate the present status of clinical practice for spinocerebellar degeneration (SCD) in Minami-Boso area to plan future direction for managing this intractable condition.
Background: There is practically no data about characteristics and prevalence of SCD in our district situated on the distal portion of Boso peninsula, about 60 km southeast of Tokyo.
Method: Based on the definition of SCD as slowly progressive cerebellar ataxia having no effective treatment, medical charts of patients treated as such from April 1995 to February 2019 were reviewed. Those with features of multiple system atrophy were deliberately excluded. Our latest item of gene analysis (GA) for SCD comprises DRPLA, Machado-Joseph disease (MJD), spinocerebellar ataxia (SCA) 1, 2, 6, 7, 8, 12, 17, 31 and 36. Patients whose own genetic examination was not performed but have family members genetically diagnosed as autosomal dominant SCA were included into genetically determined group. Concerning family history, those with missing information such as adoption in infancy or having consanguineous parents were counted as family history positive (FH+).
Results: In total, 82 patients have been identified, of which 41 (50%) were genetically diagnosed (directly 32, from family 9); 16 (in 12 families) had MJD of which one is homozygous with CAG repeat numbers 60/60, 10 (10) SCA6, 9 (6) SCA31, 3 (2) SCA2, and each 1 (3)  3 other diseases. No specific diagnosis has been obtained in other 41 cases (50%) of which GA was performed in 15 (FH+ 5 (6%), family history negative (FH-) 10 (12%)). Twenty-six patients without GA were composed of 12 FH+ (15%) and 14 FH- (17%) ones. As for clinical characteristics, MJD has widely varied age at onset (AO, 31-71 years old) not strictly related to abnormal CAG repeat numbers (55-77), SCA6 has narrow variation of abnormal CAG repeat numbers (21-23) and benign course with sustained walking ability and preserved cognitive skill at 20th disease year, and SCA31 has strikingly uniform AO (56.6±4.3 years old). Among most prevalent SCAs, all patients with MJD or SCA31 were FH+, whereas 3 of 10 SCA6 patients were FH-.
Conclusion: Considering half of patients have not gotten genetic diagnosis, we should positively recommend patients with SCD to take genetic examination and should construct rescue gene examination protocol for cases of failed routine panel. Better management cannot be reached without proper diagnosis.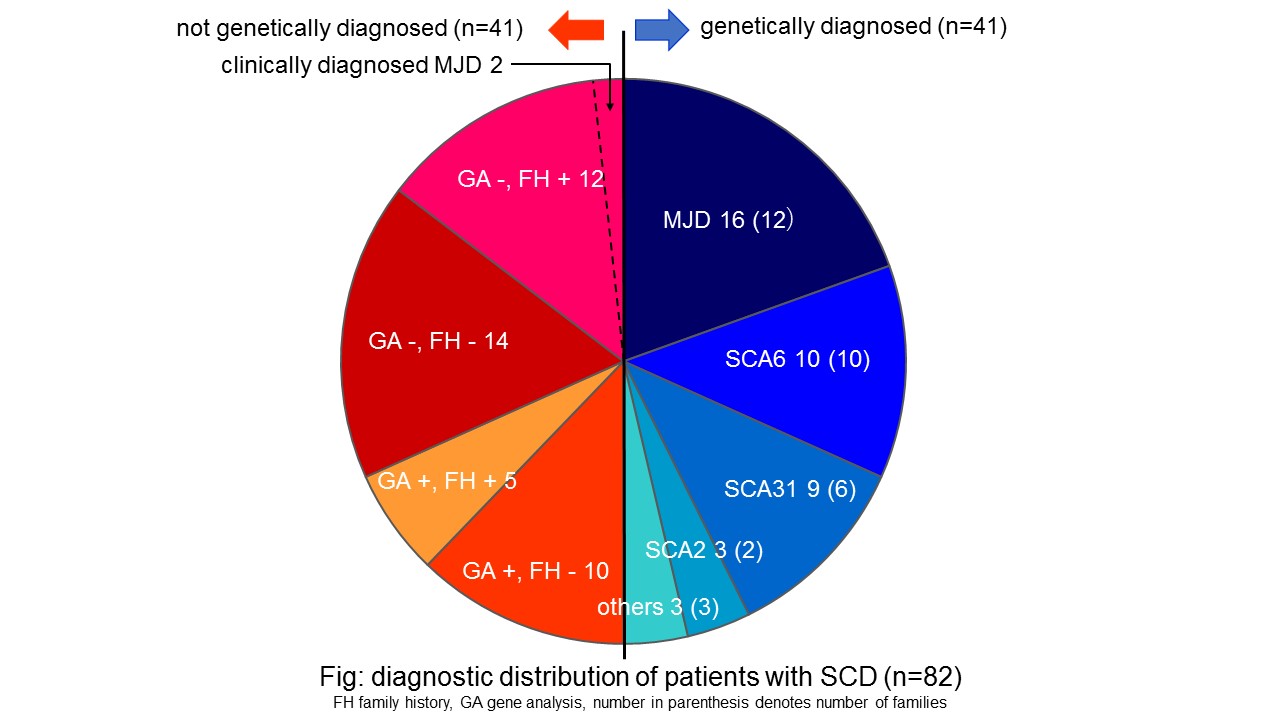 To cite this abstract in AMA style:
H. Shibayama, S. Akaike, K. Tajima, R. Takeuchi, F. Katada, S. Sato, T. Fukutaake, T. Matsukawa, H. Ishiura, S. Tsuji. Spinocerebellar degeneration in Minami-Boso area of Japan – A hospital-based retrospective analysis [abstract].
Mov Disord.
2019; 34 (suppl 2). https://www.mdsabstracts.org/abstract/spinocerebellar-degeneration-in-minami-boso-area-of-japan-a-hospital-based-retrospective-analysis/. Accessed December 3, 2023.
« Back to 2019 International Congress
MDS Abstracts - https://www.mdsabstracts.org/abstract/spinocerebellar-degeneration-in-minami-boso-area-of-japan-a-hospital-based-retrospective-analysis/