Objective: The study aims to show that effective and safe bilateral MRgFUS treatment of ET is achievable.
Background: Unilateral MRI-guided focused ultrasound (MRgFUS) thalamotomy reduces or eliminates contralateral symptoms in patients with drug-refractory essential tremor (ET). Meanwhile, the disease usually manifests as a bilateral tremor, so unilateral MRgFUS treatment only partially improves the quality of life and performance. We present the first in our country experience of staged bilateral and the world's first experience of single-stage simultaneous bilateral MRgFUS thalamotomy treatment of ET.
Method: We performed a bilateral thalamotomy in four cases with severe, drug-resistant ET in the V. S. Buzaev International Medical Center using INSIGHTEC's neurosurgery EXABLATE 4000 system. Two patients have got staged MRgFUS treatments with an interval of more than 12 months. Two patients have got a single-staged simultaneous procedure. The target of focused ultrasound in all four patients was the thalamus's ventral intermedial (VIM) nucleus. We used the Clinical Rating Scale for Tremor (CRST) to evaluate the treatment's effect. In addition to assessing the side effects of MRgFUS by a neurologist, the patient monitored himself for adverse reactions and side effects during the operation in real time after each ultrasound sonication exposure.
Results: The results of ET treatment with MRgFUS bilateral thalamotomy are in Table 1 [table1]. All four patients noted a significant reduction in symptoms on both sides six months after both sides' staged or simultaneous treatment. CRST scale tremor severity decreased from 56 to 18 points, 40 to 17 points, 60 to 19 points, and 59 to 19 points. Thus, the overall severity of hyperkinesis at the 6-month follow–up decreased by 57.5-68.3%. At the same time, the decrease in tremor in the extremities was even more significant – from 56.2% to 100%. After six months, all patients reported significantly reduced symptoms on both sides. [figure1].
Conclusion: Our experience shows that bilateral MRgFUS treatment of ET can be performed effectively and without complications. Further research is needed to determine the effectiveness and safety indicators.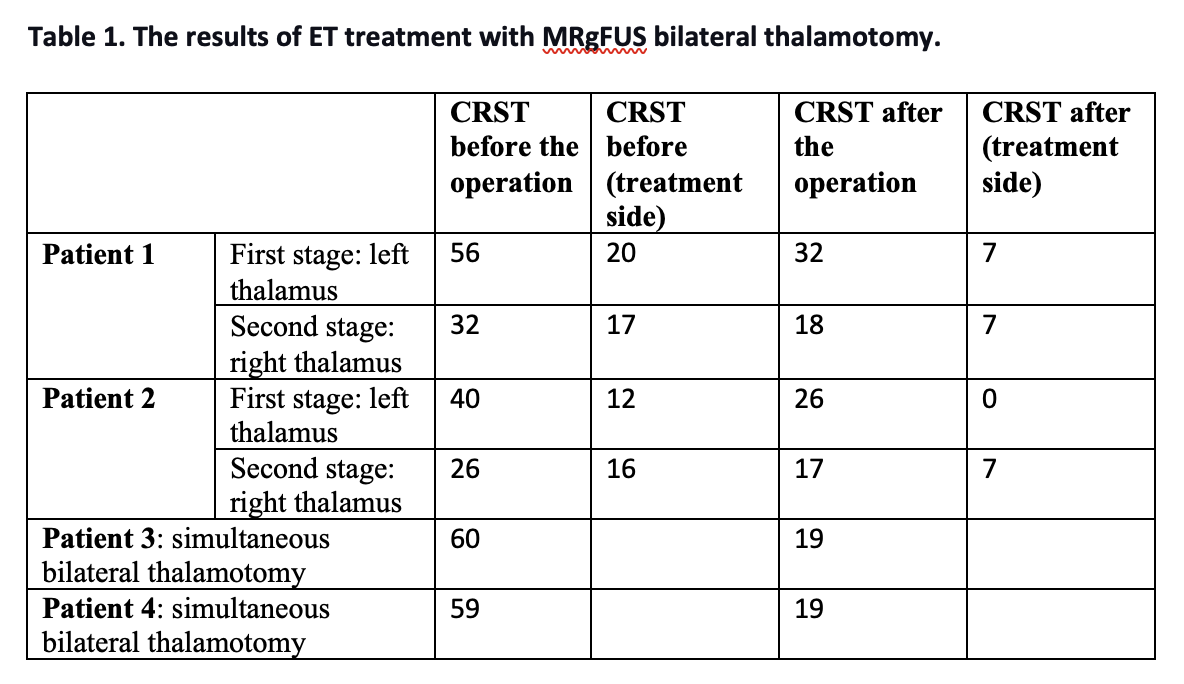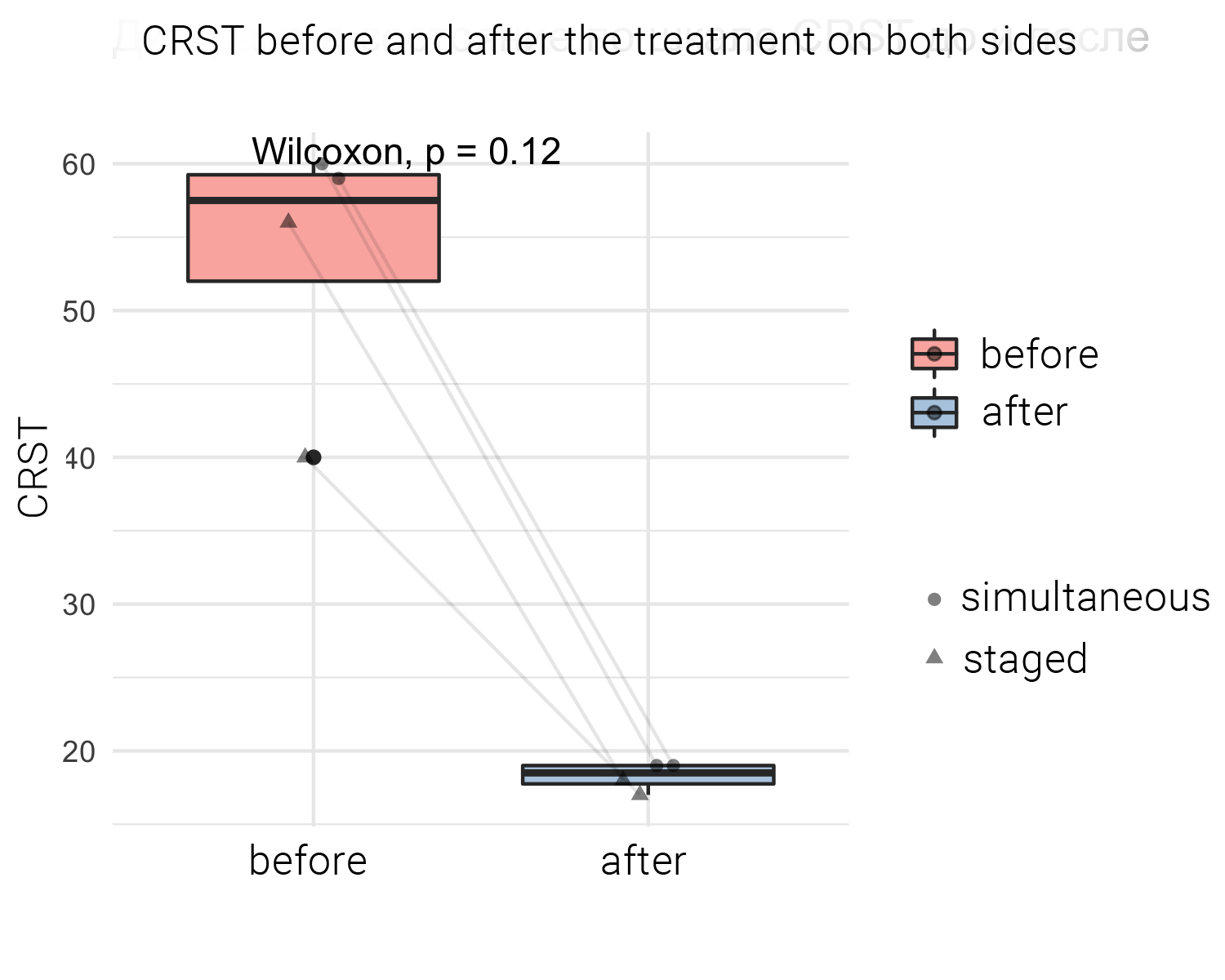 To cite this abstract in AMA style:
R. Galimova, D. Nabiullina, S. Illarioshkin, I. Buzaev, S. Safin, G. Akhmadeeva. Staged and simultaneous bilateral MRI-guided focused ultrasound treatment of essential tremor [abstract].
Mov Disord.
2023; 38 (suppl 1). https://www.mdsabstracts.org/abstract/staged-and-simultaneous-bilateral-mri-guided-focused-ultrasound-treatment-of-essential-tremor/. Accessed September 23, 2023.
« Back to 2023 International Congress
MDS Abstracts - https://www.mdsabstracts.org/abstract/staged-and-simultaneous-bilateral-mri-guided-focused-ultrasound-treatment-of-essential-tremor/