Session Information
Session Time: 12:00pm-1:30pm
Location: Exhibit Hall located in Hall B, Level 2
Objective: To report and discuss three cases of Stiff Person Syndrome (SPS) with distinguished clinical features.
Background: SPS is a rare disorder characterised by progressive fluctuating muscular rigidity and spasm, variable in distribution and severeness. Classical cases have antibodies against glutamic acid decarboxylase (GAD), but paraneoplastic cases may have different antibodies. Treatment consists of GABAergic drugs and immunomodulatory agents (Mince et al., 2002).
Methods: Case report.
Results: A 21-year-old men presented with left foot pain and within days developed progressive stiffness of lower limbs, abdominal and thoracolumbar muscles, painful spasms, exaggerated startle reflex, becoming bedridden in 2 weeks. He had rhabdomyolysis as complication and mild autonomic dysfunction. After 4 months of treatment with diazepam, baclofen, methylprednisolone, intravenous immunoglobulin (IVIg) and azathioprine the patient showed complete improvement of symptoms.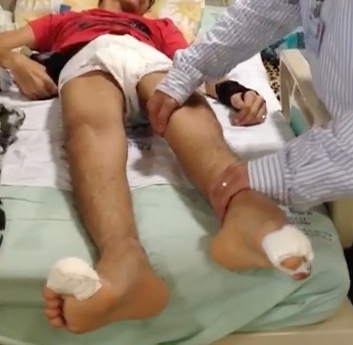 A 33-year-old female had a 3-year history of back-hips-legs stiffness, painful spasms and exaggerated startle reflex and became restricted to a wheelchair after 6 months. Meanwhile, she developed anxiety disorder, diabetes mellitus type 1, Hashimoto's thyroiditis and had spontaneous fracture of the femoral neck, treated with hip arthroplasty. After admission to our hospital, she was prescribed diazepam, baclofen and IVIg and was discharged with azathioprine with partial improvement of the stiffness, without further spasms, being able to walk with assistance. An 80-year-old female was admitted after a 4-year history of falls due to stiffness of the lower limbs, painful spasms and exaggerated startle reflex. Stiffness partially improved, spasms ceased, but the patient remained wheelchair-bound, after repeated IVIg and continuous use of clonazepam and baclofen. Exams, clinical features and treatment are shown in the table below:
Patients details
Patient 1
Patient 2
Patient 3
Sex
Male
Female
Female
Age of onset
21
33
80
First symptom
Left foot hyperextension
Lumbar paraspinal rigidity
Lower limbs rigidity
Clinical features
Back-hips-legs stiffnes, painful spasms and startle. Mild autonomic dysfunction
Back-hips-legs stiffnes, painful spasms and startle. Mild autonomic dysfunction
Legs stiffnes, painful spasms and startle
Major complications
Rhabdomyolysis
Spontaneous fractures of the femoral neck
Falls
Associated autoimmune disorders
Absent
Diabetes mellitus type 1, Hashimoto's thyroiditis
Absent
Associated neoplasia
Absent
Absent
Absent; ongoing investigation
Comorbidity
Absent
Essential hypertension
Alzheimer disease; essential hypertension
Serum Anti-GAD
Positive
Positive
Negative
Serum Anti-amphiphysin
Not tested
Not tested
Negative
EMG
Continuous motor unit activity in agonist and antagonist muscles.
Treatment
Diazepam; Baclofen; Methylprednisolone; IVIg; azathioprine.
Diazepam; Baclofen; IVIg; azathioprine
Clonazepam; Baclofen; IVIg 3 courses.
Response to treatment
Complete
Partial
Partial
"
Conclusions: SPS is a rare condition and may present with variable clinical features, evolution and response to treatment, as described in our patients. Patient 2 had a classical syndrome, as it was a female with insidious onset anti-GAD antibodies. Patient 1 was an atypical case because it was a male with sudden onset of symptoms and a complete recovery in the short-term. None of the most common antibodies were detected in patient 3 and response to therapy was suboptimal, therefore a paraneoplastic syndrome has been considered, though not yet confirmed, in this case.
To cite this abstract in AMA style:
E. Sasse, G. Amorelli, M. Spitz, C.S.B. Germano, L.F. Vasconcellos. Stiff person syndrome: Case series [abstract].
Mov Disord.
2016; 31 (suppl 2). https://www.mdsabstracts.org/abstract/stiff-person-syndrome-case-series/. Accessed September 28, 2023.
« Back to 2016 International Congress
MDS Abstracts - https://www.mdsabstracts.org/abstract/stiff-person-syndrome-case-series/