Session Information
Session Time: 1:45pm-3:15pm
Location: Exhibit Hall C
Objective: The present study is aimed at design and synthesis of new therapeutically useful steroidal neuroprotective derivatives as anti-parkinsonian agents. The new 16-aryldieno steroidal derivatives have been synthesized by fusing pyridyl moiety at 16 position of the steroid. These D ring modified heterosteroids were then explored for their neuroprotective effects against PD.
Background: Parkinson's disease (PD) is a long-term degenerative disorder of the central nervous system mainly effecting the motor system and characterized by symptoms such as tremors, bradykinesia, rigidity, postural instability and cognitive deficits. Neuroinflammation play a key role in the pathogenesis of PD.
Methods: Aldol condensation of dehydroepiandrosterone with requisite pyridine carboxaldehyde in basic medium gave corresponding 16-arylidene steroidal derivatives 1a-c. Rats (male wistar) were anesthetized with thiopental sodium (45 mg/kg, i.p.), stereotaxic surgery has been done and intranigral injection of LPS (10µg in 2µl) was infused into left substantia nigra using the Hamilton microsyringe.3 Heterosteroids were evaluated against behavioral alternations using actophotometer, elevated plus maze at dose 2mg/kg after 7th, 14th and 21st day of LPS administration. Biochemical estimation of different makers for neuroinflammation, cholinergic activity and oxidative stress has also been carried out.
Results: The newly synthesized compounds were characterized by elemental and spectral analyses (IR, 1H NMR). The synthesized heterosteroids 1a-c exhibited potent neuroprotective activity against PD. The pyridin-4-yl group substituted steroid 1c displayed activity comparable to that of standards dexamethasone and celecoxib.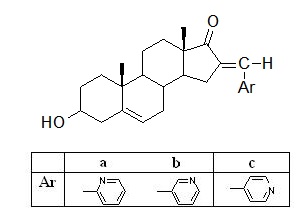 Conclusions: This study suggests that 16-aryldieno steroids exhibit potent neuroprotective activity and they could be useful for the prevention of PD.
References: Kurkowska-Jastrzebska, I.; Litwin, T.; Joniec, I.; Ciesielska, A.; Przybylkowski, A.; Czlonkowski, A.; Czlonkowska, A., Dexamethasone protects against dopaminergic neurons damage in a mouse model of Parkinson's disease. Int Immunopharmacol 2004, 4 (10-11), 1307-18. Jiang, C. S.; Guo, X. J.; Gong, J. X.; Zhu, T. T.; Zhang, H. Y.; Guo, Y. W., Synthesis and biological evaluation of 21-arylidenepregnenolone derivatives as neuroprotective agents. Bioorg Med Chem Lett 2012, 22 (6), 2226-9.
To cite this abstract in AMA style:
R. Bansal, R. Singh. Synthesis and pharmacological evaluation of 16-aryldieno steroids as anti-parkinsonian agents in LPS induced Neuroinflammation Model of Rat [abstract].
Mov Disord.
2017; 32 (suppl 2). https://www.mdsabstracts.org/abstract/synthesis-and-pharmacological-evaluation-of-16-aryldieno-steroids-as-anti-parkinsonian-agents-in-lps-induced-neuroinflammation-model-of-rat/. Accessed December 5, 2023.
« Back to 2017 International Congress
MDS Abstracts - https://www.mdsabstracts.org/abstract/synthesis-and-pharmacological-evaluation-of-16-aryldieno-steroids-as-anti-parkinsonian-agents-in-lps-induced-neuroinflammation-model-of-rat/