Session Information
Session Time: 1:45pm-3:15pm
Location: Hall 3FG
Objective: The objective of this project was to develop and use adapted interactive card games for education in movement disorders.
Background: There is a clear shift in medical education away from traditional didactic lectures and towards more interactive avenues for learning. Interactive learning improves both student satisfaction and performance[1]. Competitive gaming has been shown to improve learners' retention of material[2].
Methods: Original cards were designed by the study authors based on the card games Taboo (Game 1) and Hedbanz (Game 2) (Figure 1). Card answers were conceived in the following categories: phenomenology, diagnoses, treatments, genetic mutations, signs and symptoms, workup, anatomy, and physiology. Rules were adapted from said games. Briefly, in Game 1, a clue-giver is given a series of cards with an answer and five prohibited words. His/her team attempts to guess the answers to as many cards as possible in two minutes without the clue-giver using the prohibited words. In Game 2, a team receives an answer card that they do not look at but show to those not on the team. Each team member asks a yes or no question to try to guess the card answer. For summary of rules, see Table 2. Games were piloted with the study authors and four movement disorders attendings, and rules modified based on feedback.
Results: Game 1 translated well to movement disorders education. One hundred cards were developed. All answer categories were used. Movement disorders faculty found the game enjoyable and engaging. Game 2 required adaptation after piloting. Multiple answer categories caused confusion, so answer choices were limited to diagnoses. Twenty cards were developed.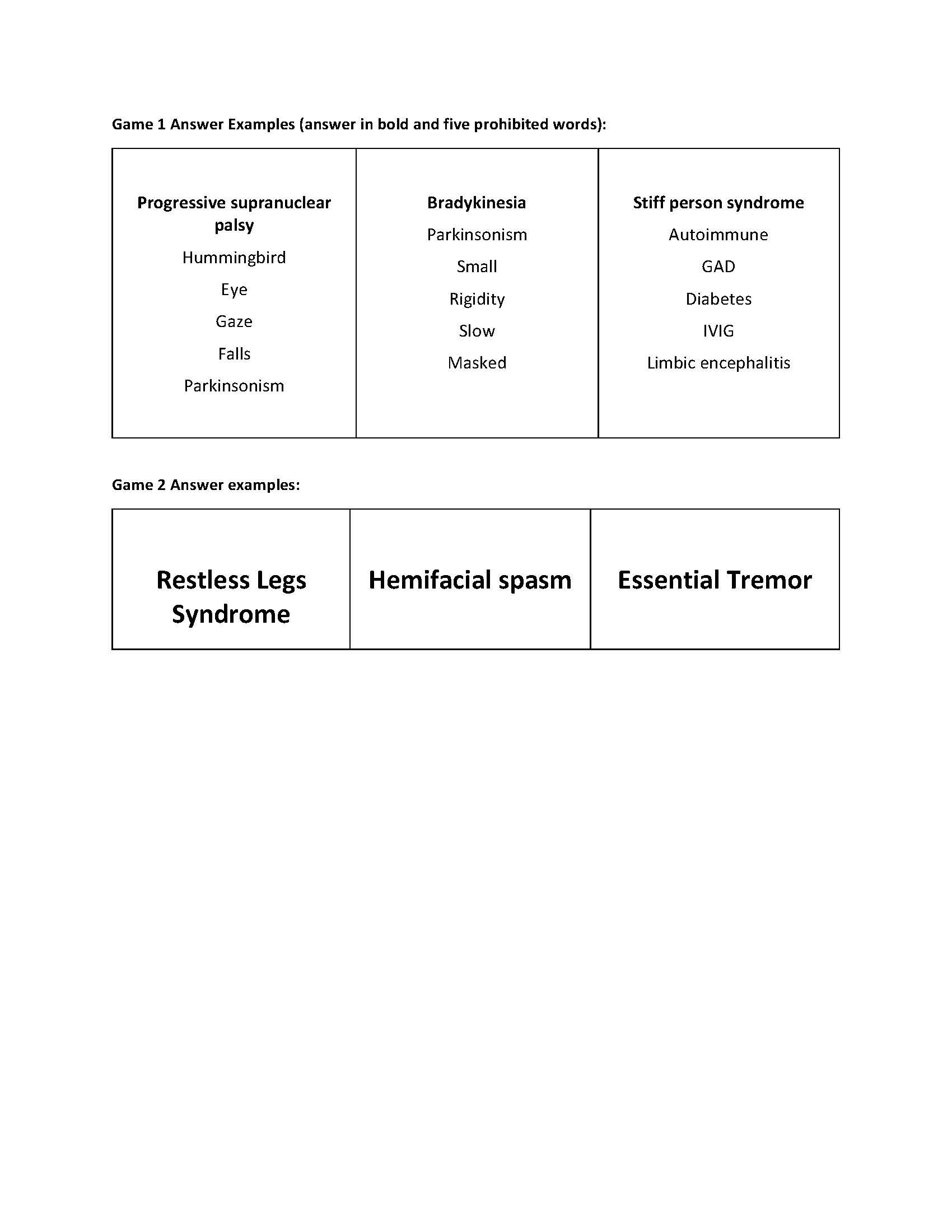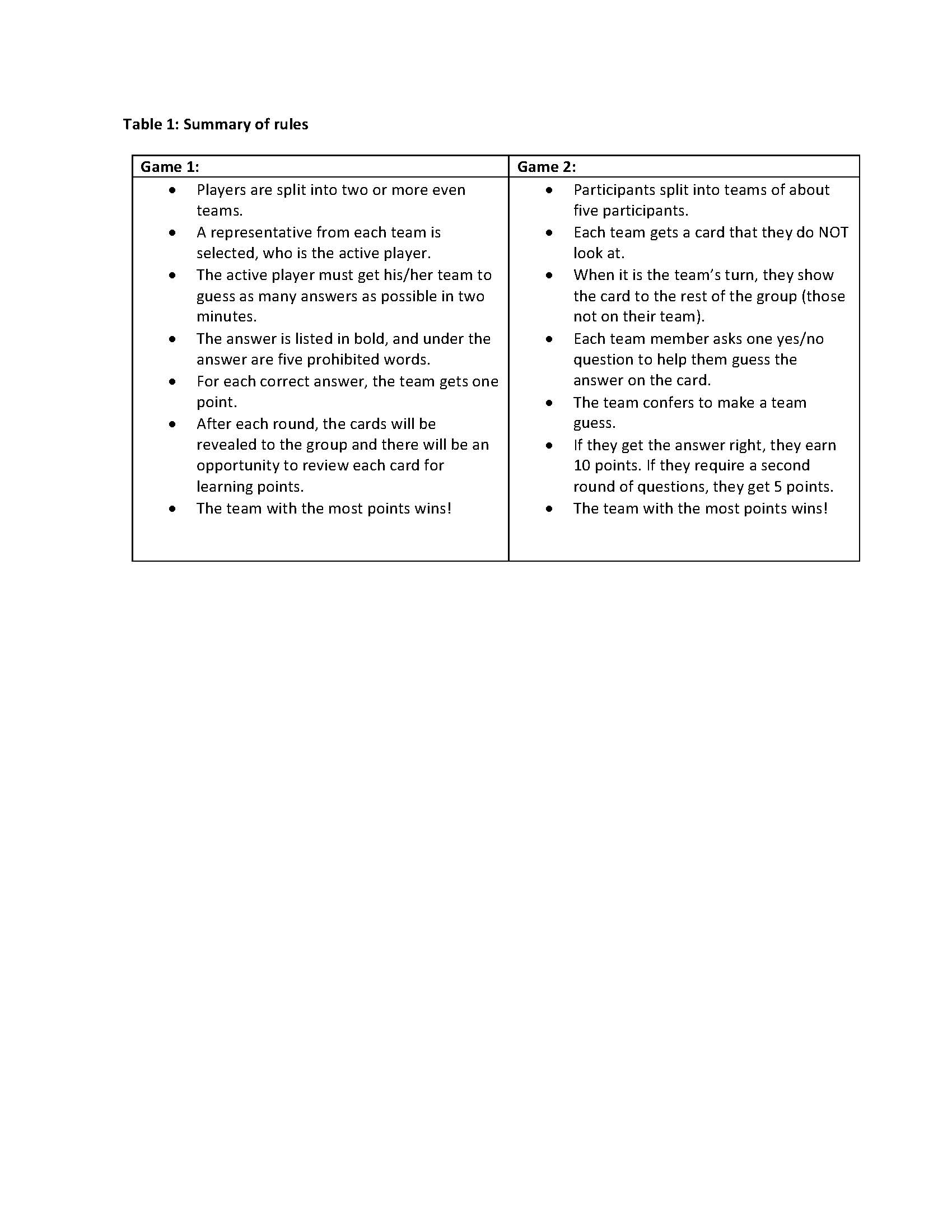 Conclusions: Adaptation of card games for movement disorders education was feasible. A wide swath of movement disorders topics was covered, particularly in Game 1. The format of the games would allow for easy dissemination and/or transfer to electronic format. In future research, we aim to assess feasibility of use with residents, learner satisfaction, and educational efficacy. The games will be implemented with neurology residents at three institutions in Spring 2018. Residents will complete a pre-test, post-test, and survey. Acknowledgements: This project was inspired by Zachary London and Matt Ebright, at the University of Michigan.
References: 1. Ryall, T.; Judd, B.K.; Gordon, C.J. Simulation-based assessments in health professional education: A systematic review. J Multidiscip Healthc 2016, 9, 69-82. 2. Khan, M.N.; Telmesani, A.; Alkhotani, A.; Elzouki, A.; Edrees, B.; Alsulimani, M.H. Comparison of jeopardy game format versus traditional lecture format as a teaching methodology in medical education. Saudi Med J 2011, 32, 1172-1176.
To cite this abstract in AMA style:
S. Schaefer, A. Vives Rodriguez. The Adaptation of Card Games for Education in Movement Disorders [abstract].
Mov Disord.
2018; 33 (suppl 2). https://www.mdsabstracts.org/abstract/the-adaptation-of-card-games-for-education-in-movement-disorders/. Accessed December 1, 2023.
« Back to 2018 International Congress
MDS Abstracts - https://www.mdsabstracts.org/abstract/the-adaptation-of-card-games-for-education-in-movement-disorders/