Objective: This study aims to explore the potential of opicapone (OPC) to optimize levodopa (L-dopa)/dopa decarboxylase inhibitor (DDCi) as first-line approach to treat wearing-off in patients with Parkinson's disease (PD).
Background: OPC proved to be effective in the treatment of end-of-dose motor fluctuations in patients with PD [1,2]. About 50% of patients with PD show some degree of motor complications within 2−5 years, and 80–100% patients within 10 years of L-dopa therapy [3,4]. Subsequently, the standard approach is to alter the L-dopa dosing regimen, either by increasing the dose or by 'fractionating' its total daily dose [5].
Method: Approximately 100 patients (aged ≥30 years) with idiopathic PD, treated with 3-4 daily oral L-dopa doses up to 600 mg, and signs of wearing-off (<2 years) will be equally randomized to receive OPC 50 mg once-daily or 100 mg L-dopa/DDCI during a 4-week open-label evaluation period (Figure 1).
Results: Primary endpoint is the change from baseline in OFF-time. Secondary endpoints include tolerability, functional motor and non-motor assessments (MDS-Unified Parkinson's Disease Rating Scale [UPDRS], MDS-Non-Motor Symptoms [NMS], Parkinson's Disease Questionnaire-8 [PDQ-8], Hauser's home diary), and global impression of change scales (Clinical Global Impression of Change [CGI-C], Patient Global Impression of Change [PGI-C]). As this is a descriptive/exploratory study, no formal sample size calculation was performed. Study sites are in Germany, Italy, Portugal, Spain, and the UK. First-patient-in is expected for 2021 and last-patient-out for late 2022. Timelines might be impacted by the COVID-19 pandemic situation.
Conclusion: This study will evaluate the potential of OPC to optimize L-dopa/DDCi as first line approach to treat wearing-off in patients with PD.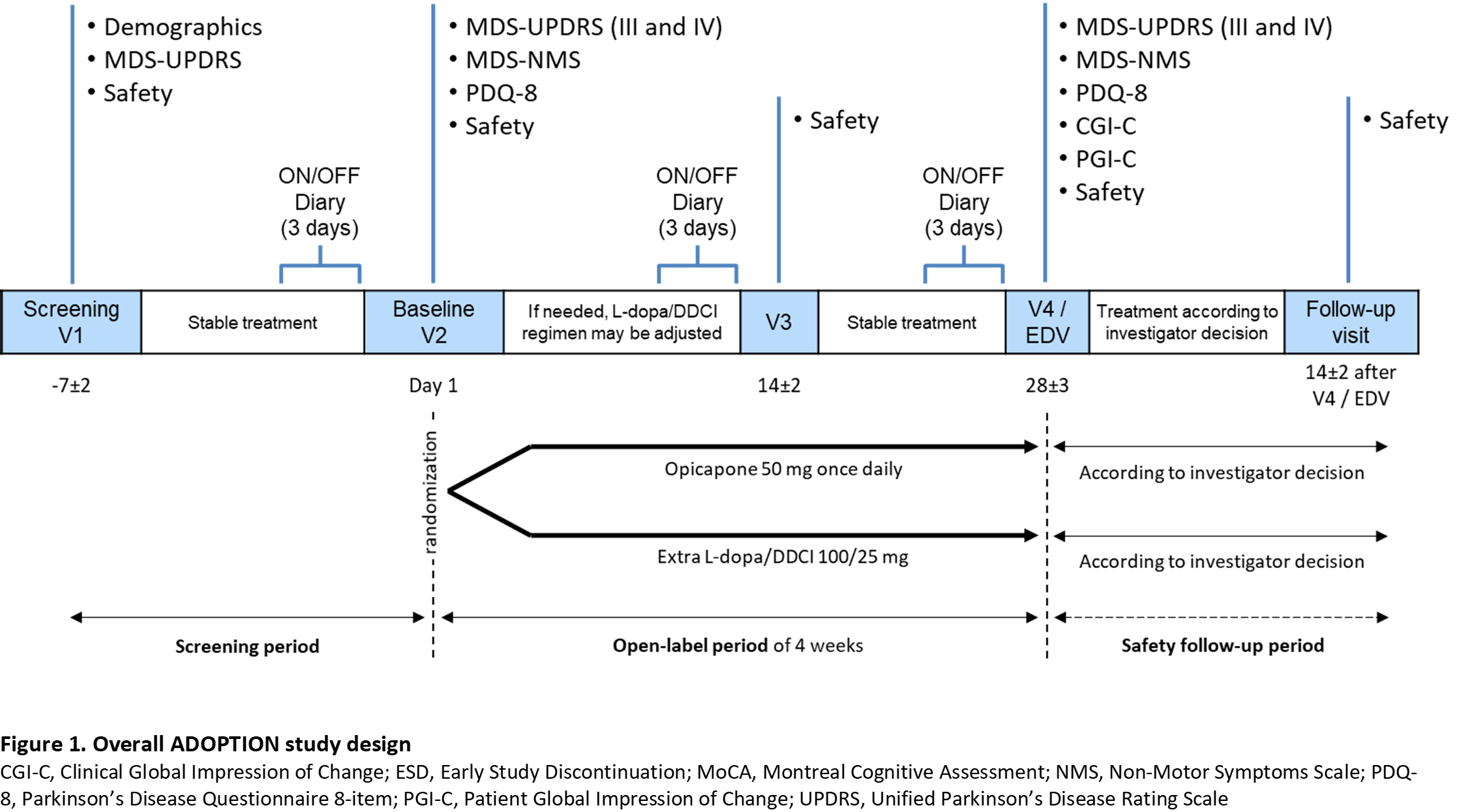 References: 1. Lancet Neurol. 2016;15(2):154-165 2. JAMA Neurol. 2017;74(2):197-206 3. Journal Neurol. 2019;266:2164-2176 4. Expert Opinion on Pharmacotherapy. 2019;20(18) :2201–2207 5. Neuropsychiatric Disease and Treatment. 2008;4(1):39–47
To cite this abstract in AMA style:
J. Ferreira, W. Poewe, O. Rascol, F. Stocchi, A. Antonini, R. Costa, D. Magalhães, J. Rocha, P. Soares-da-Silva. The ADOPTION (eArly levoDopa with Opicapone in Parkinson's paTients wIth motOr fluctuatioNs) study in Parkinson's disease: design and rationale of a randomized prospective, open-label exploratory trial [abstract].
Mov Disord.
2021; 36 (suppl 1). https://www.mdsabstracts.org/abstract/the-adoption-early-levodopa-with-opicapone-in-parkinsons-patients-with-motor-fluctuations-study-in-parkinsons-disease-design-and-rationale-of-a-randomized-prospective-open-label/. Accessed December 7, 2023.
« Back to MDS Virtual Congress 2021
MDS Abstracts - https://www.mdsabstracts.org/abstract/the-adoption-early-levodopa-with-opicapone-in-parkinsons-patients-with-motor-fluctuations-study-in-parkinsons-disease-design-and-rationale-of-a-randomized-prospective-open-label/