Objective: 1.Identification of microRNAs from whole blood PBMCs of SCA2 patients by using NGS.
2.To check the exclusivity of miRNAs in SCA2, SCA1,SCA3,SCA12,HD,ALS,PD and MSA-C by using qRTPCR validation.
Background: The polyglutamine stretch extension in the ataxin-2 protein is the cause of spinocerebellar ataxia type-2 (SCA-2)[1]. The identity of the miRNAs seen in different neurodegenerative illnesses but not yet discovered in SCA2 [2,3,4] . We used NGS to identify the miRNAs and then validated the miRNAs that were most closely related with the major pathways.
Method: In smallRNA sequencing (NGS) based profiling of miRNAs, total SCA2 patients (N=7) and controls (N=7) were used to find differentially expressed miRNAs on Illumina Hiseq2500 platform. Differential expression of miRNAs analysis was performed using DESeq2 software.TargetScan, miRTarBase and miRPath V.3 version were utilized for pathway analysis.
Selected miRNAs were validated using qRT-PCR method on Roche Light Cycler 480 version in SCA2 (N=28 vs. controls N=28).Also validated in other neurodegenerative diseases (N=10 vs. controls N=10) in SCA1, SCA3,PD (N=10) and MSA-C. The differential expression of qRT-PCR analysis was done by using unpaired t test.
Results: NGS analysis showed in between total 6 up & down regulated miRNAs in patient versus controls, 2down-regulated miRNAs (hsa-mir-451a***and hsa-mir-451b***) found to be most significant miRNAs at ≥2-fold change expression level at p<0.05 . Hierarchical clustering of all identified miRNAs in all 14 samples is shown in figure (Figure1).
The miRNA family hsa-miR-451 targets the genes HIPK2, NR4A3, VEGFA, RAB10,RAB18 and ATXN2 whic involved in neurodegeneration pathways. .qRT-PCR validation results showing that hsa-miR-451a and 451b significantly down regulated in SCA2 and also down regulated in other neurodegenerative diseases like in SCA1,SCA12,HD,ALS,PD & MSA-C except SCA3 (Table1 & Figure2).
Conclusion: The members of hsa-miR-451family were shown to be considerably downregulated in SCA2, SCA1, SCA12, HD, ALS, MSA-C and PD. The most significant factor is that miRNA hsa-miR-451protect the mitochondrial function by guarding against oxidative stress. In degenerative pathways, downregulation or deletion of hsa-miR-451 plays a functional role [5,6,7].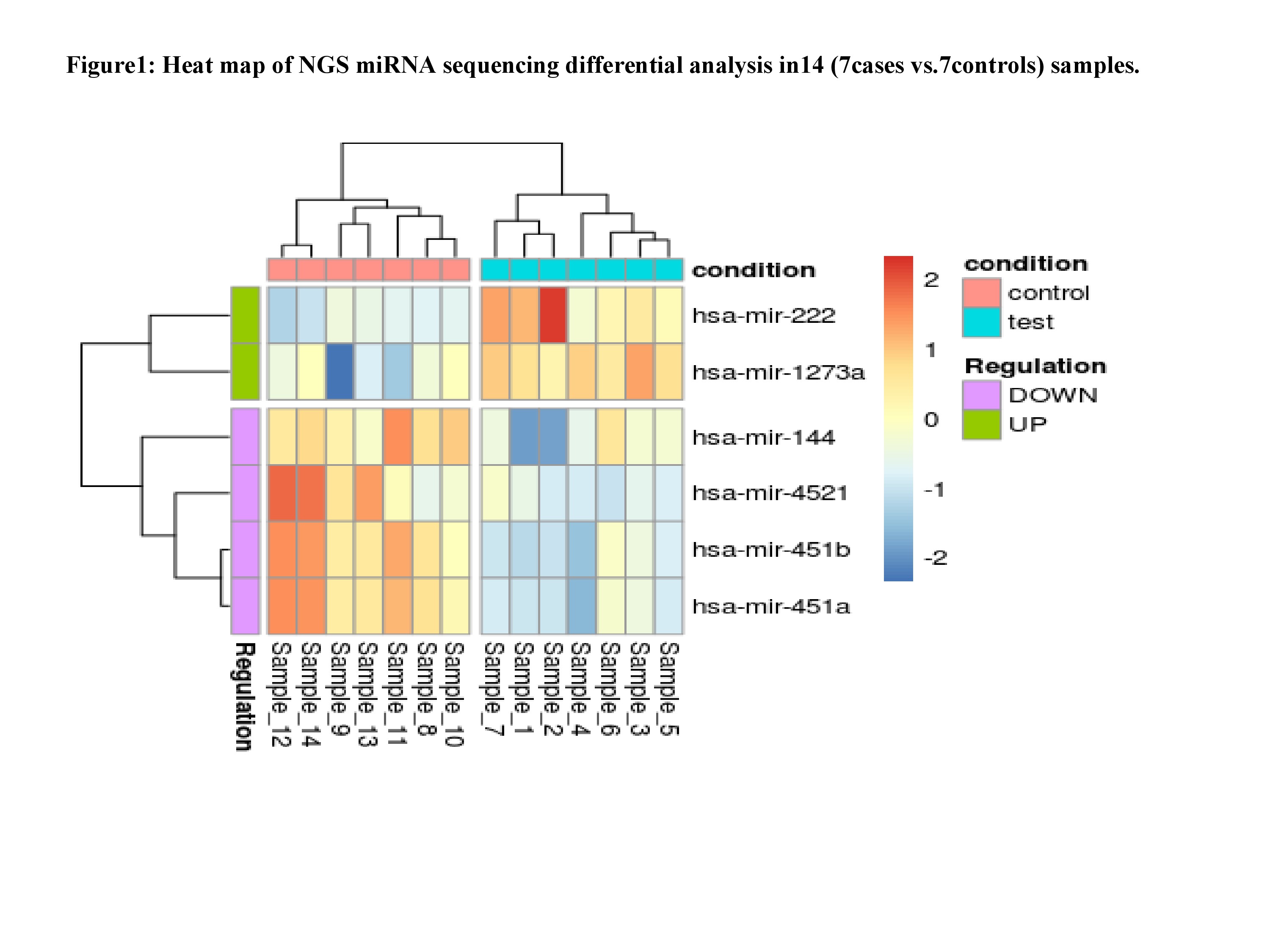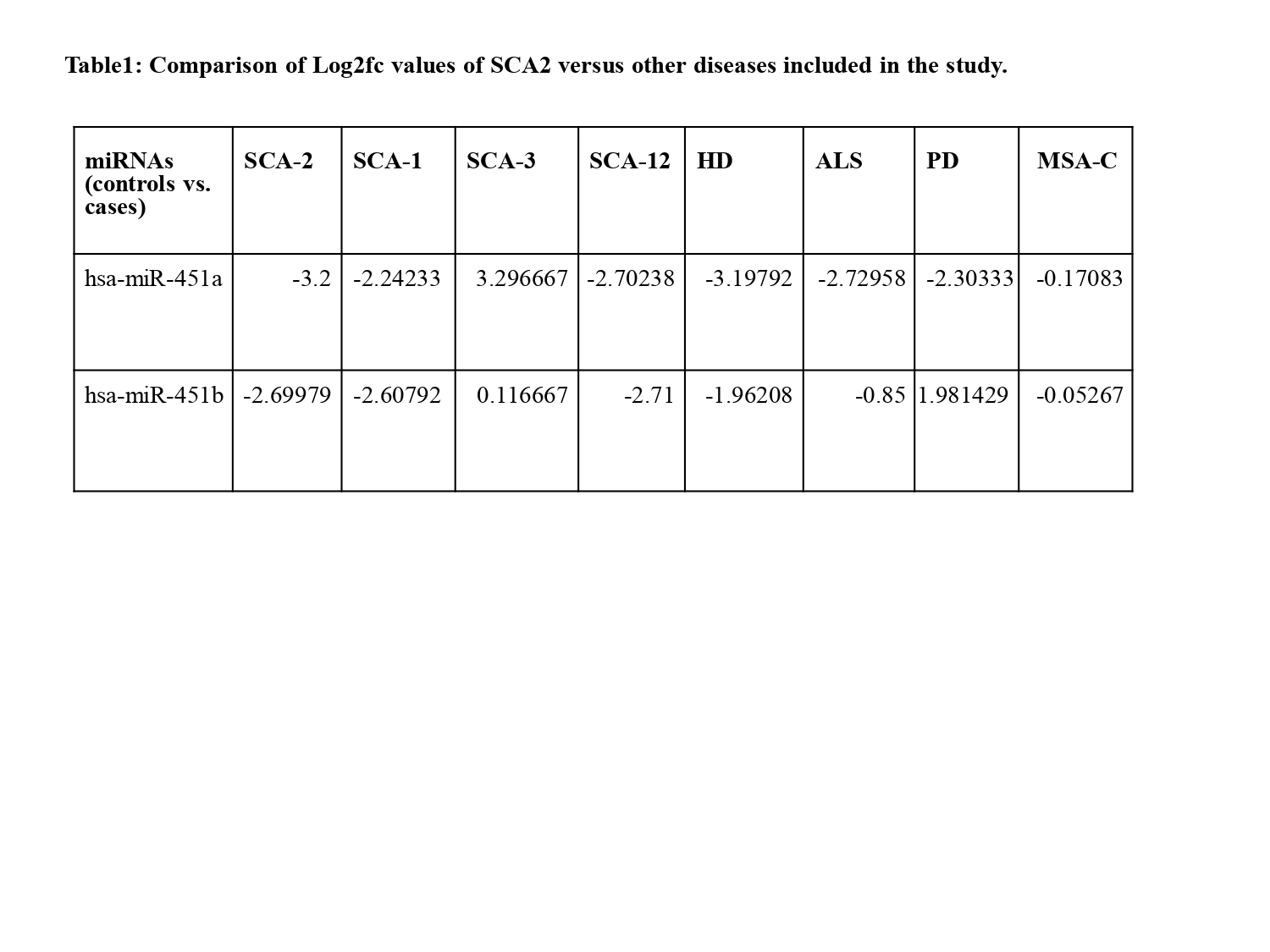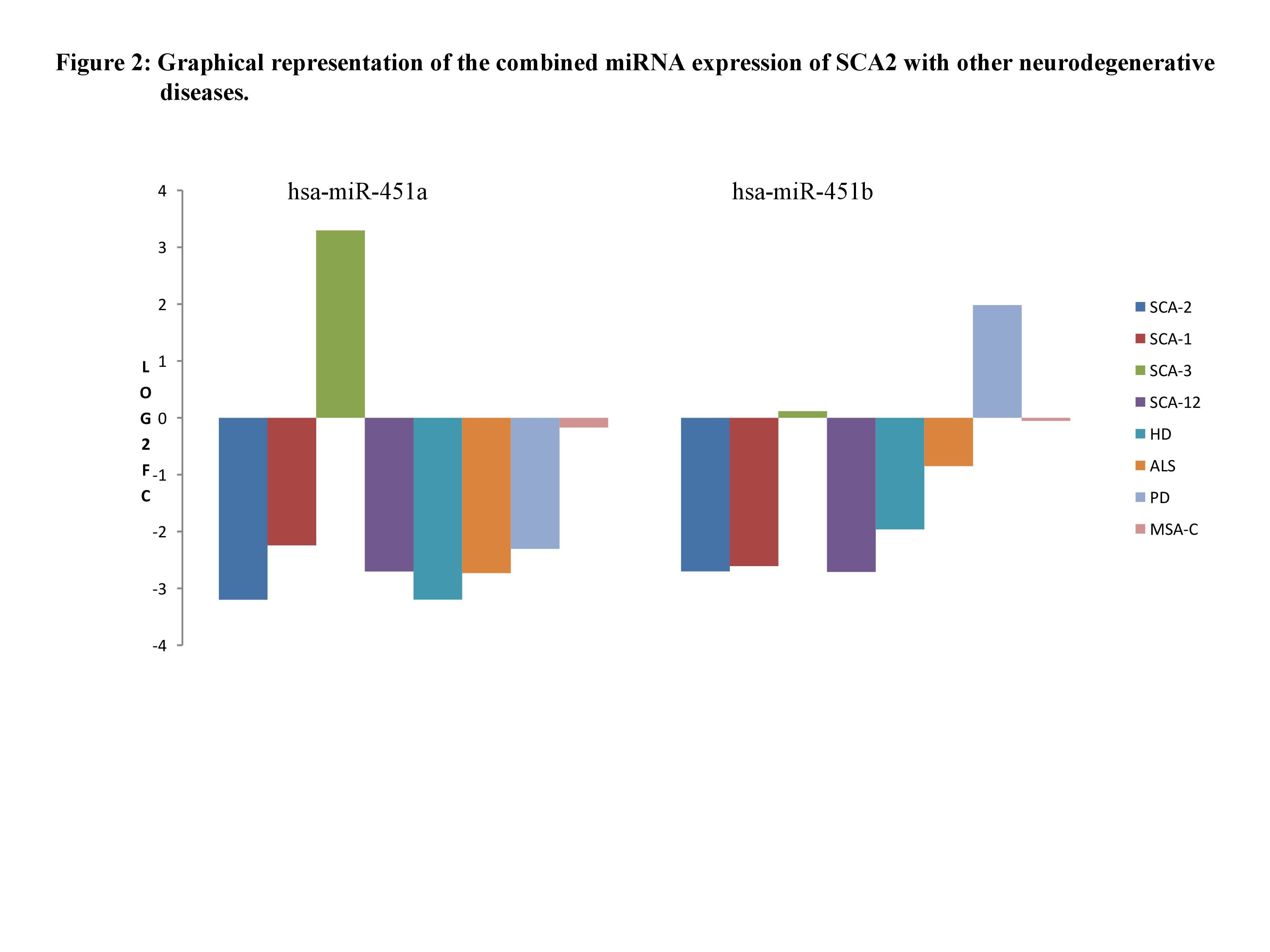 References: 1. Lorenzetti D, Bohlega S, Zoghbi HY(1997) The expansion of the CAG repeat in ataxin-2 is a frequent cause of autosomal dominant spinocerebellar ataxia. Neurology
49(4):1009-13. doi: 10.1212.
2. Meza-Sosa KF, Valle-García D, Pedraza-Alva G, Pérez-Martínez L (2012)Role of microRNAs in central nervous system development and pathology. J Neurosci Res 90(1):1-
12. doi: 10.1002.
3. Díaz NF, Cruz-Reséndiz MS, Flores-Herrera H, García-López G, Molina-Hernández A (2014) MicroRNAs in central nervous system development. Rev Neurosci 25(5):675-
86. doi: 10.1515.
4. Cao DD, Li L, Chan WY(2016)MicroRNAs: Key Regulators in the Central Nervous System and Their Implication in Neurological Diseases. Int J Mol Sci.28;17(6):842. doi:
10.3390.
5. Christa Trattnig, Muammer Üçal, Carmen Tam-Amersdorfer, Angela Bucko, Ulrike Zefferer, Gerda Grünbacher, Markus Absenger-Novak, Kristin Anna Öhlinger, Klaus Kraitsy,
Daniel Hamberger, Ute Schaefer, Silke Patz (2018) MicroRNA451a overexpression induces accelerated neuronal differentiation of Ntera2/D1 cells and ablation affects
neurogenesis in microRNA-451a-/- mice. PLoS One 13(11): e0207575.doi: 10.1371.
6. Qian Liu, Yaguang Hu, Min Zhang, Yousheng Yan, Hongmei Yu, Li Ge (2018) microRNA 451 protects neurons against ischemia/reperfusion injury-induced cell death by
targeting CELF2. Neuropsychiatr Dis Treat 14: 2773–2782. doi: 10.2147.
7. Yan Shao, Li-jie Dong, Yusuke Takahashi, Jianglei Chen, Xun Liu, Qian Chen, Jian-xing Ma,XiaorongLi(2019)miRNA451a regulates RPE function through promoting
mitochondrial function in proliferative diabetic retinopathy. Am J Physiol Endocrinol Metab 1; 316(3): E443–E452. doi: 10.1152.
To cite this abstract in AMA style:
R. Singh, V. Swarup, I. Ahmad, V. Anand, I. Singh, M. Faruq, A. Srivastava. The neuroprotective miRNA family hsa-miR-451 has a distinctive pattern of downregulation in neurodegenerative diseases. [abstract].
Mov Disord.
2023; 38 (suppl 1). https://www.mdsabstracts.org/abstract/the-neuroprotective-mirna-family-hsa-mir-451-has-a-distinctive-pattern-of-downregulation-in-neurodegenerative-diseases/. Accessed September 23, 2023.
« Back to 2023 International Congress
MDS Abstracts - https://www.mdsabstracts.org/abstract/the-neuroprotective-mirna-family-hsa-mir-451-has-a-distinctive-pattern-of-downregulation-in-neurodegenerative-diseases/