Objective: To describe the prevalence and characteristics of RBD in patients diagnosed with PSP and to demonstrate the association with each PSP subtype.
Background: Rapid eye movement (REM) sleep behavior disorder (RBD) is known as preclinical symptom of synucleinopathies. However, various reports were revealed its occurrences in tauopathies such as progressive supranuclear palsy. In this study, we collected data from hospital database and used the REM sleep questionnaire to identify the prevalence of RBD in PSP patient at out-patient clinic
Method: We collected data from King Chulalongkorn Memorial Hospital database. Subjects were diagnosed PSP according to standard criteria by movement disorder specialists and had out-patient department visit during the past six months. Demographic, clinical presentations, and PSP subtype were collected. The presence of RBD and its characteristics were determined by Thai version of RBDQ-HK by interviewing patients and/or caregivers. Prevalence and characteristics were analyzed.
Results: 22 PSP cases were collected, 19 were included to analyze and 3 were excluded due to failed to interview. Female was found 2.6 times higher than male, 72.73% (16) vs 27.27% (6). Mean age of all patients was 70.27 ±8.6 years, mean age of onset was 64.18± 7.3 years and mean disease duration was 6.09 ± 3.0 years (table 1). . The most common subtypes were PSP-P 42.86% (9), PSP-RS 33.3% (7), PSP-PGF 19% (4) and PSP-C 4.55% (1). Ten (52.63%) of PSP patients experienced RBD-related symptoms (Fig.1) and the most common one was sleep talking, dreams and limbs moving with 52.65%, 42.11% and 42.11% respectively (table 2). The mean RBDQ-HK score of all subtypes group was 12.15 ± 10.3 and there was no statistically significant between the means RBDQ-HK score and PSP subtype (P-value 0.91) (table 3).
Conclusion: Our study shows half of PSP patients experienced RBD related symptoms and the most common one was sleep talking. The means score of RBDQ-HK score was not correlated with PSP subtype. Future study with more numbers of sample size and polysomnography findings are recommended.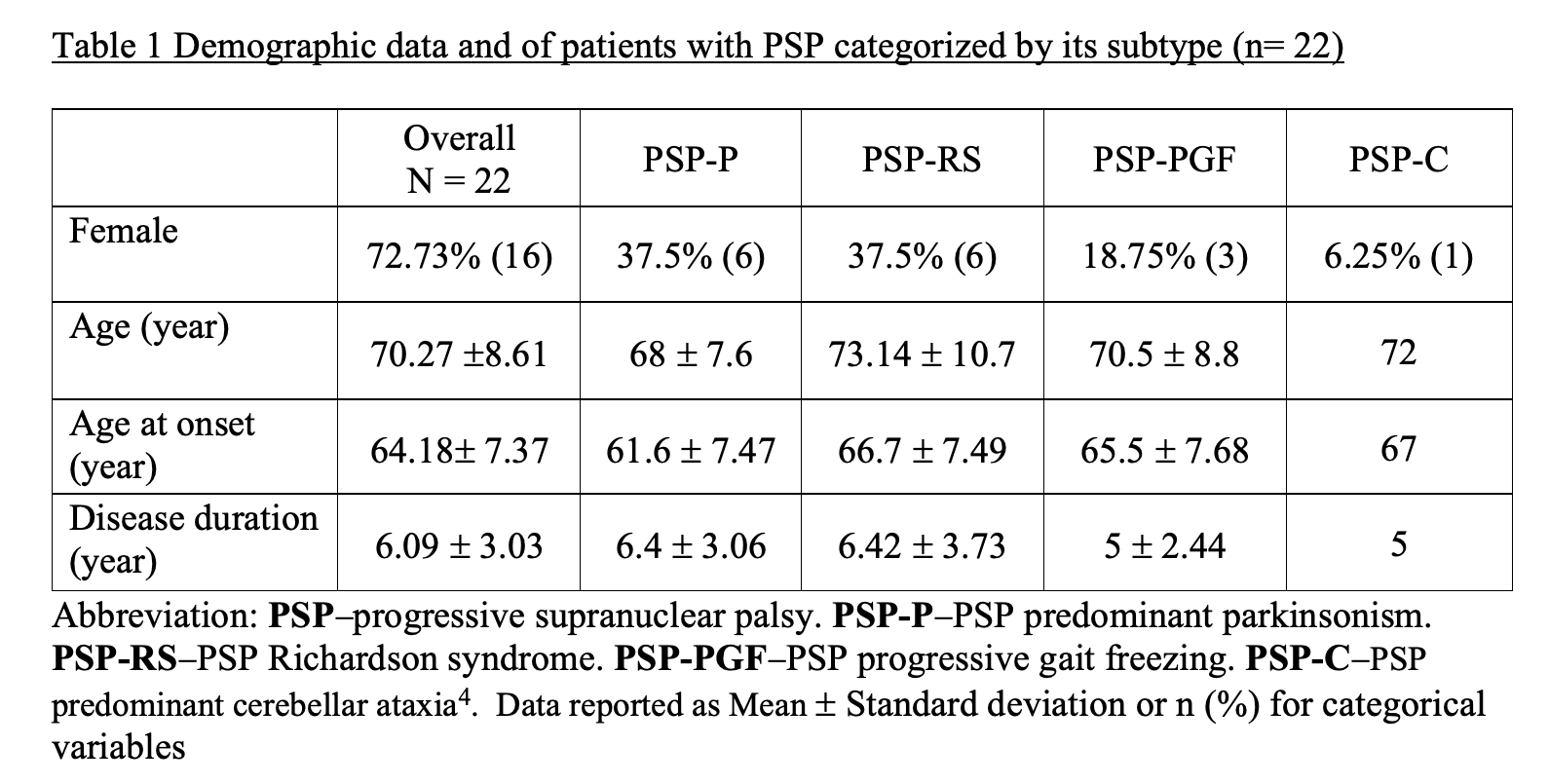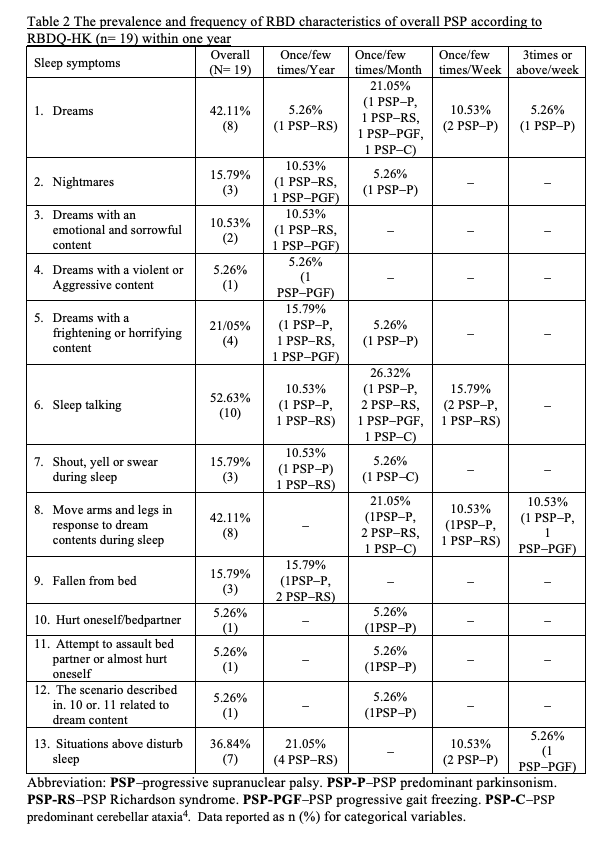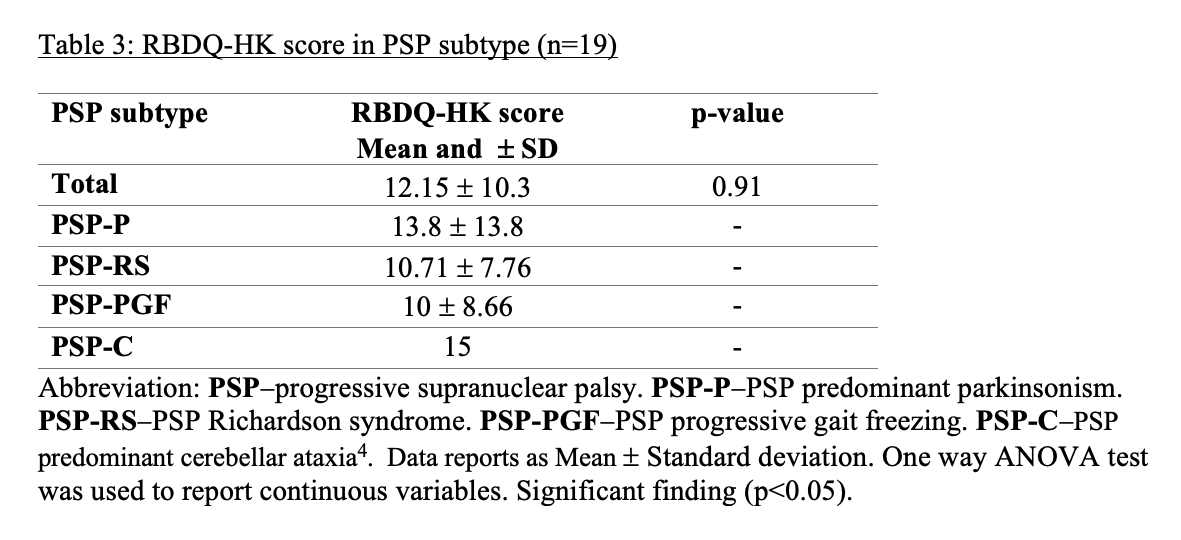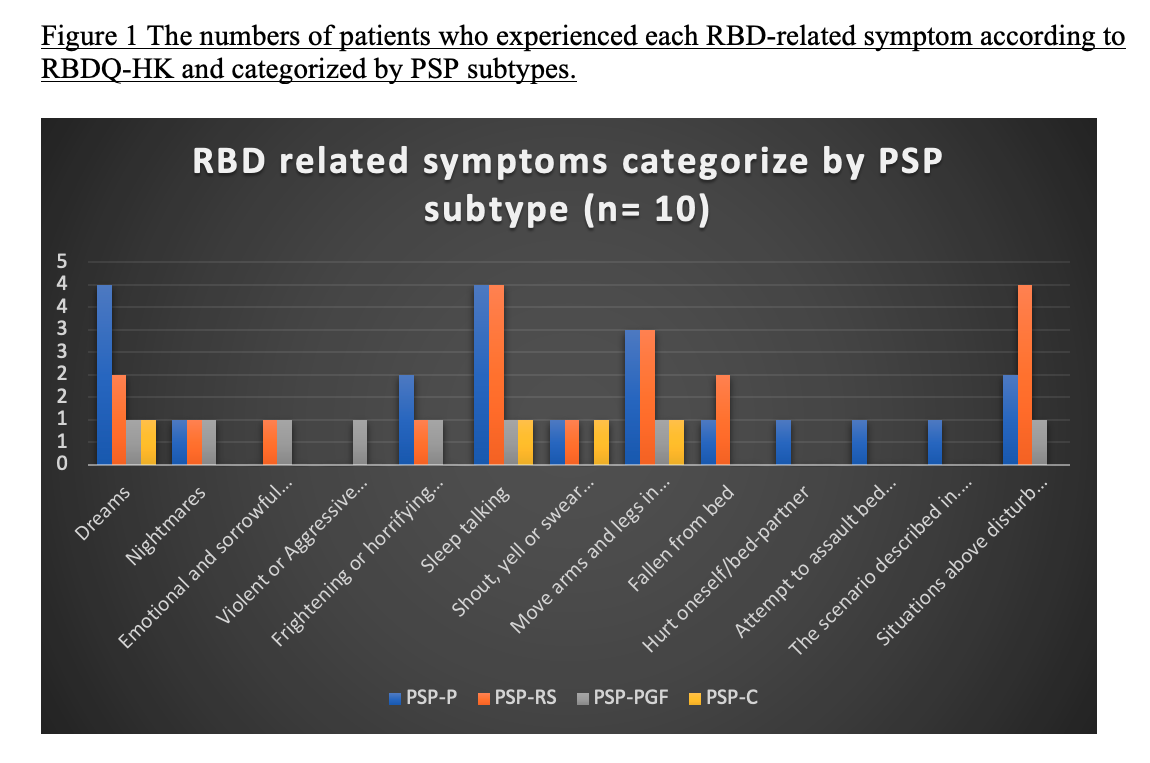 References: 1. Gagnon JF, Postuma RB, Mazza S, Doyon J, Montplaisir J. Rapid-eye-movement sleep behaviour disorder and neurodegenerative diseases. Lancet Neurol. 2006 May;5(5):424-32. doi: 10.1016/S1474-4422(06)70441-0. PMID: 16632313.
2. Li SX, Wing YK, Lam SP, Zhang J, Yu MW, Ho CK, Tsoh J, Mok V. Validation of a new REM sleep behavior disorder questionnaire (RBDQ-HK). Sleep Med. 2010 Jan;11(1):43-8. doi: 10.1016/j.sleep.2009.06.008. Epub 2009 Nov 30. PMID: 19945912.
3. Nomura T, Inoue Y, Takigawa H, Nakashima K. Comparison of REM sleep behaviour disorder variables between patients with progressive supranuclear palsy and those with Parkinson's disease. Parkinsonism Relat Disord. 2012 May;18(4):394-6. doi: 10.1016/j.parkreldis.2011.10.018. Epub 2011 Nov 23. PMID: 22115673.
4. Krzosek P, Madetko N, Migda A, Migda B, Jaguś D, Alster P. Differential Diagnosis of Rare Subtypes of Progressive Supranuclear Palsy and PSP-Like Syndromes-Infrequent Manifestations of the Most Common Form of Atypical Parkinsonism. Front Aging Neurosci. 2022 Feb 9;14:804385. doi: 10.3389/fnagi.2022.804385. PMID: 35221993; PMCID: PMC8864174.
To cite this abstract in AMA style:
APH. Phoumindr, JSR. Srignean, RBH. Bhidayasiri. The prevalence and characteristics of REM sleep behavior disorder in progressive supranuclear palsy patients. [abstract].
Mov Disord.
2023; 38 (suppl 1). https://www.mdsabstracts.org/abstract/the-prevalence-and-characteristics-of-rem-sleep-behavior-disorder-in-progressive-supranuclear-palsy-patients/. Accessed September 23, 2023.
« Back to 2023 International Congress
MDS Abstracts - https://www.mdsabstracts.org/abstract/the-prevalence-and-characteristics-of-rem-sleep-behavior-disorder-in-progressive-supranuclear-palsy-patients/