Objective: The study aims to deepen our understanding of the prodromal phase of Parkinson's disease (PD)
Background: At the time of PD diagnosis, nigrostriatal degeneration has already progressed significantly. To allow earlier diagnosis and to enable initiation of disease-modifying treatments it would be essential to have access to early disease biomarkers. Aggregated forms of phosphorylated alpha-synuclein are found in the PD brain and can also be found in skin nerve endings and other peripheral tissues, offering new opportunities to develop such markers.
Method: This study follows a cohort of PD patients and individuals that have characteristics of prodromal PD according to the revised MDS PD Research Criteria as well as healthy controls. All participants are characterized in detail with 11C-PE2I PET imaging, 3T MRI, clinical testing by physiotherapist, neuropsychologist, neurologist and nurse by means of established clinical scales. Moreover, we perform skin biopsies, elaborate odor identification testing with Sniffin' sticks (Burghart Instruments) as well as collection of cerebrospinal fluid (CSF), blood and saliva.
Results: From the start of the inclusion period, individuals have been recruited by a web-based questionnaire, which assesses probability of prodromal PD. Individuals at risk are invited for a clinical examination. The web survey has been marketed using age and geographic targeting in advertisements on Facebook and in a regional newspaper. A total of 58 individuals have been included, 20 of which with PD, 33 with prodromal signs of PD and 5 healthy subjects. The recruitment target is 30 patients with PD, 50 patients with prodromal PD and 30 healthy controls. The chart "Patient group versus biopsy outcome" shows the number of skin biopsies positive and negative for alpha-synuclein as well as those that have not yet been analyzed. Preliminary results show that subjects in the prodromal group with a positive skin biopsy for phosphorylated alpha-synuclein (P-synuclein) (n=3), have a more impaired olfactory function than those with a negative skin biopsy (n=16). The decreased smelling ability is shown in the table, with lower scores meaning less smelling ability.
Conclusion: The early results in our study indicate that phosphorylated alpha-synuclein may be found in skin nerve endings in the prodromal phase of PD. A decreased ability to smell may be a clinical correlate in these individuals.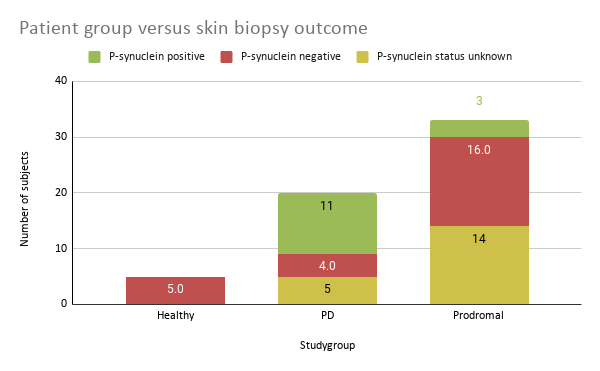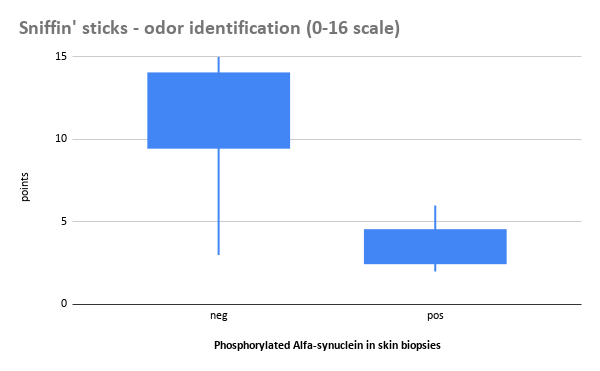 To cite this abstract in AMA style:
P. de Roos, D. Nyholm, M. Ingelsson. The Prodromal PD study – multiple biomarkers for early diagnosis? [abstract].
Mov Disord.
2021; 36 (suppl 1). https://www.mdsabstracts.org/abstract/the-prodromal-pd-study-multiple-biomarkers-for-early-diagnosis/. Accessed December 3, 2023.
« Back to MDS Virtual Congress 2021
MDS Abstracts - https://www.mdsabstracts.org/abstract/the-prodromal-pd-study-multiple-biomarkers-for-early-diagnosis/