Session Information
Session Time: 1:45pm-3:15pm
Location: Hall 3FG
Objective: We describe a case series of transfer dysphagia due to focal dystonia highlighting the varied presentation and the utility of barium swallow with rasgulla(small, absorbent Indian sweet made of cheese) soaked in contrast in diagnosis.
Background: The inability to propel a bolus of food successfully from posterior part of oral cavity into oropharynx is called transfer dysphagia(1). Transfer dysphagia may be due to varied causes [Table 1]. One rare cause of transfer dysphagia is focal dystonia of pharyngeal muscles causing temporary mechanical obstruction. Owing to the location of the muscles it is not possible to examine the muscle in action. EMG of pharyngeal muscles is impractical and may not provide much information. Barium swallow including videofluoroscopy provides indirect evidence that there is a temporary obstruction to the bolus during initial attempts at swallowing.
Methods: We discuss seven cases of transfer dysphagia without any local obstruction who presented to the neurology department. Barium swallow was done using liquid contrast first. The patient was then asked to swallow a rasgulla soaked in contrast as a whole. Videofluoroscopy was done in AP and lateral view including the oral cavity, pharynx, esophagus and stomach.
Results: [Table 2]. Four out of seven patients had transfer dysphagia as the sole dystonia (Transfer Dysphagia Type 1) and were being treated as functional dysphagia previously. The other three had other associated dystonia (Transfer Dysphagia Type 2). Six out of the seven patients underwent barium swallow out of which three showed impaired phase of deglutition. Videofluoroscopy showed how the bolus is unable to proceed during first few attempts, and in the final attempt moves forward as a whole, thus ruling out any permanent mechanical obstruction. There was no obstruction in swallowing liquids. The difficulty in swallowing can be explained by sustained contraction of pharyngeal muscles, triggered only during swallowing. The task specific nature of the problem, associated dystonia and response to anticholinergics point to the diagnosis of dystonia.(2)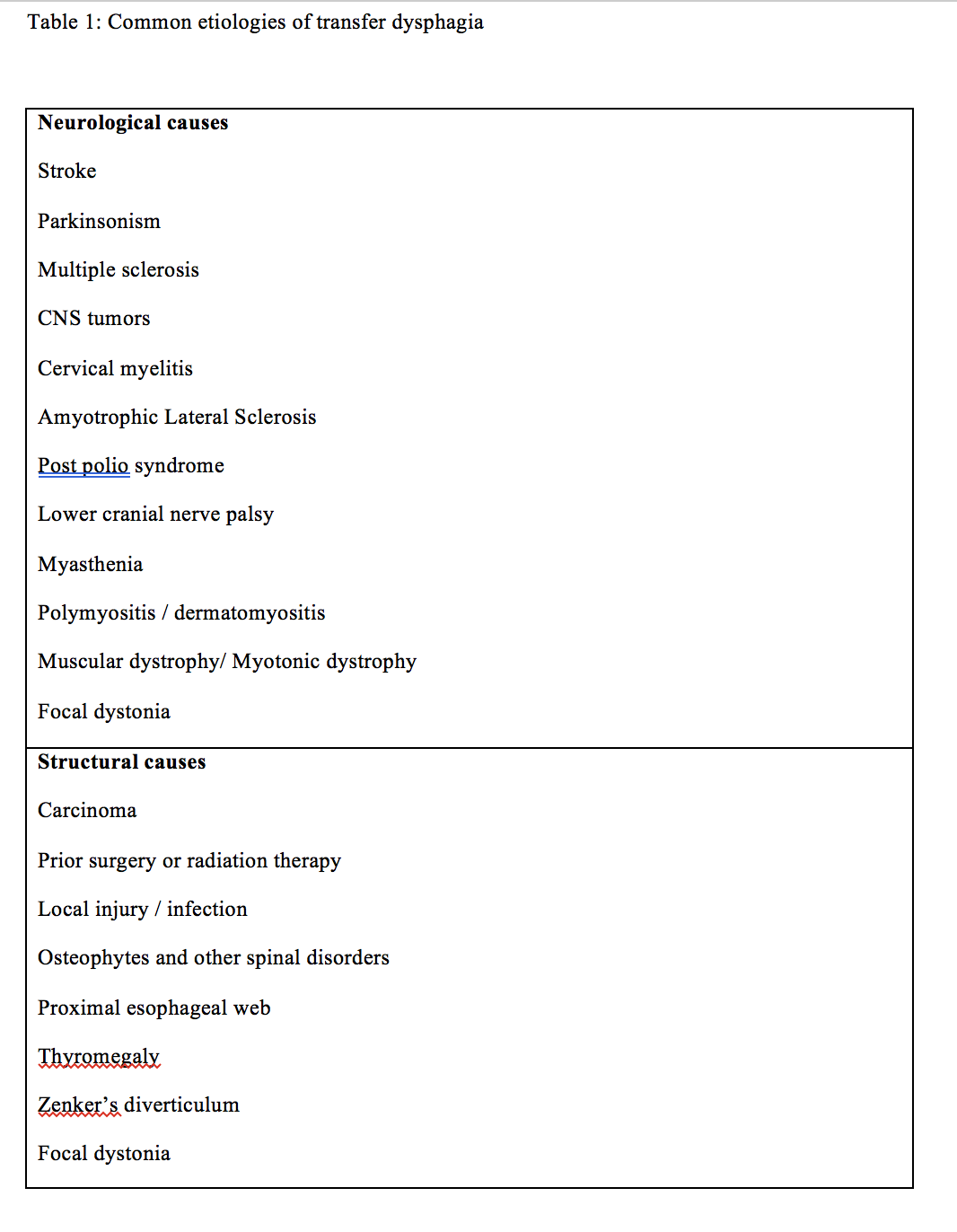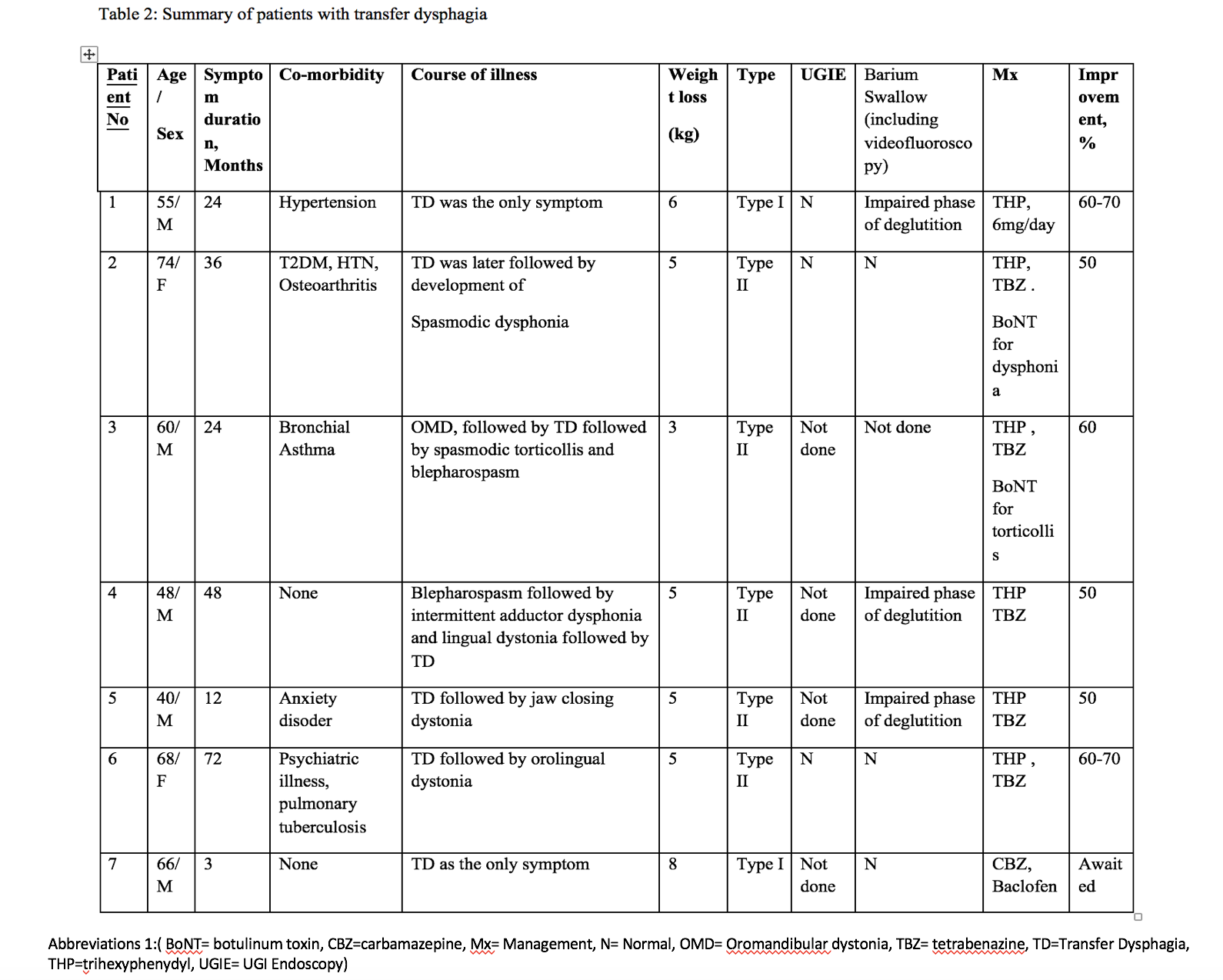 Conclusions: Task specific focal dystonia of pharyngeal muscles leading to transfer dysphagia must be ruled out before labelling a patient as functional dysphagia. High index of suspicion, barium swallow with solid bolus and drug trial of sufficient dosage and duration can facilitate diagnosis.
References: 1. Feldman M, Friedman LS, Brandt LJ. Sleisenger and Fordtran's Gastrointestinal and Liver Disease: Pathophysiology, Diagnosis, Management. Elsevier Health Sciences; 2015. 3313 p. 2. Frucht SJ. The definition of dystonia: current concepts and controversies. Mov Disord Off J Mov Disord Soc. 2013 Jun 15;28(7):884–8.
To cite this abstract in AMA style:
P. Samal, V. Goyal, M. Singh, M.V.P. Srivastava, E. A. Use of barium swallow using rasgulla to detect focal dystonia of pharyngeal muscles: An indigenous method [abstract].
Mov Disord.
2018; 33 (suppl 2). https://www.mdsabstracts.org/abstract/use-of-barium-swallow-using-rasgulla-to-detect-focal-dystonia-of-pharyngeal-muscles-an-indigenous-method/. Accessed December 5, 2023.
« Back to 2018 International Congress
MDS Abstracts - https://www.mdsabstracts.org/abstract/use-of-barium-swallow-using-rasgulla-to-detect-focal-dystonia-of-pharyngeal-muscles-an-indigenous-method/