Objective: To describe key components of a yoga program for two individuals with Functional Neurological Disorder (FND).
Background: FND is the second most common reason for new outpatient neurology referrals[1-3]. It is characterized by involuntary symptoms and often associated with experienced trauma, stress, or comorbid psychiatric symptoms. Yoga is a practice that combines movement postures, breathing, and mindfulness meditation. It has been shown to decrease anxiety, depression[4][5][6], stress[7][8], and painful conditions[9]. To date, no studies have looked at the effect of yoga on FND. Yoga's combined mind-body effects, along with preliminary research in populations with neurological conditions[10][11], suggest this holistic and multi-system approach has the potential to be a beneficial treatment for FND.
Method: Two individuals with FND engaged in one-on-one yoga sessions over 10 weeks, individualized to their specific abilities and needs. Sessions were remotely conducted over Zoom and combined breath, relaxation, and somatic awareness with seated and standing movements. Data, which consisted of detailed clinician session notes and semi-structured qualitative interviews conducted at 10 weeks, was analyzed with Nvivo 12.
Results: Qualitative analysis revealed that individuals benefited from the yoga intervention in three domains: physical, psychological, and activities of daily living (ADLs). Perceived benefits included improvements in balance, mobility, confidence, calmness, and daily symptom management. Individuals reported a subjective decrease in both symptoms and pain. Both participants enjoyed the remote nature of sessions, citing comfort in their home and difficulties commuting. Participants also noted the importance of session structure adaptability and the therapist's ability to safely guide them through symptomatic experiences. Due to the heterogeneity of FND symptoms, appropriate session duration and frequency varied between individuals. There were no adverse events. However, one participant experienced manageable fatigue after some sessions.
Conclusion: An individualized, remote yoga program was feasible for both study participants. Yoga helped individuals feel empowered, complete ADLs, manage symptoms, and reenter sports. While these results are promising, FND symptoms vary greatly among individuals. More research is warranted to understand how individuals with different manifestations of FND will respond to a yoga program.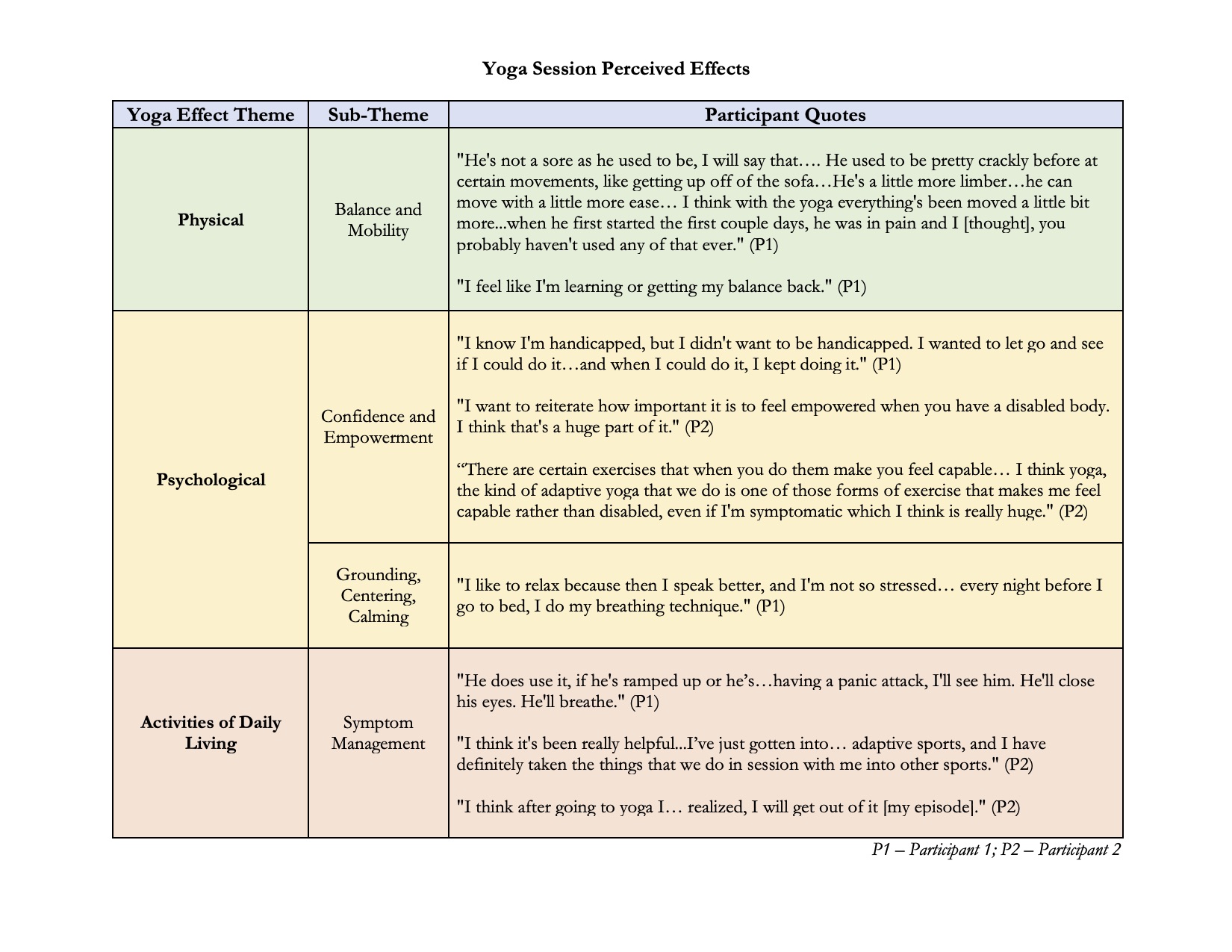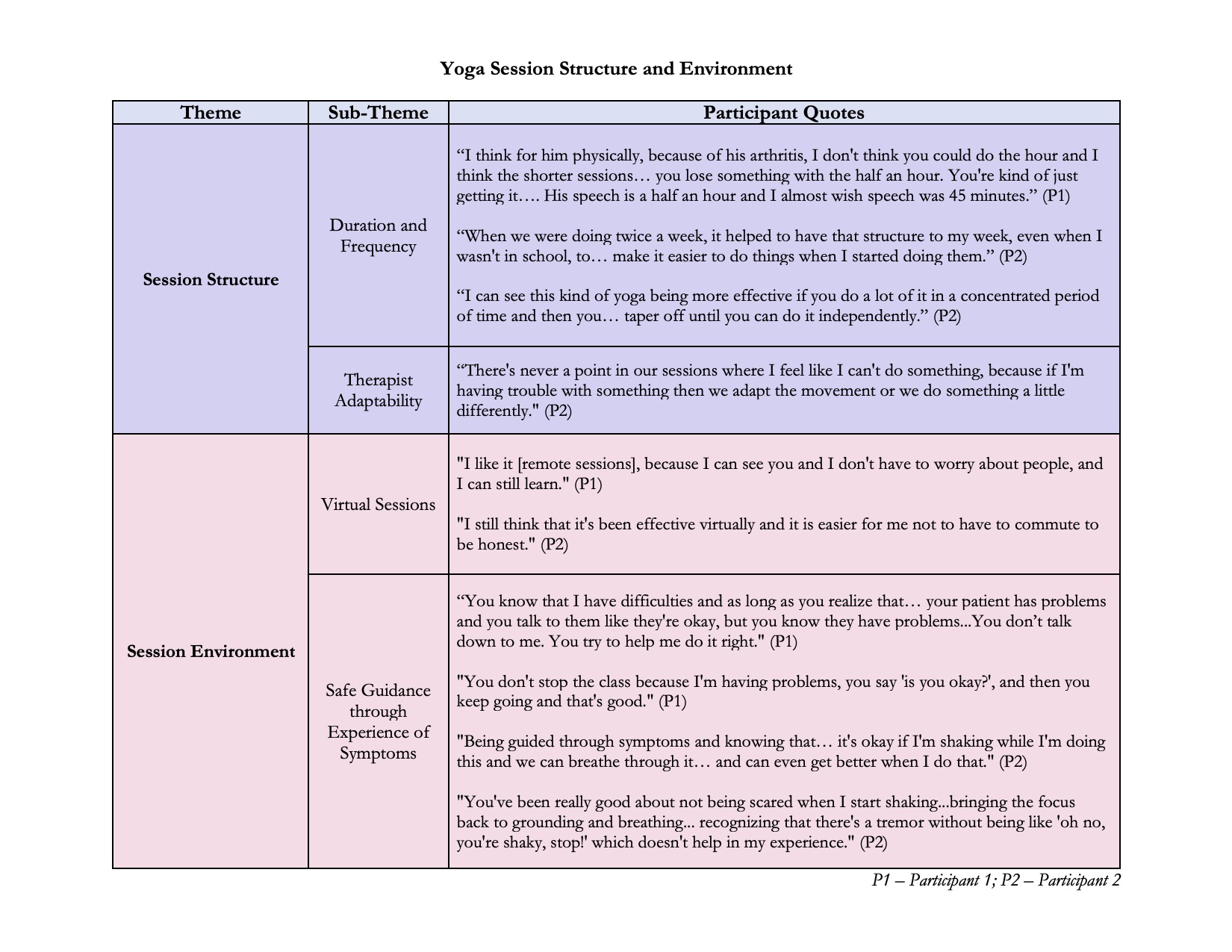 References: [1] Stone, J., A. Carson, R. Duncan, R. Roberts, C. Warlow, C. Hibberd, R. Coleman, et al. "Who Is Referred to Neurology Clinics?—The Diagnoses Made in 3781 New Patients." Clinical Neurology and Neurosurgery 112, no. 9 (November 2010): 747–51. https://doi.org/10.1016/j.clineuro.2010.05.011. [2] Nicholson, Timothy R., Alan Carson, Mark J. Edwards, Laura H. Goldstein, Mark Hallett, Bridget Mildon, Glenn Nielsen, et al. "Outcome Measures for Functional Neurological Disorder: A Review of the Theoretical Complexities." The Journal of Neuropsychiatry and Clinical Neurosciences 32, no. 1 (January 2020): 33–42. https://doi.org/10.1176/appi.neuropsych.19060128. [3] Gilmour, Gabriela S., Glenn Nielsen, Tiago Teodoro, Mahinda Yogarajah, Jan Adriaan Coebergh, Michael D. Dilley, Davide Martino, and Mark J. Edwards. "Management of Functional Neurological Disorder." Journal of Neurology 267, no. 7 (July 2020): 2164–72. https://doi.org/10.1007/s00415-020-09772-w. [4] Shapiro, David, Ian A. Cook, Dmitry M. Davydov, Cristina Ottaviani, Andrew F. Leuchter, and Michelle Abrams. "Yoga as a Complementary Treatment of Depression: Effects of Traits and Moods on Treatment Outcome." Evidence-Based Complementary and Alternative Medicine 4, no. 4 (2007): 493–502. https://doi.org/10.1093/ecam/nel114. [5] Saeed, Sy Atezaz, Karlene Cunningham, and Richard M. Bloch. "Depression and Anxiety Disorders: Benefits of Exercise, Yoga, and Meditation." American Family Physician 99, no. 10 (May 15, 2019): 620–27. [6] Lavey, Roberta, Tom Sherman, Kim T. Mueser, Donna D. Osborne, Melinda Currier, and Rosemarie Wolfe. "The Effects of Yoga on Mood in Psychiatric Inpatients." Psychiatric Rehabilitation Journal 28, no. 4 (2005): 399–402. https://doi.org/10.2975/28.2005.399.402. [7] Pascoe, Michaela C., and Isabelle E. Bauer. "A Systematic Review of Randomised Control Trials on the Effects of Yoga on Stress Measures and Mood." Journal of Psychiatric Research 68 (September 2015): 270–82. https://doi.org/10.1016/j.jpsychires.2015.07.013. [8] Li, Amber W., and Carroll-Ann W. Goldsmith. "The Effects of Yoga on Anxiety and Stress." Alternative Medicine Review, March 2012. Gale OneFile: Health and Medicine. [9] Wren, Anava A., Melissa A. Wright, James W. Carson, and Francis J. Keefe. "Yoga for Persistent Pain: New Findings and Directions for an Ancient Practice." Pain 152, no. 3 (March 2011): 477–80. https://doi.org/10.1016/j.pain.2010.11.017. [10] Jin, Xiaohu, Lin Wang, Shijie Liu, Lin Zhu, Paul Dinneen Loprinzi, and Xin Fan. "The Impact of Mind-Body Exercises on Motor Function, Depressive Symptoms, and Quality of Life in Parkinson's Disease: A Systematic Review and Meta-Analysis." International Journal of Environmental Research and Public Health 17, no. 1 (December 18, 2019): 31. https://doi.org/10.3390/ijerph17010031. [11] Mooventhan, A., and L. Nivethitha. "Evidence Based Effects of Yoga in Neurological Disorders." Journal of Clinical Neuroscience 43 (September 2017): 61–67. https://doi.org/10.1016/j.jocn.2017.05.012.
To cite this abstract in AMA style:
D. Kipnis, H. Shah, L. Quinn. Yoga for Functional Neurological Disorder – Two Case Descriptions [abstract].
Mov Disord.
2021; 36 (suppl 1). https://www.mdsabstracts.org/abstract/yoga-for-functional-neurological-disorder-two-case-descriptions/. Accessed September 29, 2023.
« Back to MDS Virtual Congress 2021
MDS Abstracts - https://www.mdsabstracts.org/abstract/yoga-for-functional-neurological-disorder-two-case-descriptions/