Session Information
Session Time: 12:00pm-1:30pm
Location: Exhibit Hall located in Hall B, Level 2
Objective: To report a case of sporadic CJD presenting insomnia,vertigo, ataxia and parkinsonism as first symptoms and describes the 99mTc-TRODAT-1 SPECT findings.
Background: CJD is a presenile dementia characterized by rapidly progressive mental deterioration and mioclonic jerks. Few cases have been described in Brazil. Human genetic prion diseases have been invariably linked to alterations of the prion protein gene PRNP. In our case sequencing of PRNP gene was normal.
Methods: We report the case of a 57-year-old man with sporadic CJD that started with severe insomnia during two months followed by vertigo, ataxia, parkinsonism, and rapidly progressive dementia. He also had myoclonic jerks. In two months he became completely rigid, akinetic and demented. His past medical history was non-contributory. He worsened rapidly forcing him to wheelchair and finally he was bedridden. He was tested for HIV, neoplasia, paraneoplastic neurological disorders (PNDs) and the results were normal. The brain MRI demonstrated hyperintensities (T2 and Flair) signs on basal ganglia suggesting CJD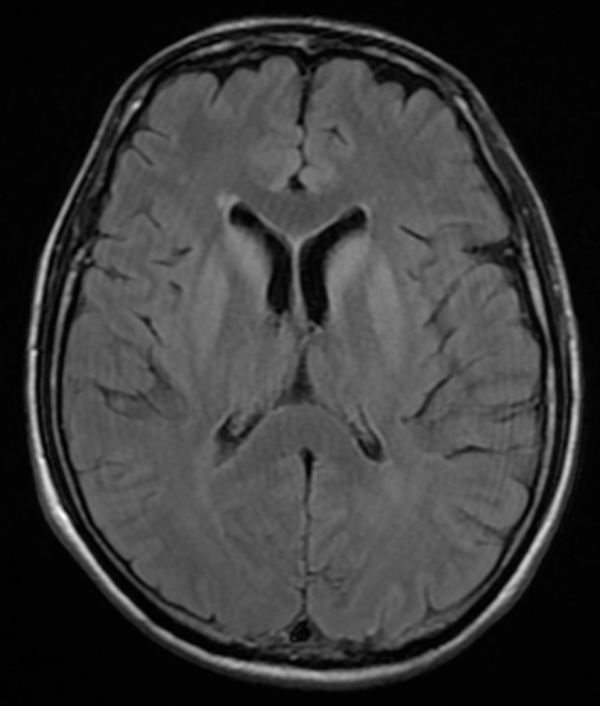 . The 99mTc-TRODAT-1 SPECT demonstrated asymmetrical decrease in striatal dopamine transporter (DAT) density, with moderate DAT reduction in both caudate and severe reduction in right putamen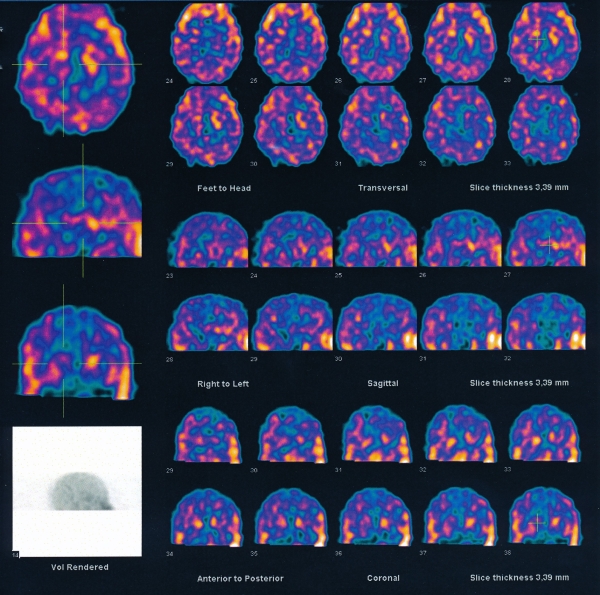 . Cerebrospinal fluid studies showed the presence of the protein 14-3-3. EEG showed only disorganized background without periodic discharges. The sequencing of PRNP gene was normal as in cases of sporadic CJD.
Results: As expected he did not respond to the treatment with L-Dopa preparations or any other medication.
Conclusions: CJD is always fatal and most patients die in one year. It is very rare in Brazil. The majority of the cases of CJD is sporadic and the remaining arise from mutations in the Prion Protein Gene(PRNP) located in the chromosome 20. The clinical presentation with Parkinsonian symptoms, as in our case, indicates a more malignant and rapid course according to Petrovic et al. To best of our knowledge this is the first CJD case report that evaluated the dopaminergic changes at Striatum with the 99mTc-TRODAT-1 SPECT. We could demonstrate the presynaptic dopaminergic loss that might occur in this rare and dramatic disease.
To cite this abstract in AMA style:
G. Fabiani, S.C.G. Scremin, H.A.G. Teive. 99mTc-TRODAT-1 SPECT findings in a patient with sporadic Creutzfeldt-Jakob disease [abstract].
Mov Disord.
2016; 31 (suppl 2). https://www.mdsabstracts.org/abstract/99mtc-trodat-1-spect-findings-in-a-patient-with-sporadic-creutzfeldt-jakob-disease/. Accessed September 23, 2023.
« Back to 2016 International Congress
MDS Abstracts - https://www.mdsabstracts.org/abstract/99mtc-trodat-1-spect-findings-in-a-patient-with-sporadic-creutzfeldt-jakob-disease/