Session Information
Session Time: 1:15pm-2:45pm
Location: Les Muses Terrace, Level 3
Objective: To report a case of early onset dystonia with dystonic tremor secondary to pediatric stroke of the basal ganglia treated with alternative deep brain stimulation (DBS) targets.
Background: The primary target for dystonic tremor is the globus pallidus pars interna (GPi). This is often not an option for patients who have secondary dystonia with dystonic tremor due to structural damage, as they tend to be less DBS responsive. Ventro-intermedio-medialis (VIM), and ventralis oralis anterior (VOA) both have outputs to the pallidal and cerebellar outflow tracts respectively, and separately have been used has targets for dystonia and dystonic tremor with limited results, but have rarely been used together [1,2].
Method: Case report.
Results: A 27-year-old man with a history of attention deficit hyperactivity disorder (ADHD) and a left basal ganglia infarct at age six with no residual deficits developed jerking of the right arm at age 12. This progressed slowly over the next few years and evolved into right lower extremity paresis and dystonia. He was ultimately diagnosed with post-stroke right hemi-dystonia with dystonic tremor and presented to Mayo Clinic for consideration of DBS. Functional neuroimaging was performed using paired neurolite Single Positron Emission Computed Tomography (SPECT) scans, with radiotracer injections given during dystonia activation (walking and using the right arm) versus inactivation (at rest) in order to assess anatomical foci responsible for dystonia (Figure 1). No single focus responsible for dystonia was found. Ultimately, he underwent a dual lead unilateral VIM/VOA-DBS stimulator placement with improvement in his dystonia and dystonic tremor several weeks after implantation.
Conclusion: Dual lead unilateral VIM/VOA-DBS is an effective treatment for dystonia and dystonic tremor resulting from a basal ganglia stroke; larger cohort studies are needed to further confirm these results.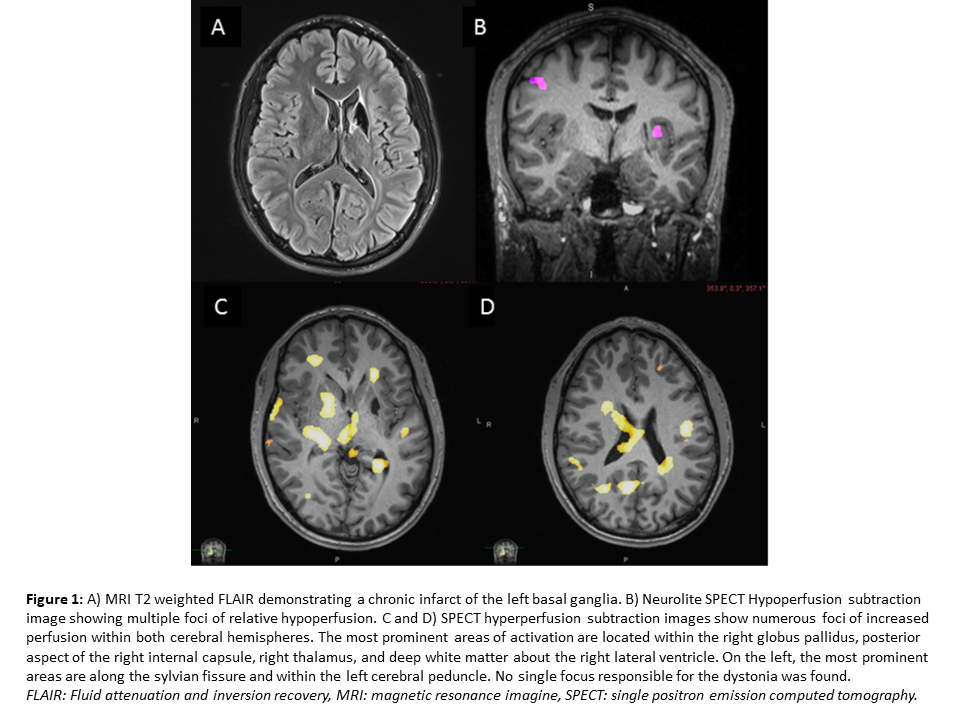 References: [1] Morishita T, Foote KD, Haq IU, Zellman P, Jacobson C., Okun MS. Should we consider Vim Thalamic Deep Brain Stimulation for Select Cases of Severe Refractory Dystonic Tremor. Stereotact Funct Neurosurg 2010;88:98-104. [2] Foote KD, Seignourel P, Fernandez HH, Romrell J, Whidden E, Jacobson C, Rodriguez RL, Okun MS. Dual electrode thalamic deep brain stimulation for the treatment of posttraumatic and multiple sclerosis tremor. Neurosurgery 2006 Apr;58(4 Suppl 2): ONS-280-5.
To cite this abstract in AMA style:
L. Jackson, B. Klassen, J. Bower, F. Ali. A case of dystonia with dystonic tremor treated with DBS targeting the VOA and VIM thalamus [abstract].
Mov Disord.
2019; 34 (suppl 2). https://www.mdsabstracts.org/abstract/a-case-of-dystonia-with-dystonic-tremor-treated-with-dbs-targeting-the-voa-and-vim-thalamus/. Accessed September 22, 2023.
« Back to 2019 International Congress
MDS Abstracts - https://www.mdsabstracts.org/abstract/a-case-of-dystonia-with-dystonic-tremor-treated-with-dbs-targeting-the-voa-and-vim-thalamus/