Session Information
Session Time: 12:00pm-1:30pm
Location: Exhibit Hall located in Hall B, Level 2
Objective: To improve our understanding of the pathophysiology and etiology of hemifacial spasm (HFS).
Background: HFS is involuntary unilateral contractions of the muscles innervated by the facial nerve. It is a chronic condition with a prevalence of 9.8 per 100,000 people, affecting more women than men. The pathophysiology of HFS is thought to be due to an abnormality of the facial nerve root entry zone, which can be caused by vascular compression of the nerve or any other direct damage to the facial nerve. The damaged facial nerve results in abnormal neuronal transmission, which then leads to abnormal signal conduction resulting in involuntary facial muscle contractions. The etiology of HFS can be divided into two types: primary and secondary. Primary is defined as vascular compression of the facial nerve entry zone and usually involves the cerebellar or vertebral arteries. Secondary HFS is caused by damage anywhere along the facial nerve and is usually due to cerebellopointine angle tumors, vascular malformation, Chiari type I malformations, all of which are thought to cause dysfunction of the facial nerve.
Methods: We describe clinical findings and treatments in a patient with both primary and secondary HFS.
Results: This is a 58 year old woman with right sided tonic-clonic involuntary facial twitching. Her initial brain MRI showed a 1.8x1cm meningioma located on the right anterolateral pons with mild mass effect. Neurologic exam showed bilateral blepharospasm and right HFS. First, she was treated with botulinum toxin A to the right corrugator supercilii and orbicularis oculi muscles with symptomatic improvement. She then underwent a right suboccipital craniectomy and was found to have a significant loop of PICA indenting the facial nerve at the origin. After mobilization and Teflon coating of the PICA loop she had full resolution of the right HFS. Repeat imaging showed no change in the meningioma. Image 1 preoperative T2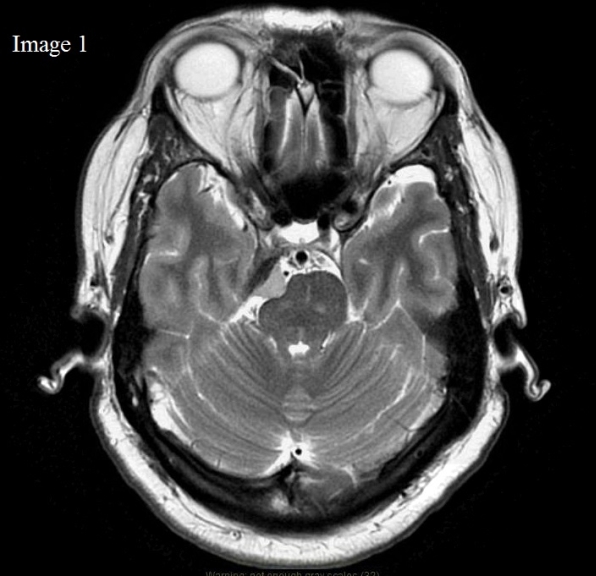 Image 2 postoperative T2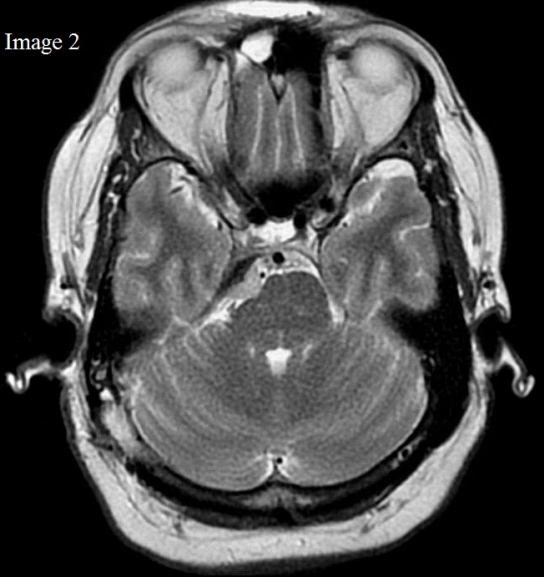 Conclusions: This patient with primary and secondary HFS had symptom resolution following PICA loop decompression despite the presence of a meningioma with mass affect on the anterolateral pons. This suggest that in this patient with both primary and secondary causes of HFS, vascular compression was ultimately responsible for the clinical spasms. This is further evidence supporting vascular compression as the etiology of HFS.
To cite this abstract in AMA style:
E.M. Feinstein, S.J. Frucht. A case of hemifacial spasm with a right-sided pontine meningioma that resolved with PICA loop vascular decompression surgery [abstract].
Mov Disord.
2016; 31 (suppl 2). https://www.mdsabstracts.org/abstract/a-case-of-hemifacial-spasm-with-a-right-sided-pontine-meningioma-that-resolved-with-pica-loop-vascular-decompression-surgery/. Accessed September 25, 2023.
« Back to 2016 International Congress
MDS Abstracts - https://www.mdsabstracts.org/abstract/a-case-of-hemifacial-spasm-with-a-right-sided-pontine-meningioma-that-resolved-with-pica-loop-vascular-decompression-surgery/